Today I headed back to Panama City from Bocas Del Toro. Lilly and I basically did everything in reverse from the way we got here:
Before we left the main island on Bocas, we got lunch (Tuna Salad) at a tiny local restaurant called Chiringuito de Laia which means "Laia's Beach Bar" in Spanish. The food was great.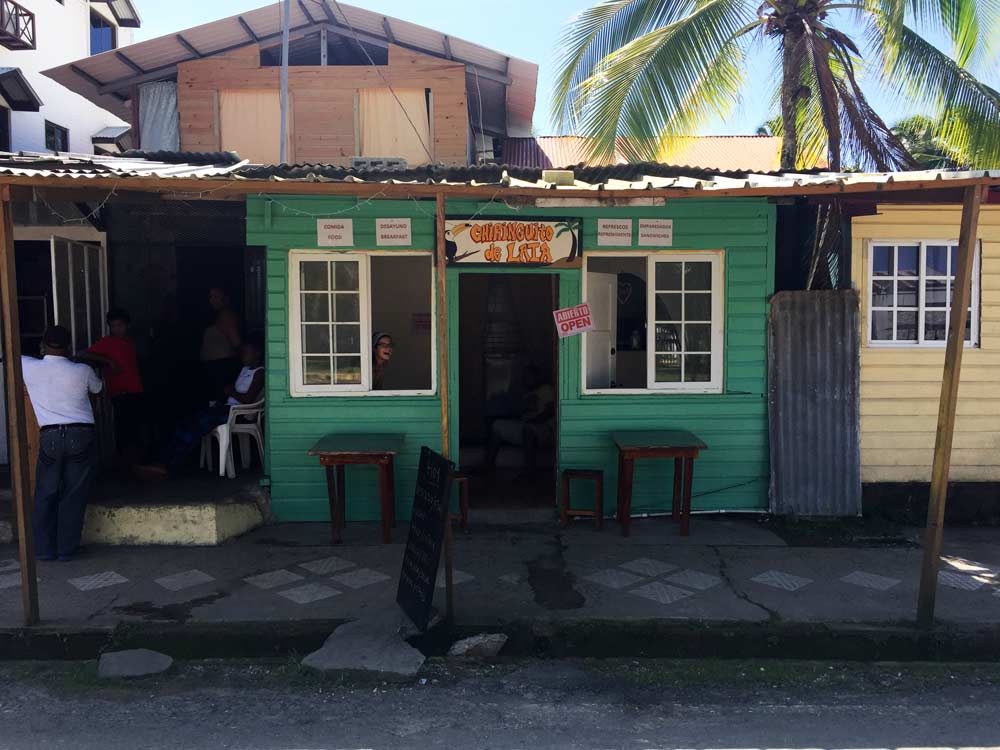 The restaurant owners were really nice. It was just them serving us. For some reason, the woman offered us bread like 10 times. I think she was surprised we didn't want bread or something. We laughed about it afterwards.
Took a water taxi to the main port. Tony was leaving at the same time. I grabbed this pic of us taking our last water taxi leaving the main island. I wonder if Tony and Lilly met up later on since they were both traveling in the same areas for a while. I don't doubt it.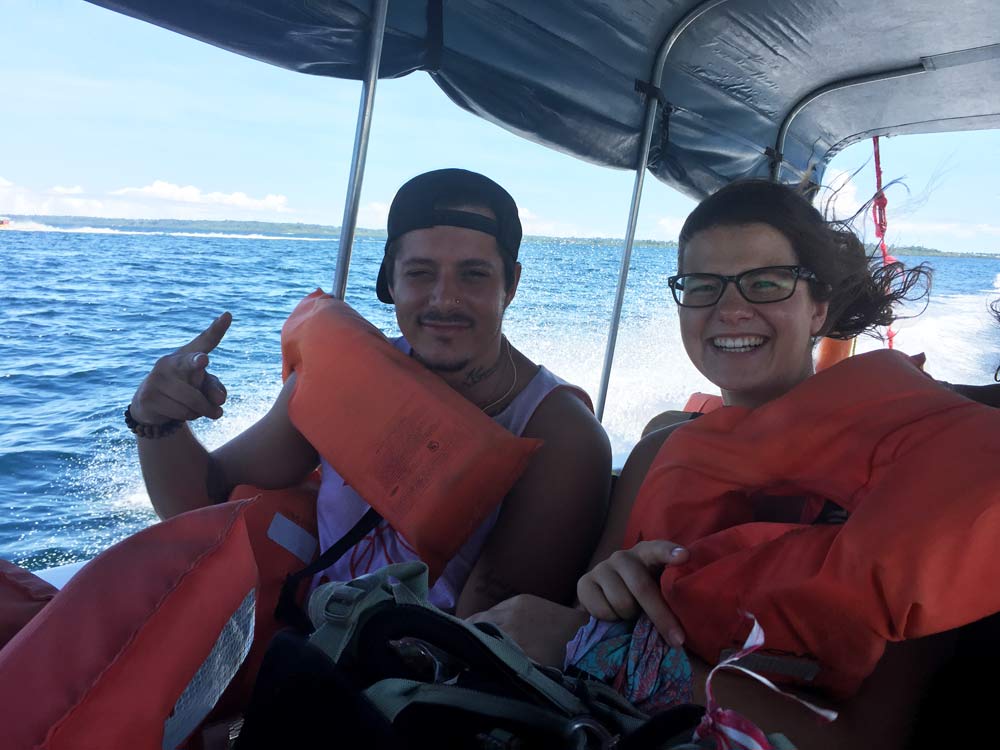 Took another water taxi back to the main land.
Picked up my rental car at the parking lot (really glad it all worked out with no issues). This is actually a pic of when we arrived because I didn't take a departing pic. This is all our stuff in the back.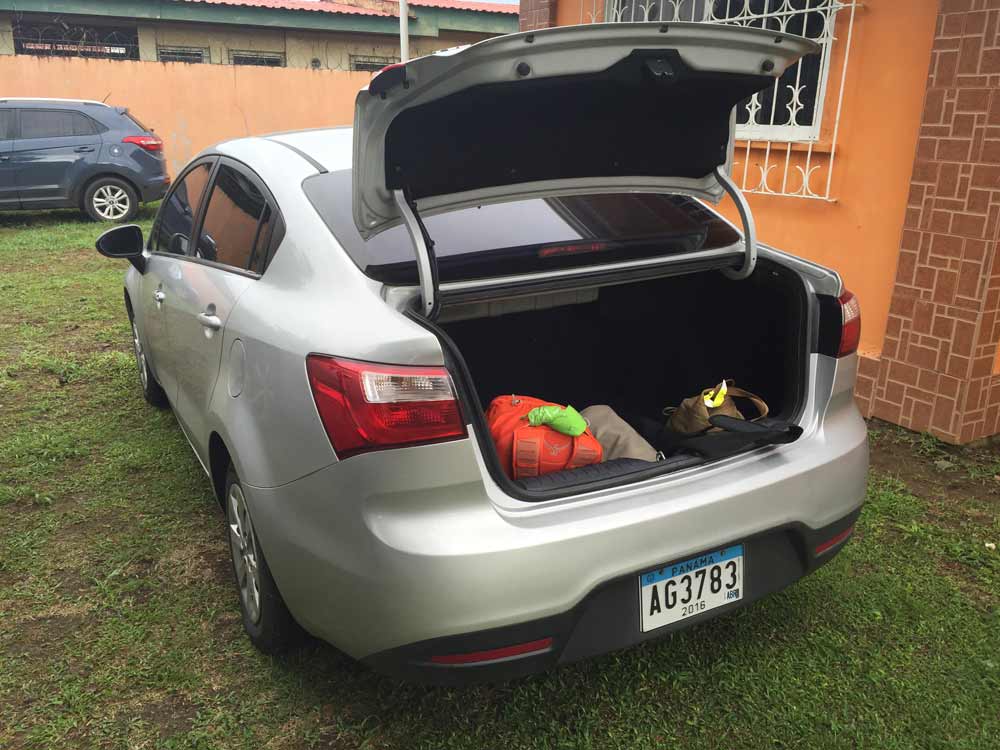 We drove to David, Panama where I dropped off Lilly. She is going to get a bus and continue her trip climbing mountains and volcanoes and stuff. It was only slightly out of the way, but I would have driven to Alaska for her. In the car we had some good conversation where she gave me some input (that I asked for) about my character. She basically said not to be so pigheaded. That was interesting to hear. I consider myself to be very open and understanding…but apparently I missed the part of being capable of changing my opinion. I'll need to think about that more. At one point, I was listing out all of the major slang curse words in English. I laughed when I heard her repeat "Cunt" back to me. Since she had never heard of it before, it was humorous to hear her put it into a sentence. I think she said "I hate that woman, she is such a cunt". That was priceless. Dropping her off I got a really good pic after we gave each other the biggest hug ever: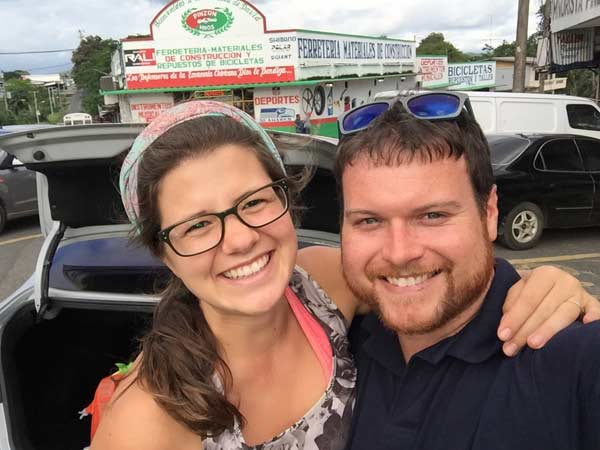 Damn. I'm going to miss that girl and all the fun we had.
She helped change my outlook on life and helped me realize what I find important. Traveling is a priority for me now. Plus, she has an incredible energy and spirit. I hope to travel with her again someday, but being the free spirits that we are, I know there's a good chance that we'll find different paths in life. That's ok.
Anyway, I drove cross country back to Panama City where I crashed at Luna's Castle again for the night. I stopped for gas twice along the way. When I needed to speak Spanish I used my offline translation phone app which made it easy.
The drive back felt longer since Lilly was only with me until David, but it was still a nice liberating drive. Here I was alone driving across a foreign country with nothing more than the bare minimum that I needed on me to survive. I can't describe how freeing it was. Nothing mattered yet everything mattered even more than it did before. I felt more alive than ever.
Driving solo cross country: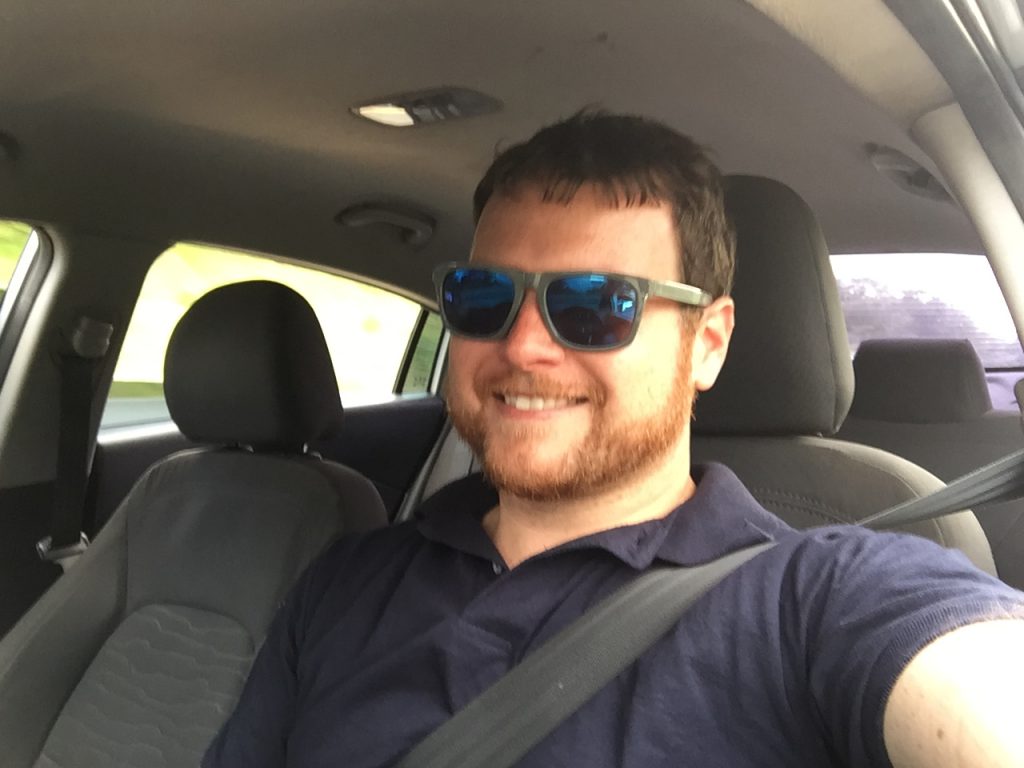 I had to use GPS briefly when I got close to Panama City because the maps were too hard to read while driving. So I turned on my iPhone data for 10 minutes. It worked and got me there but later it charged me $30 for international data. It was worth every penny.
At Luna's Castle I ran into some previous friends I had met when I first arrived (Yeison from Columbia) which was really nice. We stayed up talking for most of the night. I was so incredibly exhausted, that I fell asleep on one of the leather couches in the common area. Best sleep I've ever had!