The french version of this article is available here.
In July of this year (2021), the Imperfect Plan team performed an expedition into the jungles of western Panama, north of the town of Boquete. Our primary objectives entailed mapping the trail and gathering information in the jungle where Kris Kremers and Lisanne Froon disappeared on April 1st, 2014.
Before the expedition, we were well aware that finding conclusive evidence regarding the disappearance case of Kris Kremers and Lisanne Froon was highly unlikely, and that was not our goal. Our goal was to gather information about the trails, key locations and the general conditions. The disappearance of Kris and Lisanne took place more than seven years ago, yet we knew there was still ample information that could be gathered. That information could potentially answer some important questions about the disappearance case.
For Newcomers: You can review the articles we previously wrote about the disappearance on our Case Articles page. Furthermore, you can read about our fundraising efforts and our team updates from when we originally started planning our trip to Panama.
Before we embarked on this trip to Panama, we knew that there would be many hurdles. Fortunately, our team was able to gather a lot of information in the jungle, much of which offers some important insights about the area of the jungle where Kris Kremers and Lisanne Froon would have been during the initial moments of their disappearance.
We'll leave it up to you to decide which information is important.
During our time there, we mapped the trail, gathered relevant GPS coordinates, took photos with a Canon Powershot (the same model of Lisanne Froon's camera found in the blue backpack), captured aerial drone footage, captured GoPro footage, documented environmental conditions, wrote a lot of notes, along with many other pre-determined tasks.
Both Panama expeditions were very challenging physically and psychologically. The conditions of the jungle in the high elevations of the mountains are not accommodating. It's unlike any camping or hiking adventure we've done anywhere else in the world.
More than one article is necessary to convey all of this information.
We figure it's much easier to consume the information if it's properly organized, rather than being written in a single 100+ page article. This approach will also give us more time to write in-depth articles and it'll make it easier to reference/link the articles in the future. As you'll see below, this overview article itself is fairly comprehensive. We wanted to touch on as much information as possible while also staying organized.
Let's dive in.
Our Team
During our trip to Panama, our team included four people, three of which were in Panama during the expeditions.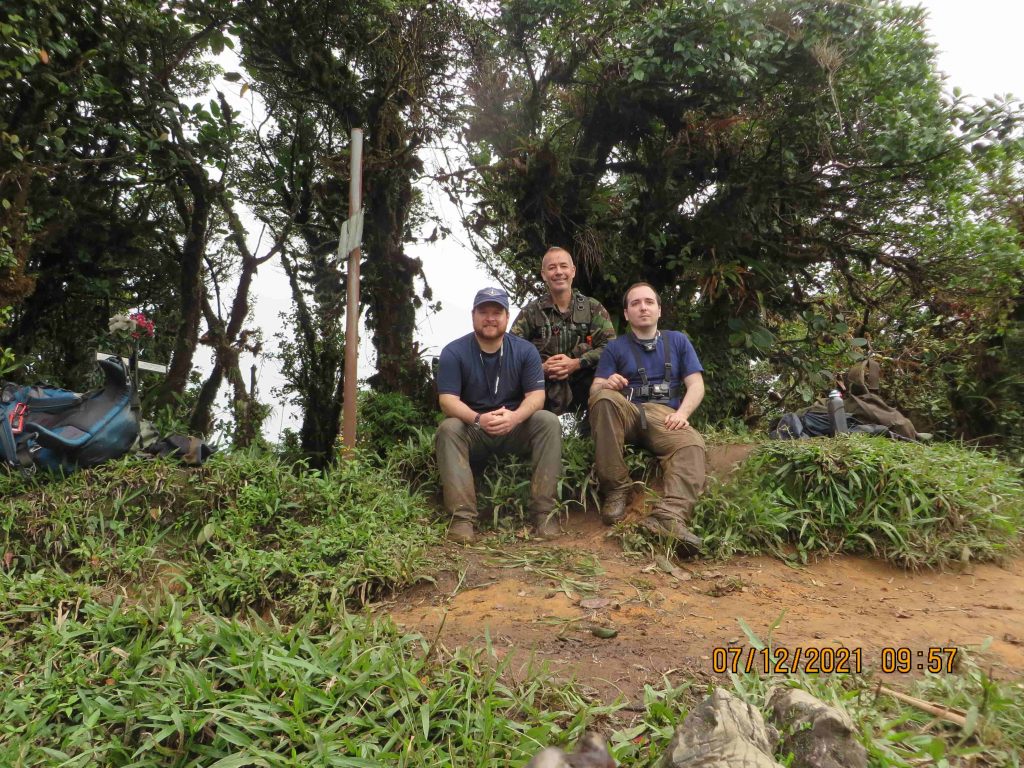 Romain, Yann and Chris flew to Panama to complete the objectives we had planned.
| Team Member | Primary Role | Background | Country |
| --- | --- | --- | --- |
| Chris | Preparations & Fundly | Software Engineer & Outdoors Experience | USA |
| Romain | Drone & Video | Law and communication | France |
| Yann | Navigation & Jungle Expertise | Survival Expert & Military Commando | France |
| Matt | Remote Support | Technology & Data Expert | Canada |
Total Amount Raised: $3,909
Donations were spent primarily on flights and the AirBNB for team members.
Approximate Amount Spent: $18,000
Yann was a paid by our team to assist us in completing our objectives. Yann operates a survival school in north-west Panama called Survie Jungle. He's been involved in search and rescue operations. He's very familiar with human behavior in jungle conditions and has taught anti-poaching strategies to international organizations, including government security agencies. Yann was well informed about the disappearance case of Kris Kremers and Lisanne Froon. After the expedition, we wrote a review about our experience with him.
Matt was our remote support. We maintained daily communication with Matt through satellite communication. Matt was vital for exchanging case notes and monitoring our GPS location. He also acted as a single relay point in case of an emergency. Although there were a couple minor injuries, we were fortunate not to face any emergency situations.
Arrival In Boquete, Panama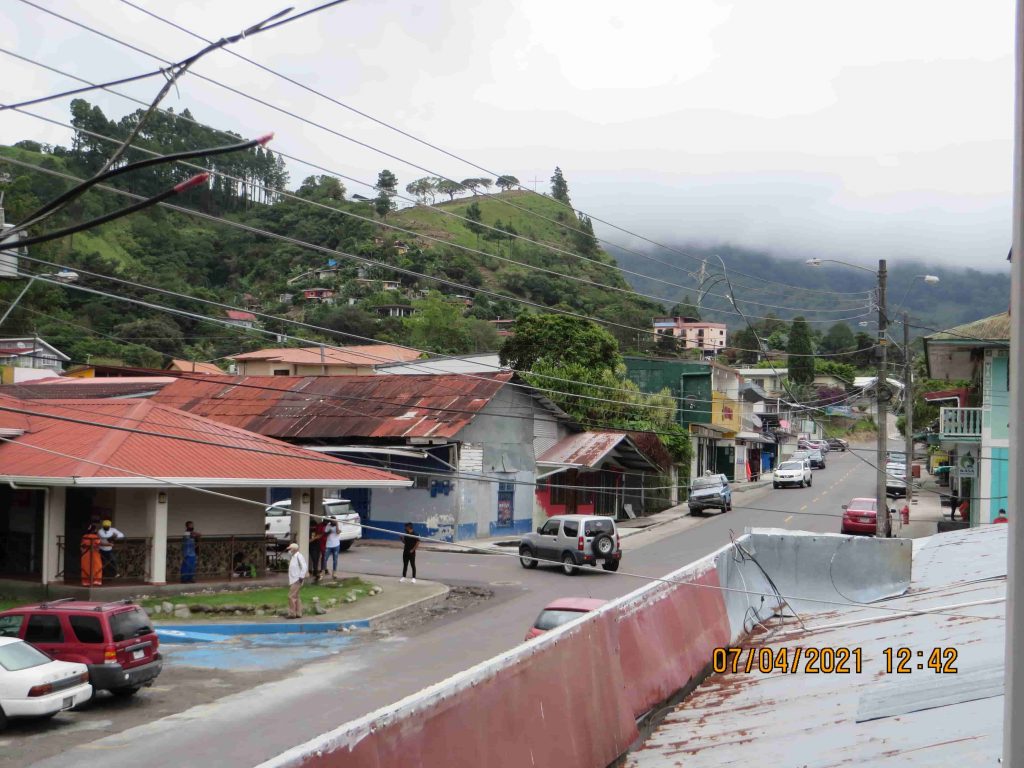 Determining when we should arrive in Panama was our initial big challenge. We had to shift our plans many times as unexpected challenges arose. With the Coronavirus pandemic, flight limitations, hurdles with work and school, as well as the approaching rainy season in Panama, we all needed to ensure that our plans were mutually aligned in a way that also would be optimal for conducting our research in Panama.
Seasonal Timing
The rainy season in Panama doesn't increase substantially until about mid-to-late September. October and November generally receive the heaviest rainfall. We conducted our expeditions in July and August of 2021, when the weather was very mild.
Our team could have waited until April of the following year in hopes to maximize the similarity in weather conditions to when Kris and Lisanne disappeared in April of 2014. However, postponing the trip for more time would have presented numerous challenges for our team. So we decided not to postpone our trip any further.
Romain arrived in Panama first and secure our AirBNB, where we would charge our electronics, organize our gear, store our food supplies and do an overview of our plans and the existing case information. This AirBNB would be our center of operations.
About two weeks later, Chris and Yann arrived in Panama and joined with Romain at the AirBNB in Boquete. Immediately we started reviewing our gear and preparing for the first expedition.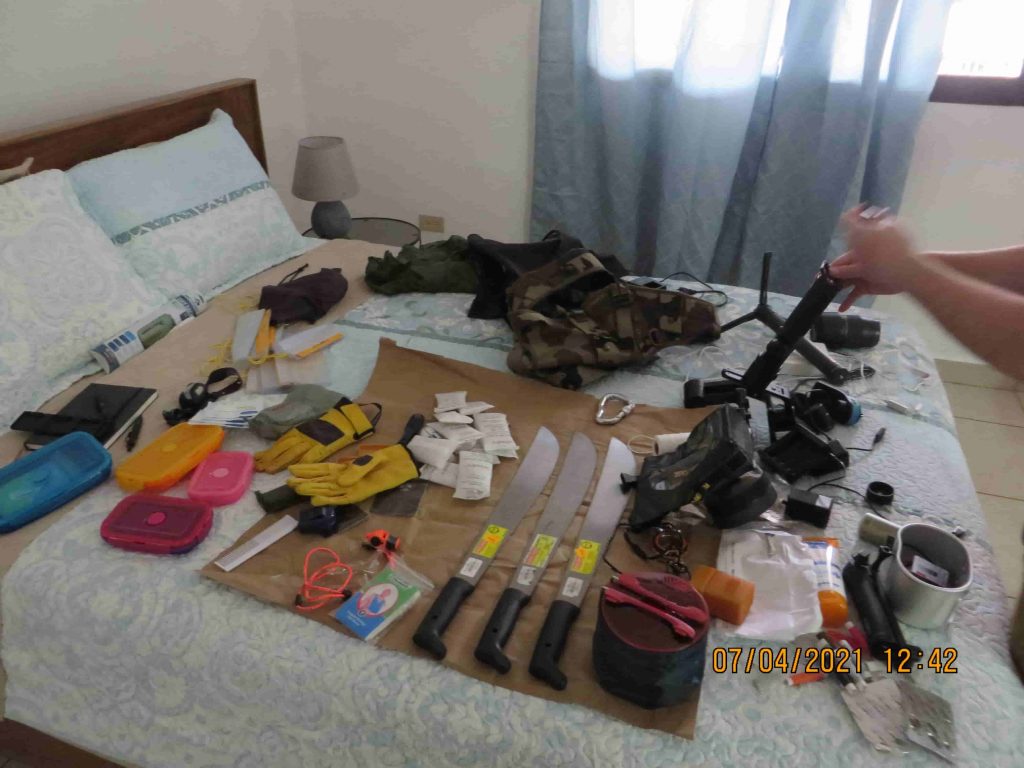 Yann assisted us in determining which foods would be optimal to bring with us, with consideration to the jungle conditions and our necessary caloric intake. We did our food shopping in Boquete. Some foods were purchased at Romero food store, the same grocery store where Kris and Lisanne had bought some groceries during their stay in Boquete.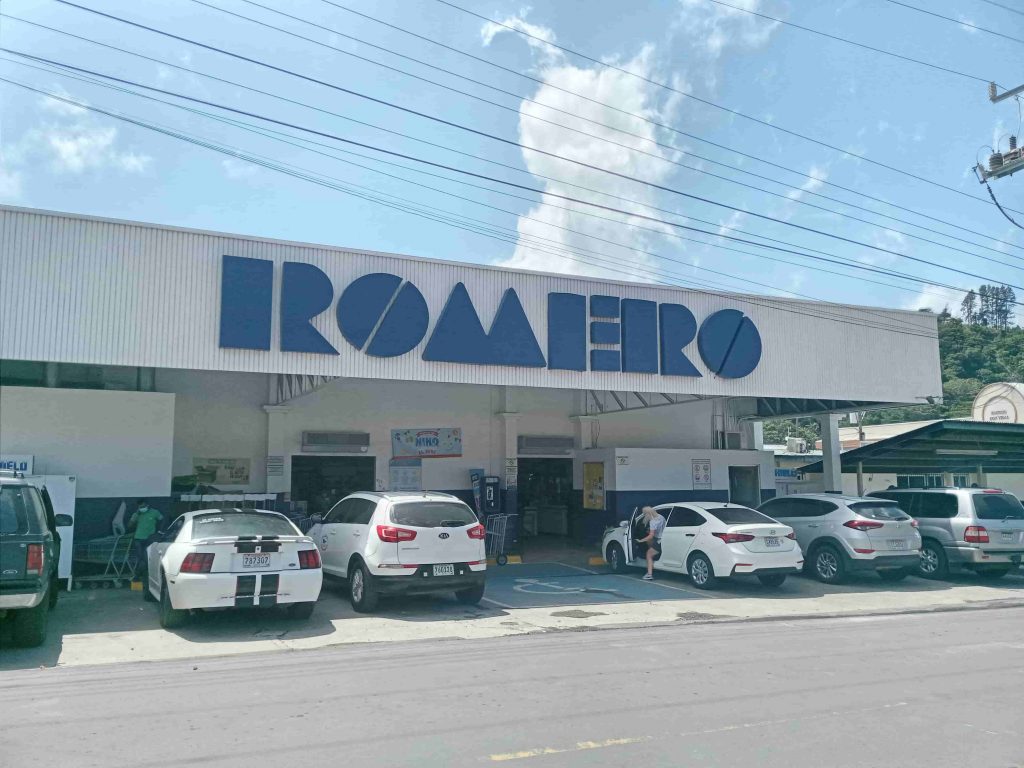 Some items that we needed were difficult to find. For example, we couldn't bring butane nor propane fuel in the cargo hold of the plane when flying to Panama, so we had to purchase a propane torch in Boquete before our expedition. Camping isn't common in areas around Boquete, so it was difficult for us to find a propane torch and other last minute items that we needed. In the end, we found alternative options that worked well for us.
Two Expeditions
We performed two different expeditions with specific objectives in mind for each. We grouped our objectives according to which areas we would focus our time:
Expedition #1: Focussed on the areas near the Mirador & Photo 508 location.
Expedition #2: Visited the monkey bridges and Alto Romero.
Day Trip: Swimming Photo Location
This article is going to focus primarily on Expedition 1, while also providing some light details about Expedition 2. We'll cover a brief day-trip we took to the swimming photo location. Later we'll publish a second article to cover Expedition 2 in detail.
In addition to these two expeditions, we also took numerous smaller day-trips to the Mirador to gather information, such as logging the time to hike to the Mirador, capturing drone footage, etc.
Maps & GPS Coordinates
For convenience, we've organized all of GPS coordinates and map data from Expedition #1 into its own article.
Article: Expedition 1 – Maps & Coordinates
We'll be referring to those maps and GPS coordinates in this article.
It's important to note that Expedition #2 maps and data will be provided at a later date. During Expedition #2 we relied heavily on GPS data logged by our drone, so we'll need some time to compile the important GPS coordinates and flight paths that are currently embedded into the drone KML log files.
Expedition #1 Overview
Duration: 6 Days, Round-Trip Camping Expedition
Date Started: July 6th, 2021
Date Completed: July 12, 2021
Focus: Mirador, Photo #508 Location, Gathering Environmental Data, River Searches, Paddock
Team: Chris, Romain, Yann
Exp #1: El Pianista Trail Hike
The El Pianista Trail starts at the Il Pianista restaurant, which is located on the northern outskirts of Boquete. There's not much activity in the area and a taxi or local bus is necessary to arrive here.
During the first 10 minutes of our hike, we came to the location of the photo where Kris Kremers was seen standing on a small bridge. Here we found that same small bridge: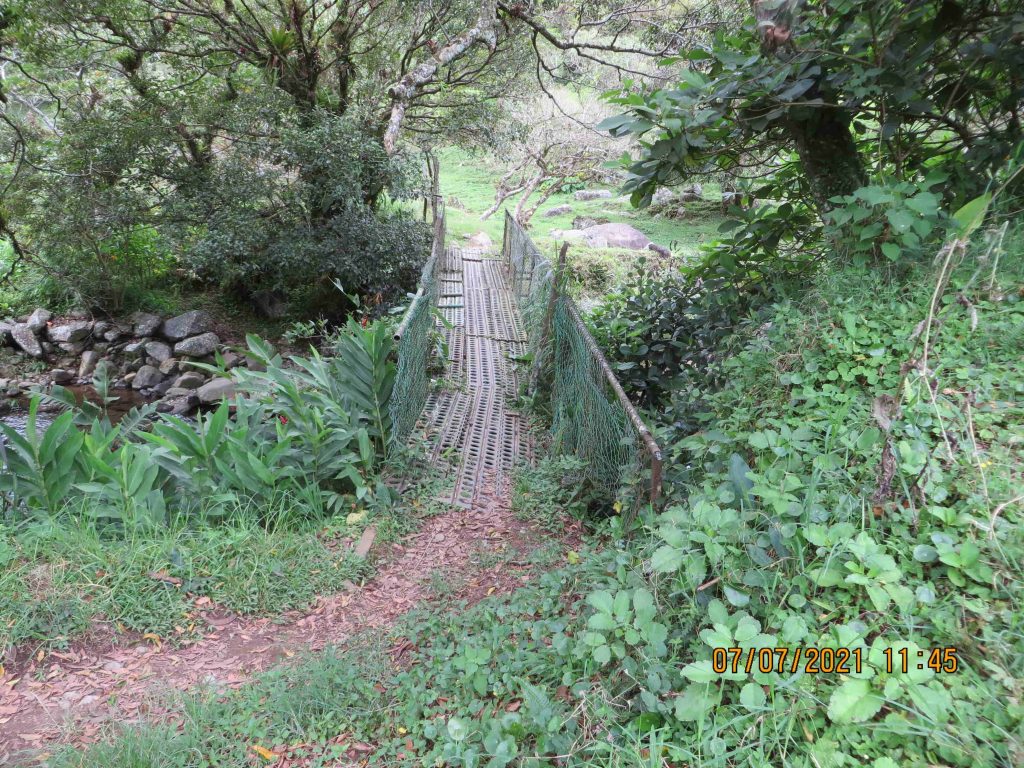 After the bridge, we were surrounded by open pastures: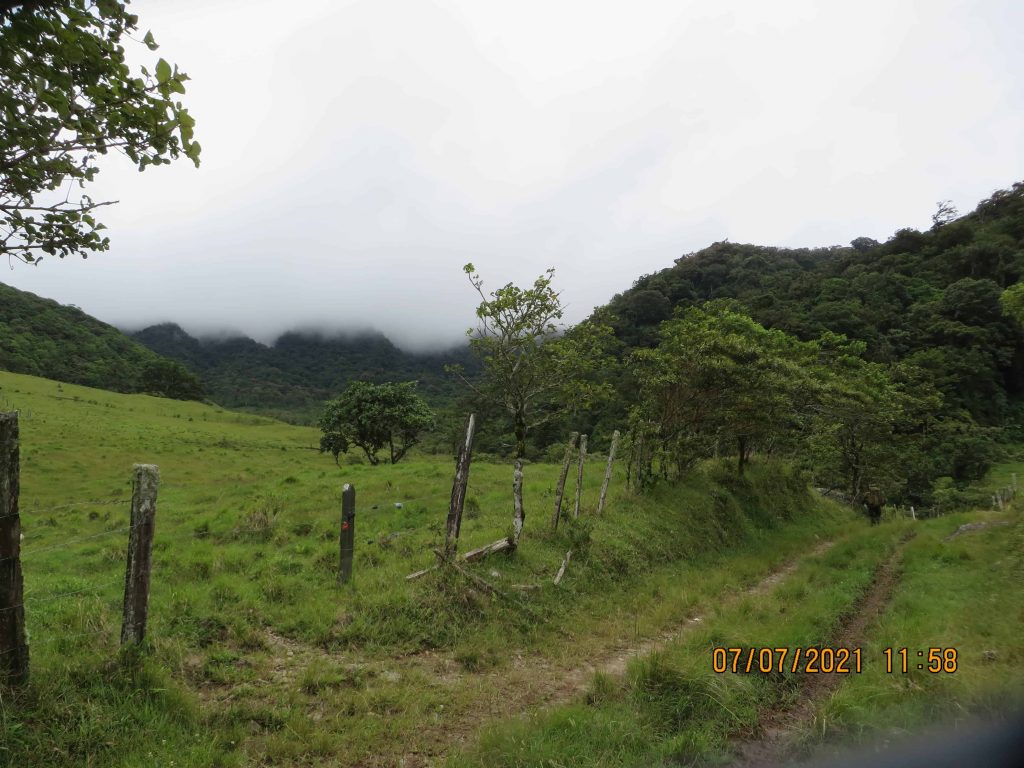 Soon the trial narrowed and was rocky for a while.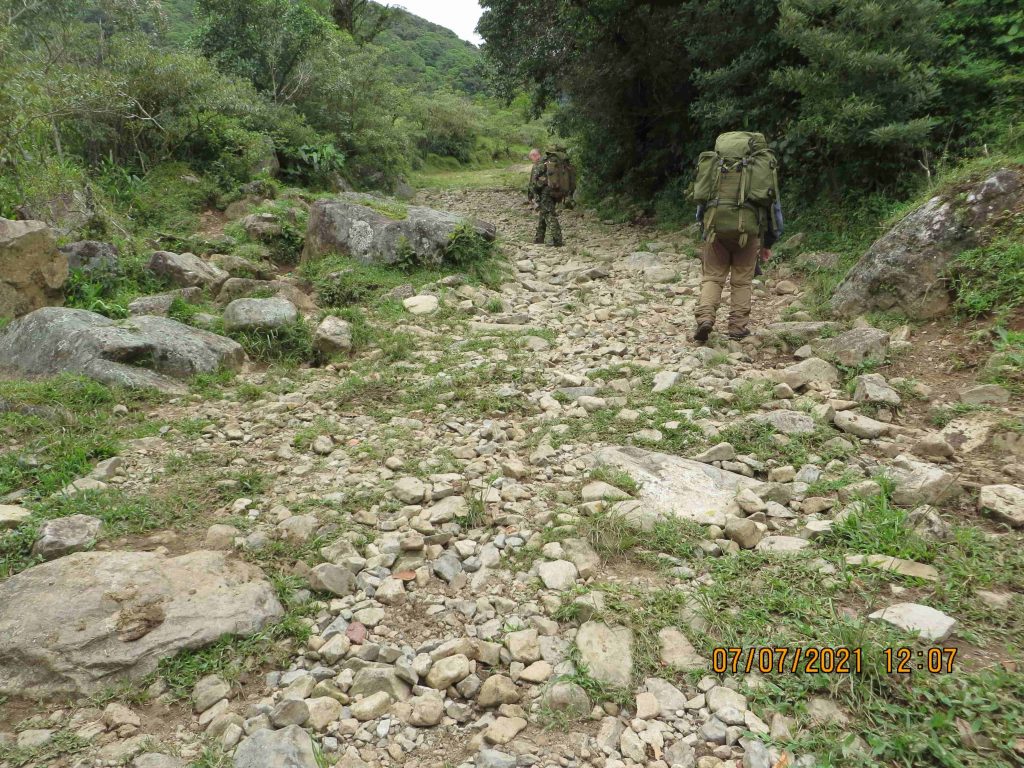 After that, we came to the entrance to the jungle: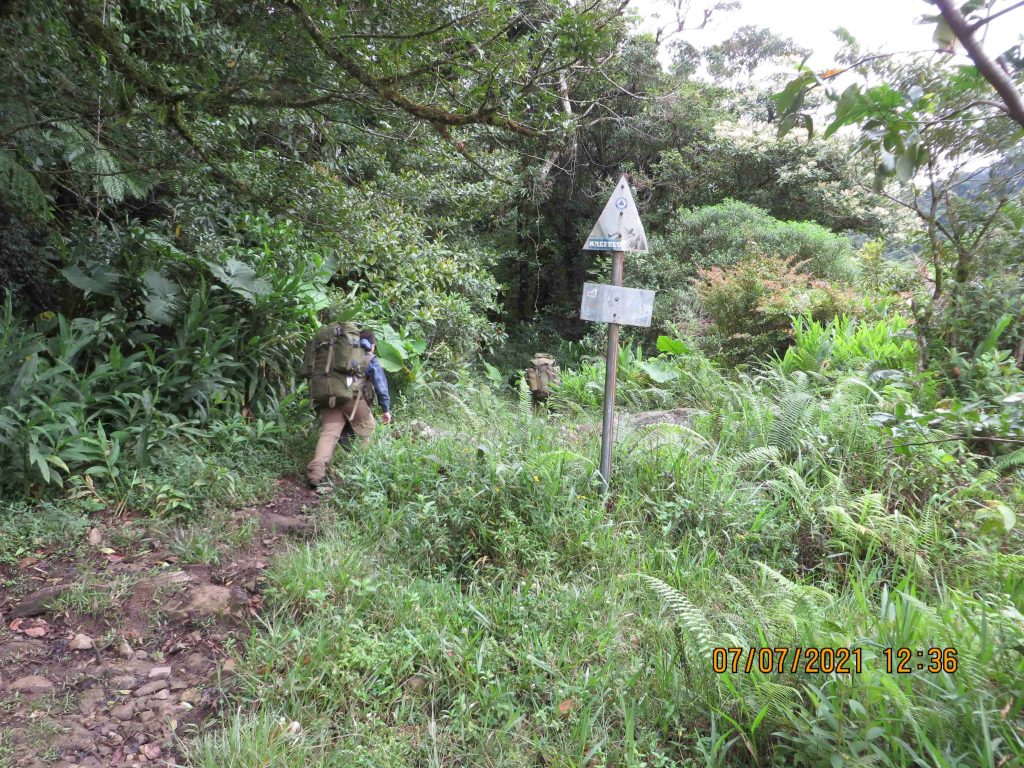 While hiking to the Mirador, we quickly learned that it's difficult to go off of the trail. The trail is straightforward. There's only one trail split, but that split happens far before reaching the Mirador. Here is the trail split: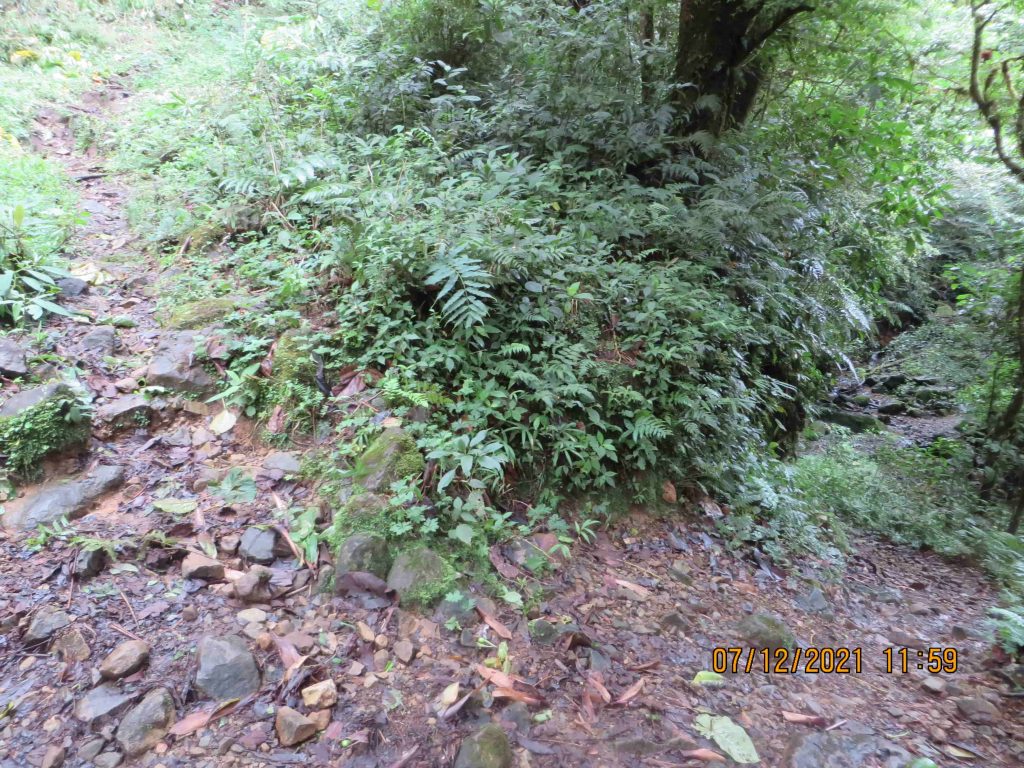 Therefore, considering the timeline of Kris and Lisanne's Mirador photos, it's clear they did not take the wrong direction at that trail split. They couldn't have taken the wrong path and also arrived at the Mirador.
When we first planned our expedition, we wanted to map the "trails" (plural) in the region. We originally thought there was more than one trail. But during the actual hike, we learned that there's just one trail Kris and Lisanne could have taken, especially with consideration that their daytime photos from April 1st indicated they made it to the Mirador. The Pianista Trail is surrounded by heavy vegetation and the trail itself is often carved deeply into the mountainside, limiting any opportunity to go in a different direction.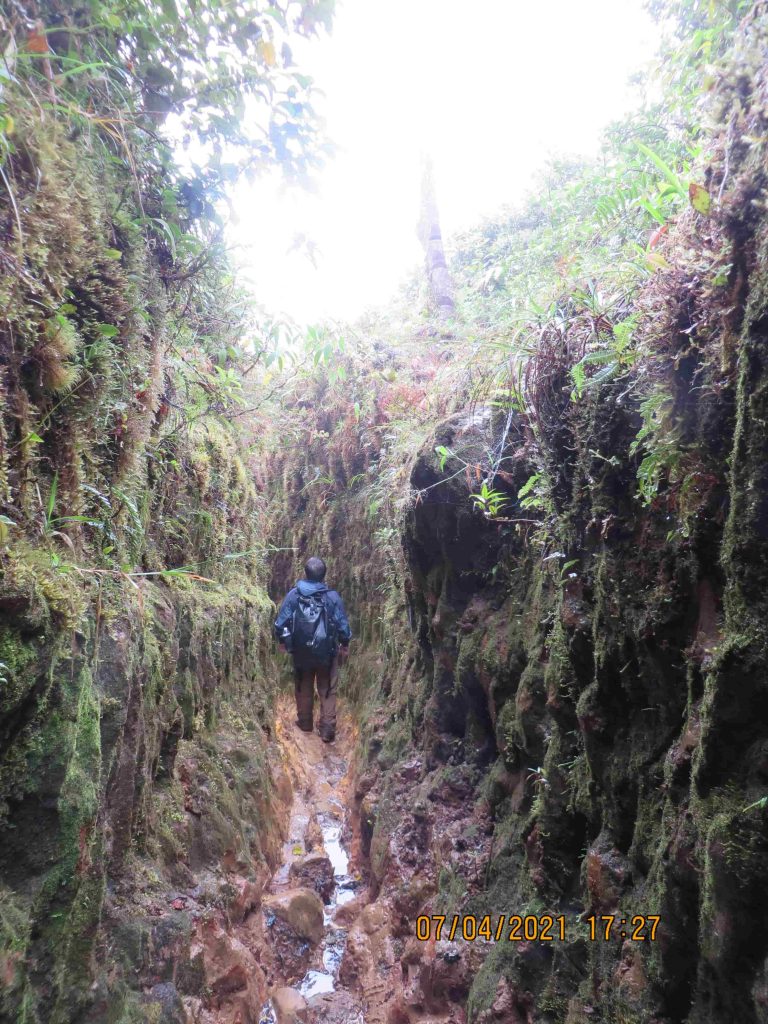 Occasionally, the trail is on the edge of steep cliff-like slopes, with trees and vegetation below. The slope is not similar to rock-cliffs as one might imagine, but certainly it's too steep to risk going off-trail.
Here's a good example of the limiting factors that make it difficult to go anywhere except for on the trail: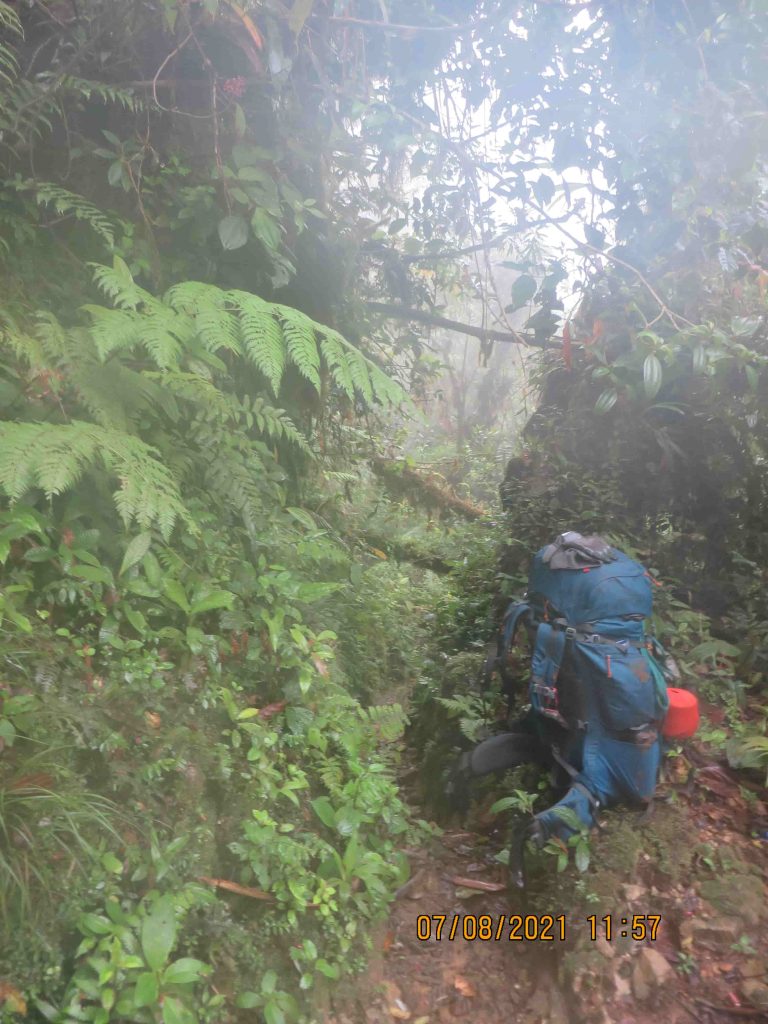 In the photo above, notice how difficult it would be to go off the trail. On the left, you'd be facing a steep incline that's heavy with vegetation. On the left you'd be facing a steep slope that's equally covered in vegetation.
During the hike, Romain almost slipped and fell off the edge of the trail, mainly due to the weight of his backpack shifting as he lost traction on the ground and slipped. Romain was climbing El Pianista with a 25 kg (55 lb) backpack and started to lose his balance next to the edge of the trail. At this particular point on the trail, if he fell he would have fallen approximately 10 to 20 meters down.
As the gear in his backpack shifted, Romain managed to grab the ground and stay within the edge of the trail. It was a small scare, but it demonstrated to us that even with all our gear it's still not difficult to avoid slipping off the edge of the trail, especially due to all the vegetation that's available to grab onto. Keep in mind, Kris and Lisanne had a very light backpack with them, with only a handful of items inside of it. Therefore they likely would have a lower risk of falling than our team.
Exp #1: El Pianista Trail Conditions
We experienced very little rain during both expeditions. Only during two nights did we receive a very light sprinkle, and some days, few times during the afternoon. As mentioned before, July and August do not receive the heavy rains that arrive later in September. Although not exactly the same, we were in similar climate conditions that Kris and Lisanne would have experienced during their hike. There was certainly more moisture in the air. In addition, the density of the vegetation was quite similar to the one we can see on the pictures of the girls.
Occasionally we came across heavy patches of mud, especially in high-elevation flat areas where standing excess water couldn't drain.
We also found traces of wildlife during our hike. At one point Yann pointed out the tracks of what he said were potentially from a small to mid-size feline animal.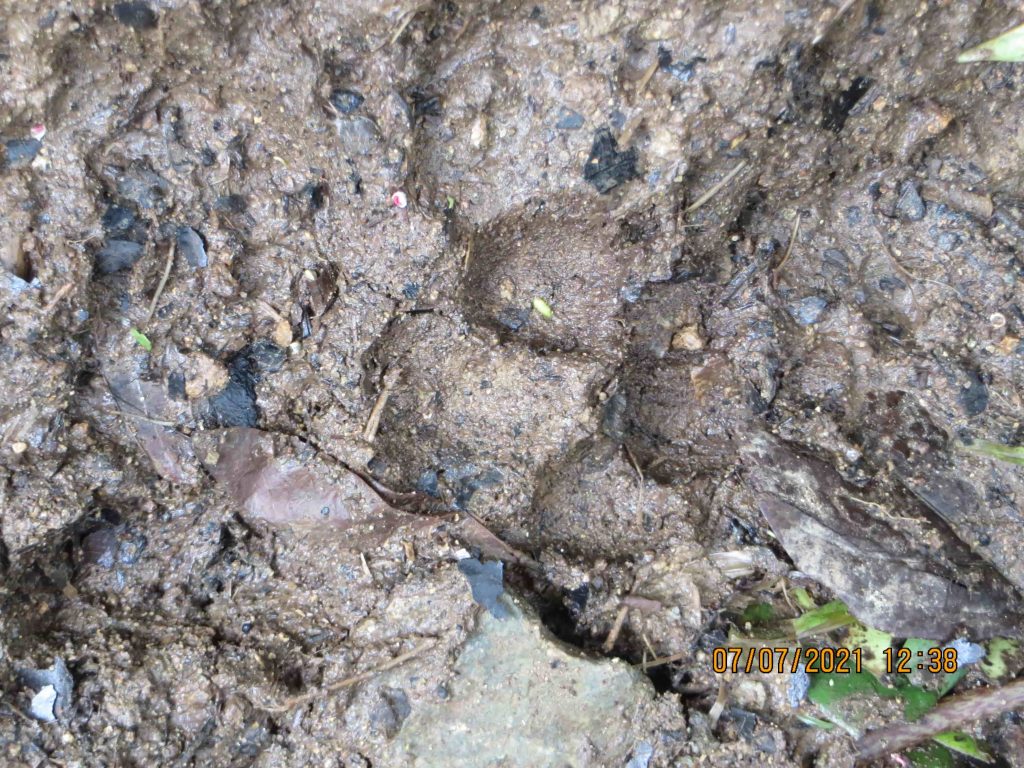 Exp #1: Mirador Observations
The location of the Mirador itself was obvious once we had arrived. Quickly we recognized the imagery from the photos that Kris and Lisanne had taken when they were at the Mirador.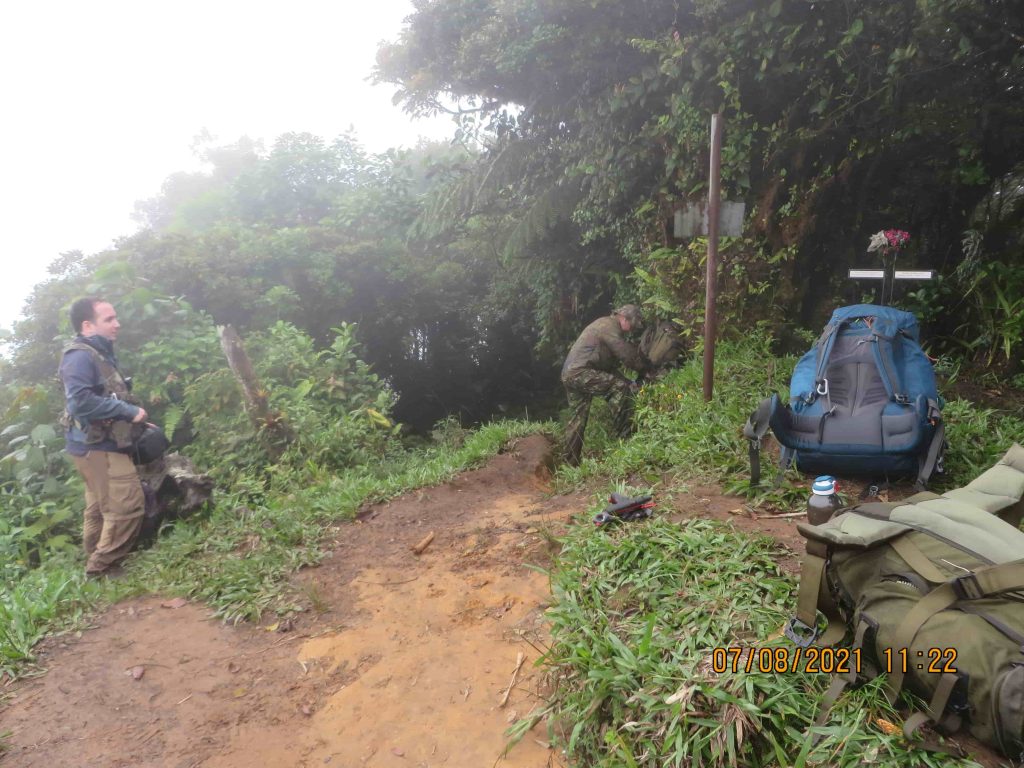 The vegetation and landscape at the Mirador had changed somewhat from Kris and Lisanne's took their photos in 2014, but we were able to see numerous similarities. Also, we saw the memorial placed at the Mirador in memory of Kris Kremers and Lisanne Froon.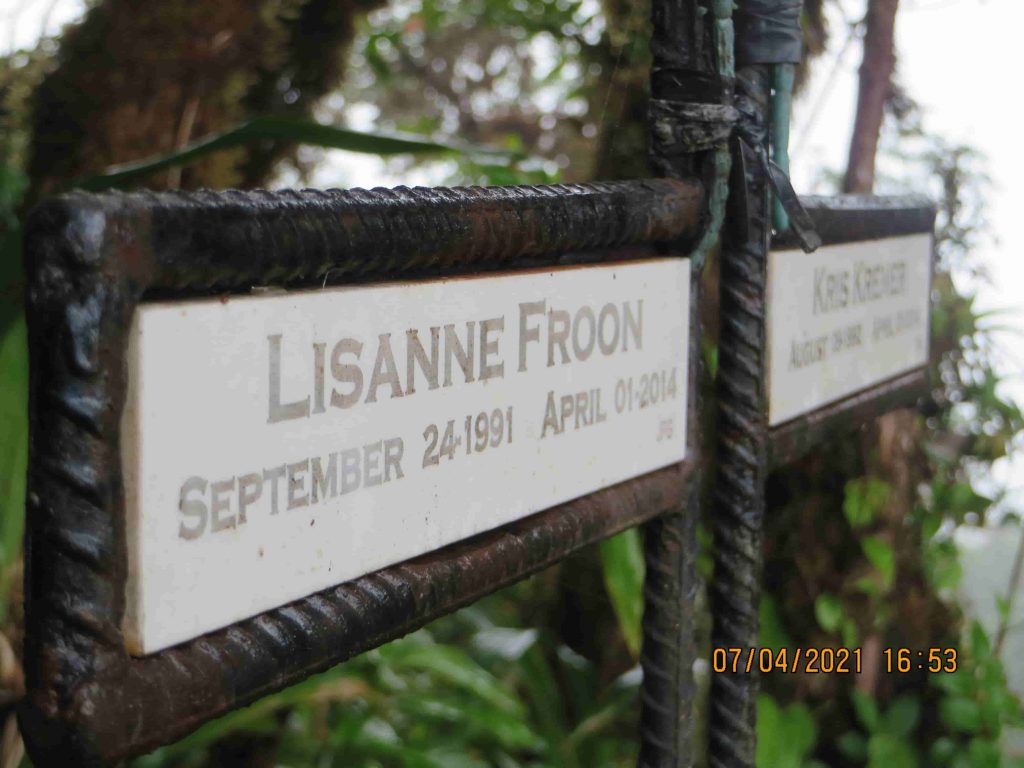 Being at the Mirador was somewhat of a bittersweet feeling. We were content with our achievement to arrive at the Mirador, but we also reflected on the fact that two people lost their lives down the path from where we were currently standing. We knew we had come to the Mirador for that exact reason – in search of more answers.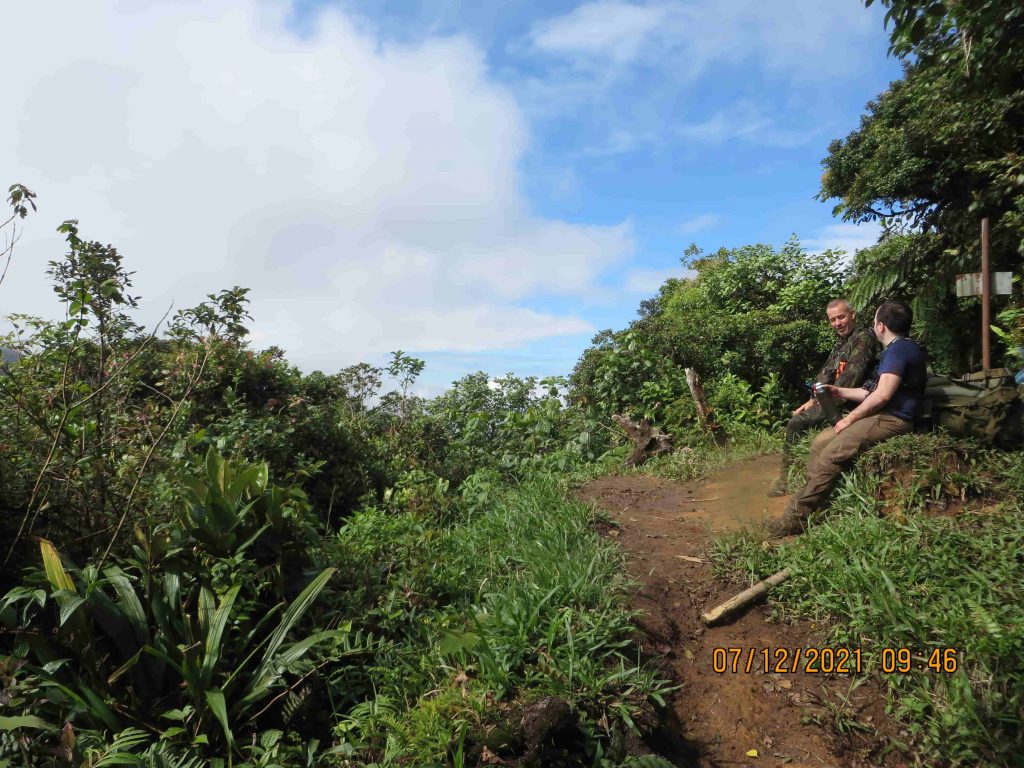 The Pianista Trail before and after the Mirador have distinct differences. It would not have been possible for Kris and Lisanne to accidentally go in the wrong direction. The positioning of the vegetation, the view of the other mountains, and the manner in which the landscape is positioned at the Mirador are all very clear indicators of which direction a person is facing. Also, the town of Alto Boquete ("High Boquete") is visible from the Mirador on one side the mountain range, while on the other side of the Mirador there is only green forests visible for as far as the eye can see. Therefore, from these numerous factors, Kris and Lisanne would have been aware that they had passed the Mirador in their subsequent photos, such as in photo #507 and #508.
Furthermore, the trail beyond the summit continues in the same direction north for several hours. After hiking north for a while, it's unlikely that a hiker would assume that the trail would eventually lead back to Boquete. The surroundings and conditions change further down the northern-facing slope of the mountain; those conditions contrasted with the surroundings on the southern-facing slope of the mountain ensure that there's no doubt that you're entering a totally different region.
Any speculation about Kris and Lisanne having unknowingly chosen the wrong direction at the Mirador can be put to rest. They had intentionally opted to go beyond the Mirador.
To this day, nobody knows the reason they made that decision.
Exp #1: First Camp Site
After resting for some time at the Mirador, we knew we needed to find the location where we would setup our first campsite. We were new to the area and delaying the process could mean setting up our camp in the dark, which could pose some threats to our safety. Venomous nocturnal snakes and spiders are present, as well as colonies of fire ants. We needed to be cautious.
To complicate things further, we didn't know if we would be able to find a place to camp at some point soon after the Mirador. So we decided to backtrack and set up camp slightly before the Mirador.
We learned quickly that it's very difficult to find a good place to camp on this mountain. The steep slope surrounding the trail makes it very difficult to find any relatively flat areas to setup a camp site.
Yann, our expert jungle guide, found a good place for us to setup our camp for the night.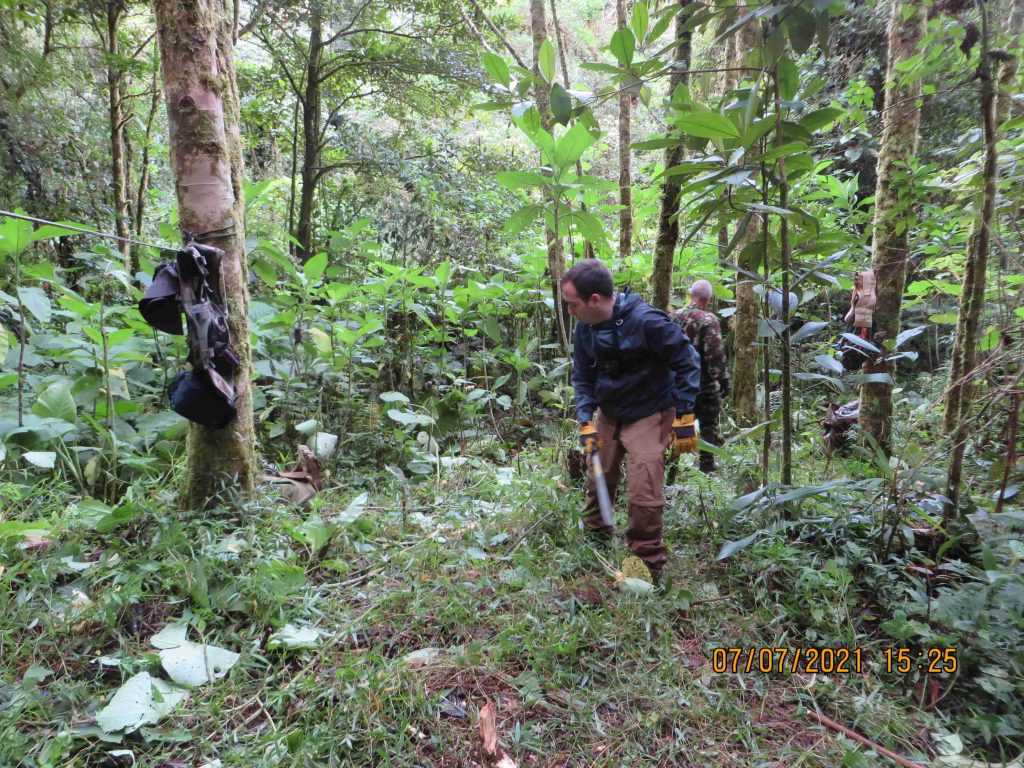 Camping in these conditions requires a lot of patience and mindfulness. We used our machetes to chop an opening for our hammocks. We tested the trees to ensure they wouldn't fall on us while we were sleeping. We did our best to clear the area of brush to prevent insects from creeping into our sleeping space. Each decision was methodical. It took a lot of work to setup the campsite.
The following morning, we re-packed our gear and continued our hike.
Exp #1: River 1 & 2
Shortly after the Mirador we found two small rivers, which we mapped using the GPS coordinates. Below are photos of each river.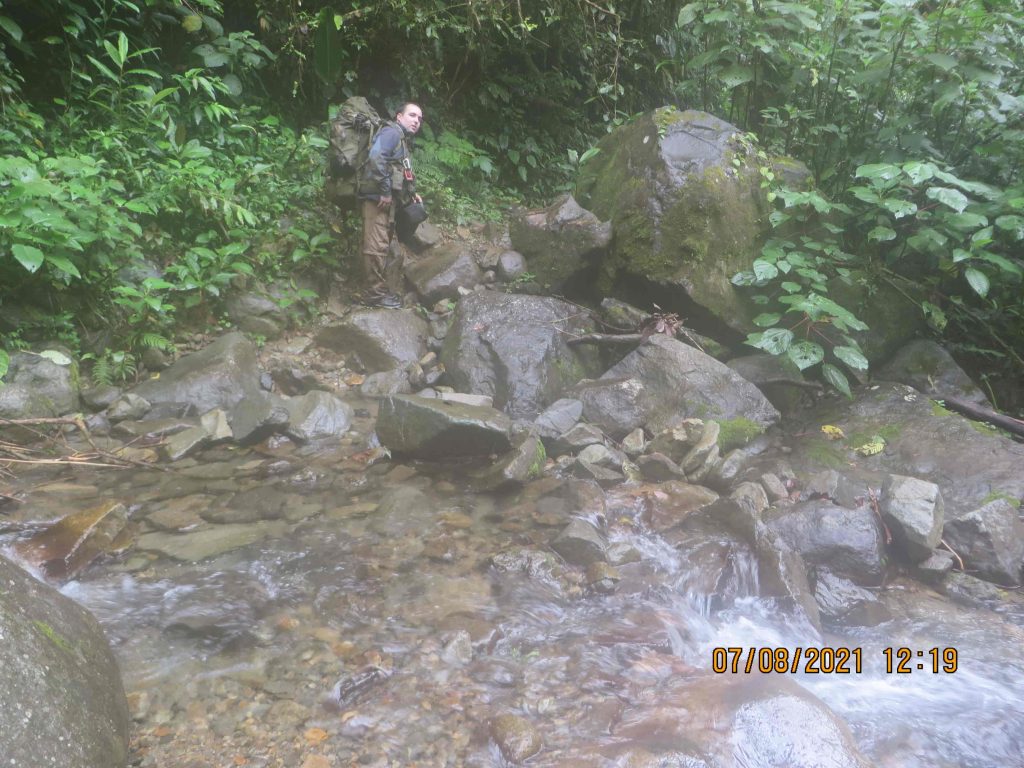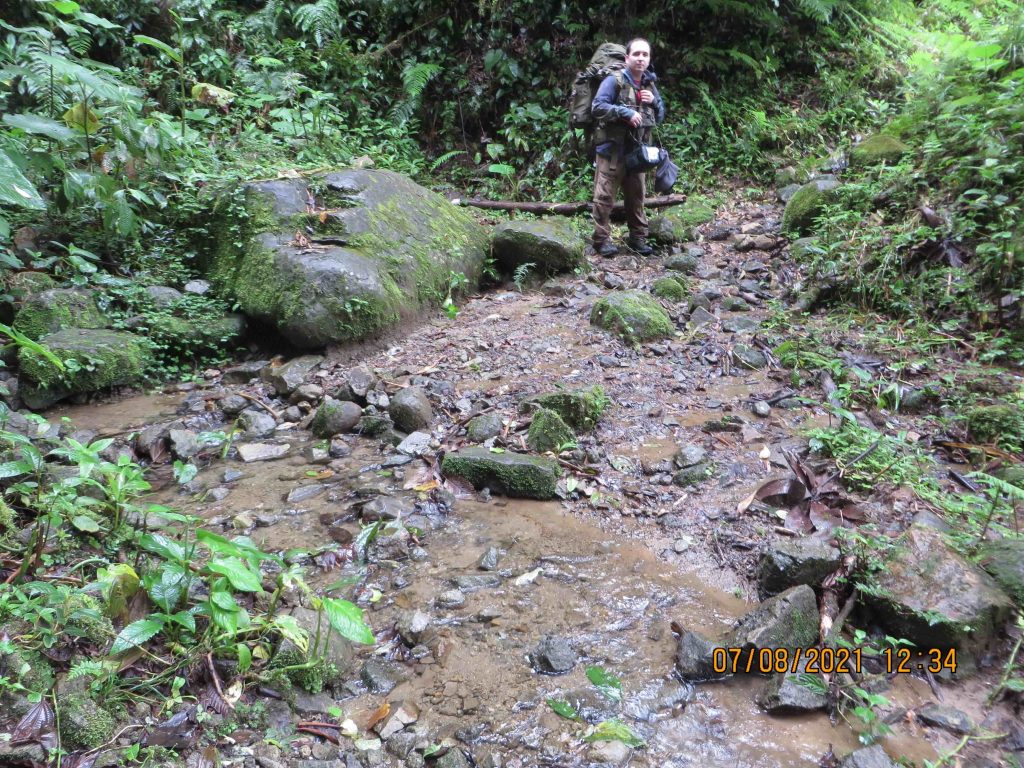 We took numerous photos of both River 1 and River 2. Afterwards, we continued our hike.
Exp #1: Noting A Mountain & An Important River (River 3)
We continued our hike on the trail after gathering photos and data at River 1 and 2. Soon we arrived at a smaller mountain that laid between the two rivers.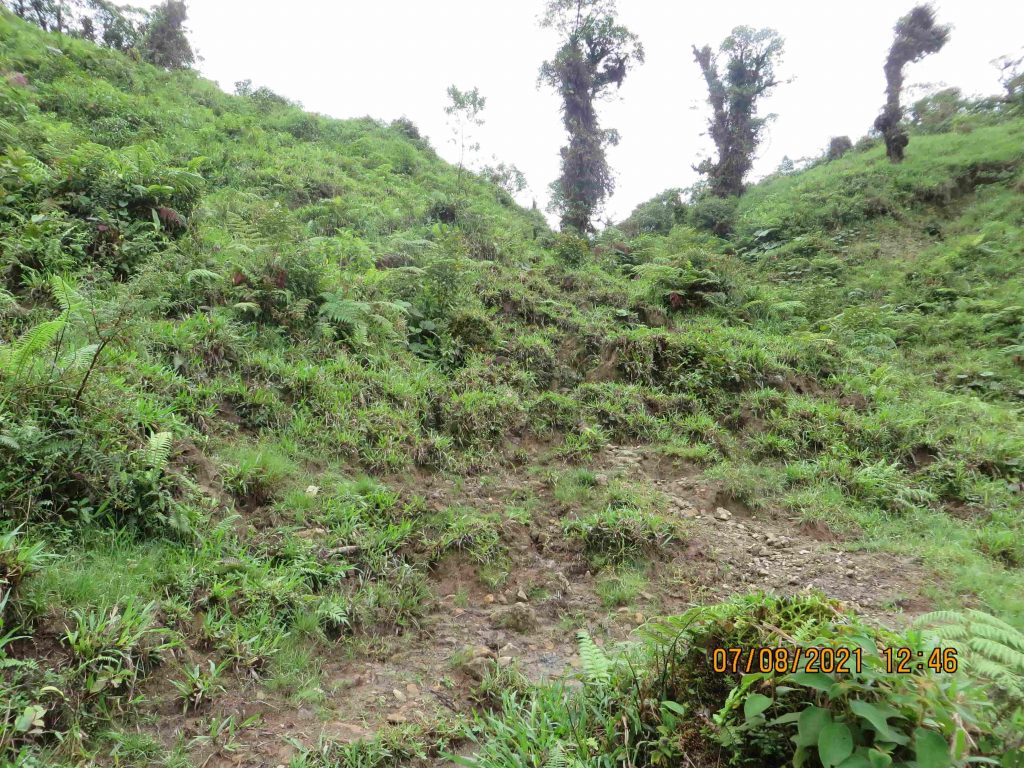 This mountain was worth noting on our hike for a couple of reasons. First, it was the first real barrier after the Mirador. Most of the hike down the northern-facing slope of the mountain, after the mirador, was relatively easy to hike down. But this small mountain was an inconvenience, especially after previously hiking up to the mirador.
Kris and Lisanne would have experienced this same hike, which suggests that this small mountain may have slowed Kris and Lisanne during their hike. Furthermore, this small mountain was exposed and without overhead vegetation. During the sunny days that Kris and Lisanne hiked on the trail, they would have felt more hot and therefore probably consumed more water than expected. This brings us to our next big find, the river, which we refer to as River 3.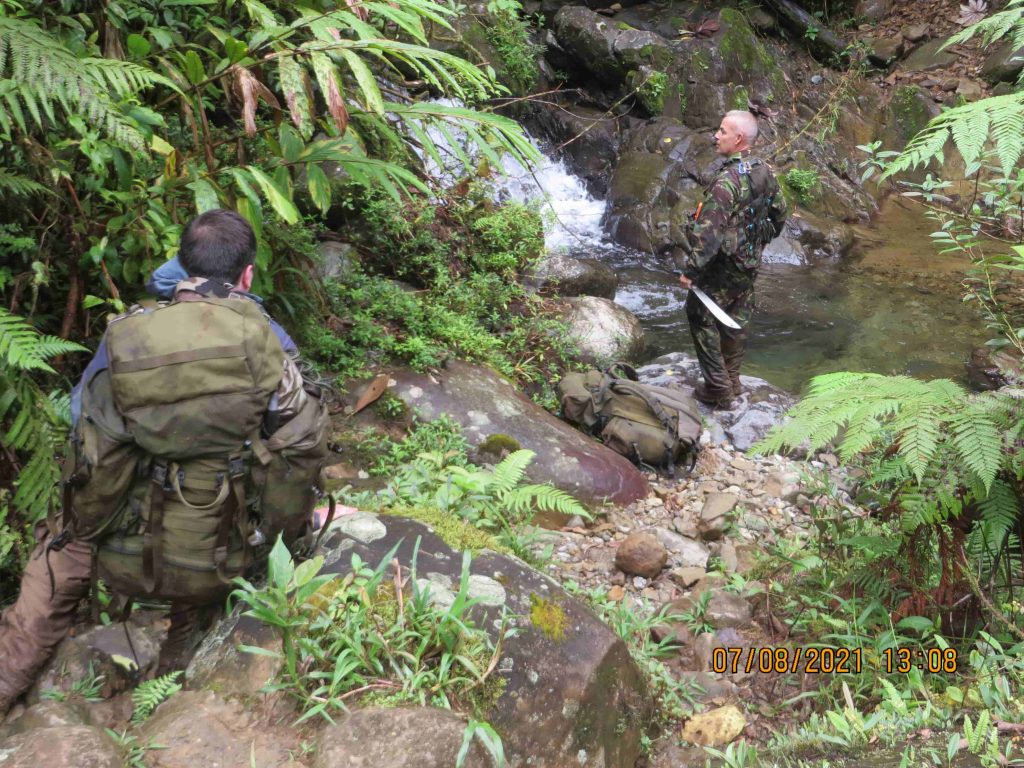 This river was an important find. It was a good source for drinking water, it had swimming holes with crystal-clear water, the temperature of the water was very cool and comfortable, and it had a lot of rocks at waist-level which made it perfect to sit and relax.
We'll discuss this river more in a moment. After relaxing for a few minutes, we continued on the trail in search for our second camp site.
Exp #1: Second Camp Site
We continued hiking approximately 5 minutes beyond River 3 and found our second campsite location. We wanted to be near River 3 if possible, because it was the only nearby water source and we knew we wanted to investigate the river more. So our second camp site was in the perfect location.
In reality, the conditions at the second camp site weren't optimal, but it worked for us and it would end-up being where we would call home for the next 4 days. The spider holes, nest of red ants and large amounts of dead branches hanging overhead suggested that it might not be the safest place to camp, but we organized our camp in a way that was reasonably safe and rid of potential dangers.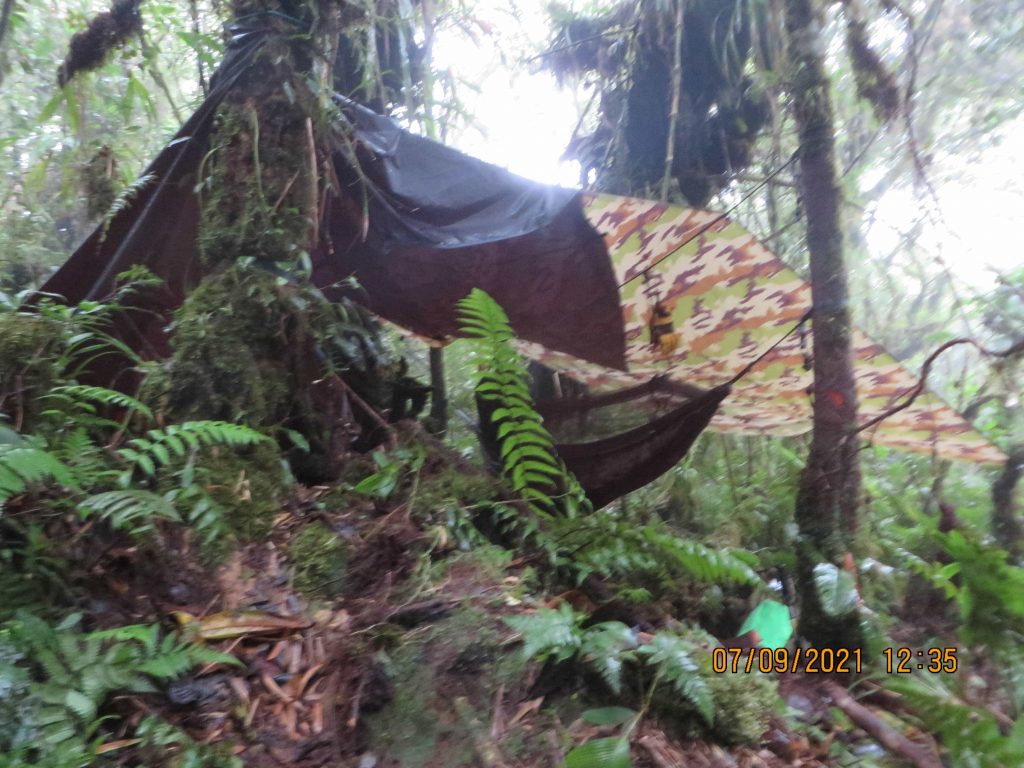 This camping site was loaded with spiders. We saw 4 to 5 inch spiders frequently, especially after the sun went down. Here's a pic of one. Luckily we had mosquito nets covering our hammocks which protected us at night.
We saw numerous locals hiking the trail on a daily basis. We monitored the foot traffic in the area and kept notes of the number of people that past our camp. Approximately 5-7 locals passed our camp each day, usually around 2:00PM.
Exp #1: Hike Down River 3
After we setup our second campsite, we decided collectively to put some time into this river over the following days.
River 3 stood out to us for a few reasons.
First, this river is larger in size compared to the other rivers in either direction on the trail. Note, for the sake of clarity – this river is not large, it's simply larger than the other rivers within at least a 30 minute walk in either direction.
Second, this river was like an oasis to us and certainly would have caught the eye of Kris and Lisanne too. Simply put, it's a beautiful river. Unlike the other rivers in the immediate area, it was reasonably deep at some points which made this river the perfect place to sit and cool off during a long hike, especially for Kris and Lisanne during the sunny days early April.
Third, the water is crystal clear, drinkable and safe. This river was our primary water source during most of Expedition 1. Although the water temperature was chilly, it was refreshing for swimming.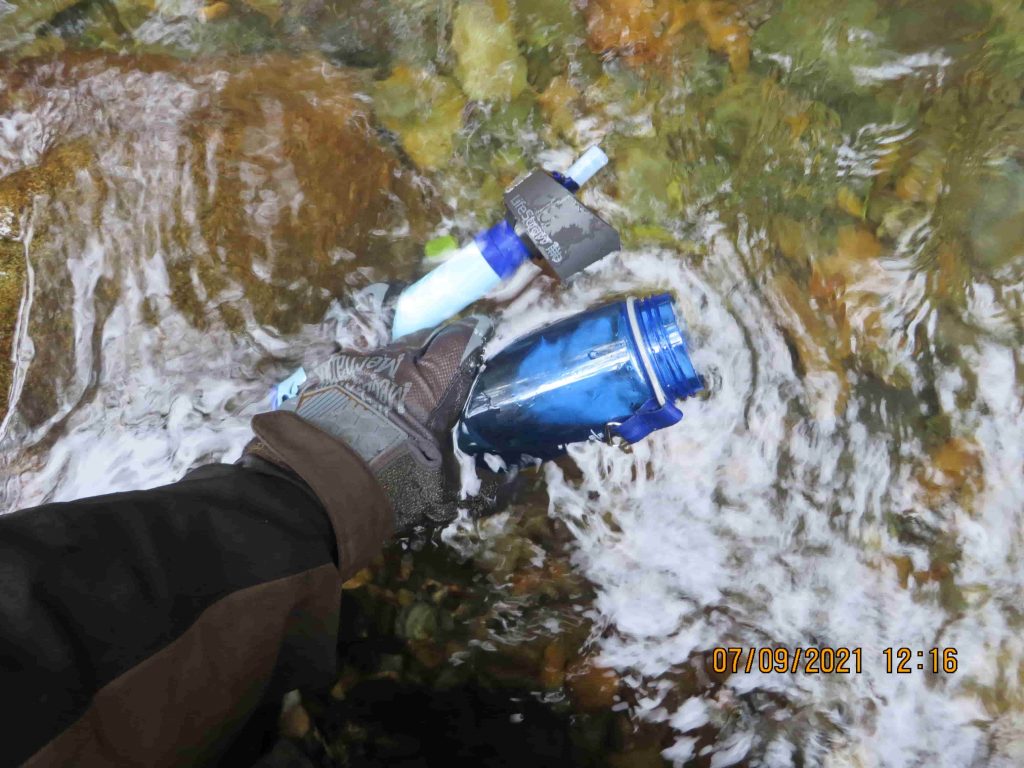 Fourth, this river seem to fit the story of the disappearance very well. This river, and this river alone would have been a center-point of attraction after a long hike, for many reasons:
It's the only place that a person could walk off-trail comfortably to take a break. The river is wide enough and flat enough that a person can walk down the river without being engulfed in vegetation.
There are many large rocks that allow a person to sit and hang their feet in the water.
It's the only river that a person can swim to cool off. All other nearby rivers on the trail were too small to swim.
It's a louder river than the other rivers nearby, due to its size. Therefore hikers can hear the river from a distance.
This river, to us, seemed to be the furthest logical point that a person would have comfortably hiked on this trail before turning around and going back to Boquete. Immediately beyond this river is a steep incline that must be climbed to continue on the trail. Although we hiked that steep incline numerous times (to get to our second camp location) a normal hiker would likely not have opted to do so unless they had a good reason to do so.
If Kris and Lisanne decided to travel further on the trail than this river, it begs one to ask…why? This river would be the perfect place to cool off, refill the water-bottles and turn around to hike back to Boquete.
As mentioned before, this river fits the story well. Two girls go hiking, decide to cool down before hiking back and then something unexpected causes them to flee the area by running down the river and they experience injuries.
We hiked up and down this river more than once.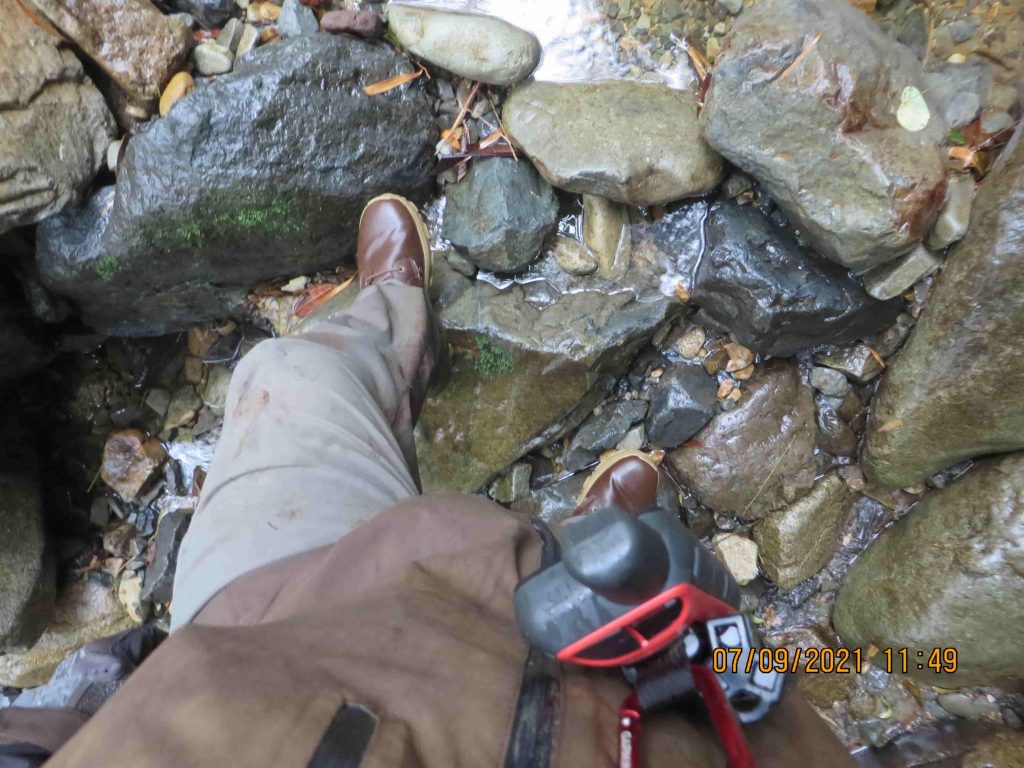 We collected ample information from River 3, including most of the environmental information that we gathered. We also took a significant amount of photos, videos and drone footage of the immediate area. We'll publish another article specifically about this river.
During the river hike, Chris experience a slip and fall accident and banged up his shin a bit on the rocks. Fortunately, it was nothing serious, but we applied basic medical preparations to ensure it didn't get infected.
Here's a photo of the injury a couple of days after the incident.
Expedition #1: Environmental Data
We gathered a handful of pieces of environmental data. The river temperature was 16.5 Celsius and the air temperature was ranged between 16.8 Celsius to 17.5 Celsius, depending on the amount of sunshine.
Here's a list of the specific environmental data we gathered:
Amount of rainfall during our first expedition.
River height/width before and after rainfall.
River temperatures during the day
River temperatures during the night
Air temperatures during the day
Air temperatures during the night
This information may help provide us with some important insights and give us a reference to compare against the limited publicly available data. In the article "Kris Kremers Bleached Bones – Deeper Insights" I provide many examples for why this information could be important. At the very least, this precise information has never been collected before and now it will be publicly available for anyone interested.
The environmental data will be published in detail in another article, with some further analysis discussing it's relevance to the case.
Exp #1: Recreating The Night Photos
We did our best to take night photos under similar circumstances that Kris and Lisanne would have taken them.
Note: These photos were not taken at the real night photo location. These photos were taken at a different location.
It's far too dangerous to go hiking through the rivers at night.
You can see a handful of the night photos we took below:
These photos were taken where the trail meets River 3, with the Canon Powershot, the same camera that captured the "night photos" in Lisanne Froon's camera after Kris and Lisanne disappeared. We took these photos at approximately 7:30PM.
We took photos from numerous angles of the rocks, the trees and the river itself. We'll be writing a separate article to discuss these photos in detail, with comparisons to the night-photos that were found in Lisanne's camera.
Exp #1: Visiting The Paddock
On the northern-facing slope of the mountain, the trail decreased in elevation until we came to the open space commonly called the Paddock.
While Chris was hiking through River 3, Romain and Yann took some time to visit the Paddock. At the paddock the jungle opens up into clear space with significantly less trees and vegetation.
Romain took some fantastic drone footage of the Paddock: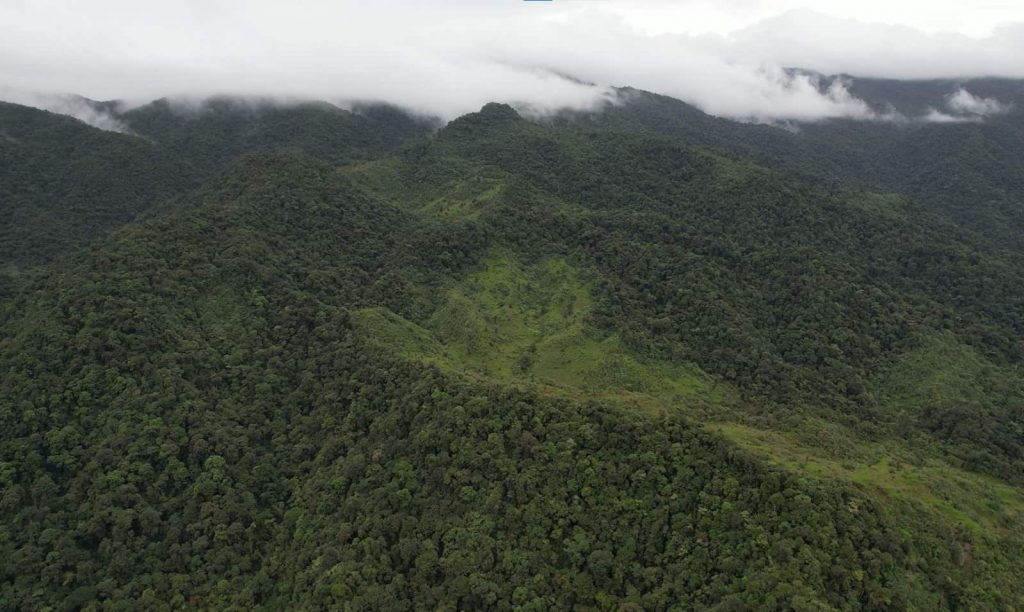 Although many people imagine the paddock to be open pastures of flat area, it's actually very mountainous, with steep inclines and declines. The terrain in and around the paddock is not flat, as most people assume. It's not as easy of a hike as the initial hike on the Pianista Trail.
There are no visible houses or cabins near the Paddock, which suggests that Kris and Lisanne wouldn't have found refuge if they desperately needed to find shelter.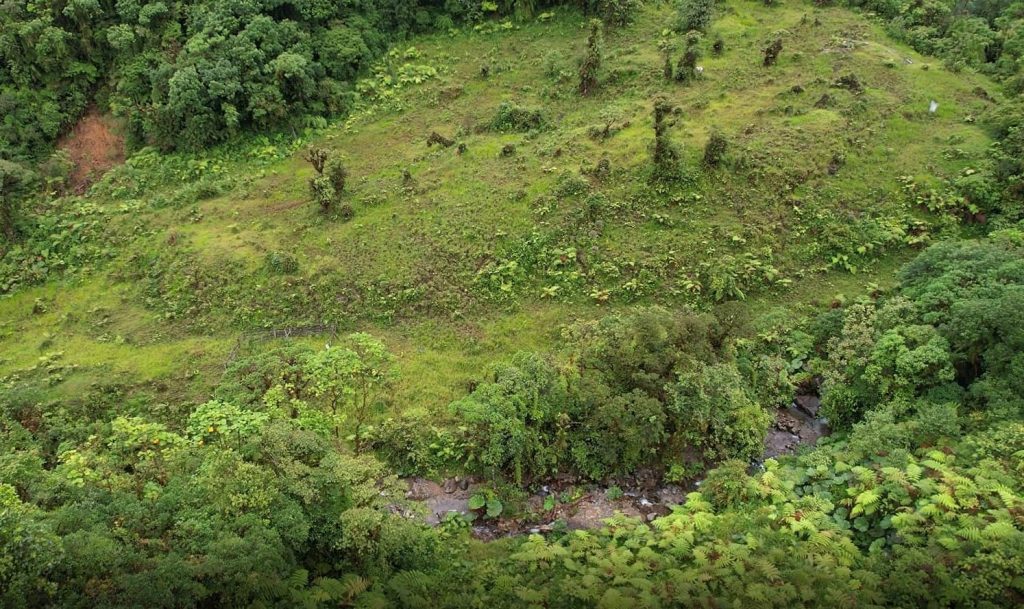 The paddock is utilized by local farmers for livestock and fences are present in the area. Additionally, behind the Paddock there is a destroyed cabin, which is not visible in the photo above. The drone footage will be published at a later date.
That was the duration of Expedition 1. Once our objectives were complete, we hiked back to the Mirador and continued on the trail to return to Boquete.
Expedition #2 Overview
Duration: 3 Days, One-Way, Returned By Bus (Norteno, North-East of Alto Romero)
Date Started: August 18, 2021
Date Completed: August 20, 2021
Focus: Monkey Bridges, Alto Romero, Laureano's Farm
Team: Romain. Accompanied by Plinio and Laureano.
The goal of Expedition 2 was to cover the Pianista Trail in its entirety while also continuing on the trail to visit other key locations, such as the Monkey Bridges.
Exp #2: El Pianista To The Paddock
The first thing the team noted while hiking on the Pianista Trail to the first Monkey Bridge, was that there was only one visible trail that spans the entire distance. This is the same trail that the locals use and there are no alternative trails that lead to the Monkey Bridge from the Mirador. Occasionally the main trail briefly splits, with smaller trails breaking-off of the main trail for about 5 to 20 meters, but they always merged back onto the main trail.
The level of difficulty of walking the trail greatly varies from one section of the trail to the next. For example, between the Mirador to the location of River 2, it is fairly easy to walk on the trail. Even though the path is often narrow and there are a lot of rocky areas to pass, our team still managed to hike comfortably at a moderate pace.
After River 1 and River 2, the level of difficulty of hiking the trail increases.
As mentioned during Expedition #1, as we approached the mountain between River 2 and River 3, we began climbing again in elevation. However, the real challenge for us was the terrain because of the mud and unlevel ground.
Exp #2: The Paddock & The First Monkey Bridge
As we went beyond the Paddock, approximately 30 to 40 minutes beyond River 2, the trail became even more muddy and difficult to pass. Not only did the team get tired more easily but we also faced very slippery areas.
These conditions weren't dangerous but it took a lot of our energy and slowed us down.
As mentioned above during the first expedition, there aren't many areas along the trail where you could fall. Falling down the slope certainly could result in injury, but in most cases the vegetation is dense enough to slow you down and could potentially help you to climb back up to the trail.
After hiking for some time beyond the Paddock, we eventually arrived at the first Monkey Bridge.
On the north side of the first Monkey Bridge the winds are much stronger and it is very difficult to safely fly a drone. The wind present is powerful enough to push the drone against the trees, and as a consequence, we almost lost a drone while flying over the first Monkey Bridge.
North of the first Monkey Bridge, the wind is a strong enough threat that helicopter pilots typically avoid flying their aircraft over the mountains in that region. There's an increased risk of a crash taking place under these conditions. However, helicopters can fly to areas located to the north-east and south of the first Monkey Bridges.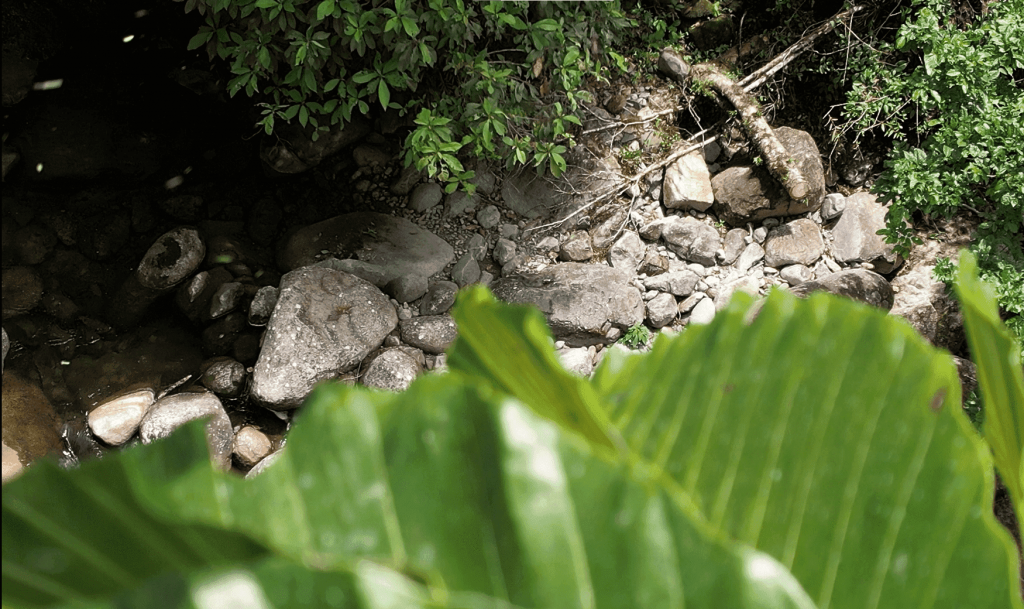 Exp #2: The current state of the Monkey Bridges
During early August of 2021, the first and the second Monkey Bridges were renovated by Plinio and Laureano, whom covered the costs of building the bridges by themselves. These bridges are still made of cables, however the new renovations involved adding wooden planks to stabilize the bridges and make them safer to cross. In 2020, an unfortunate situation happened where a mother and her two children fell while crossing a Monkey Bridge during a storm and died.
The third and fourth Monkey Bridges are still cable bridges but there's already plans that they will be renovated in the future. These cable bridges (the third and fourth), even though being scary to cross, are not difficult to cross. They can withstand fairly heavy loads, such as up to two people at the same time. However, even with the strength of the cables, it is not safe for two people to cross the bridge at the same time because each person has to be very careful with their balance and movements. With each step that a person takes, the cables are typically swaying back and forth under pressure. Attempting to cross the bridge with another person is more challenging and therefore more dangerous.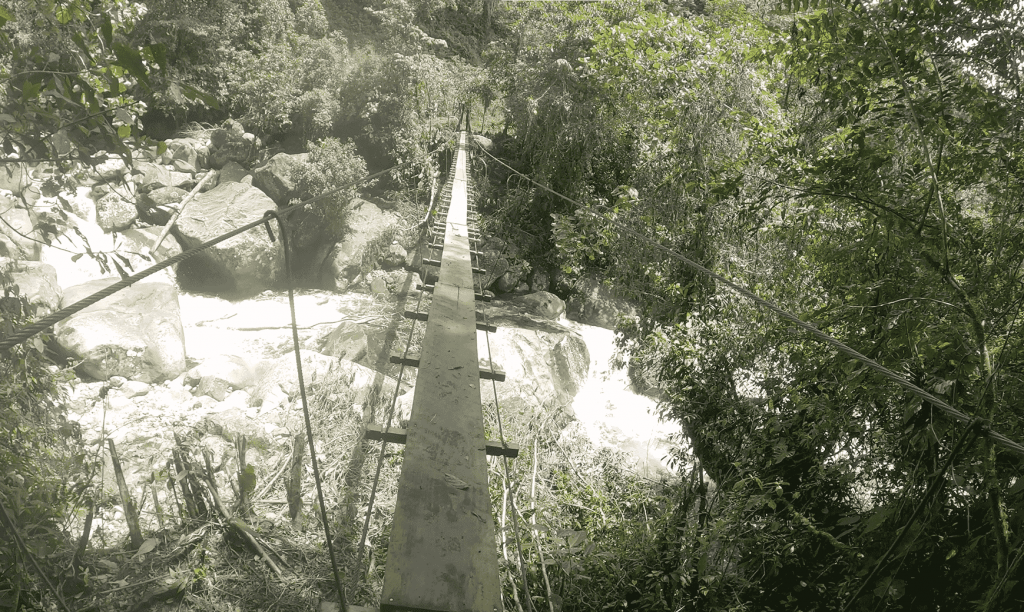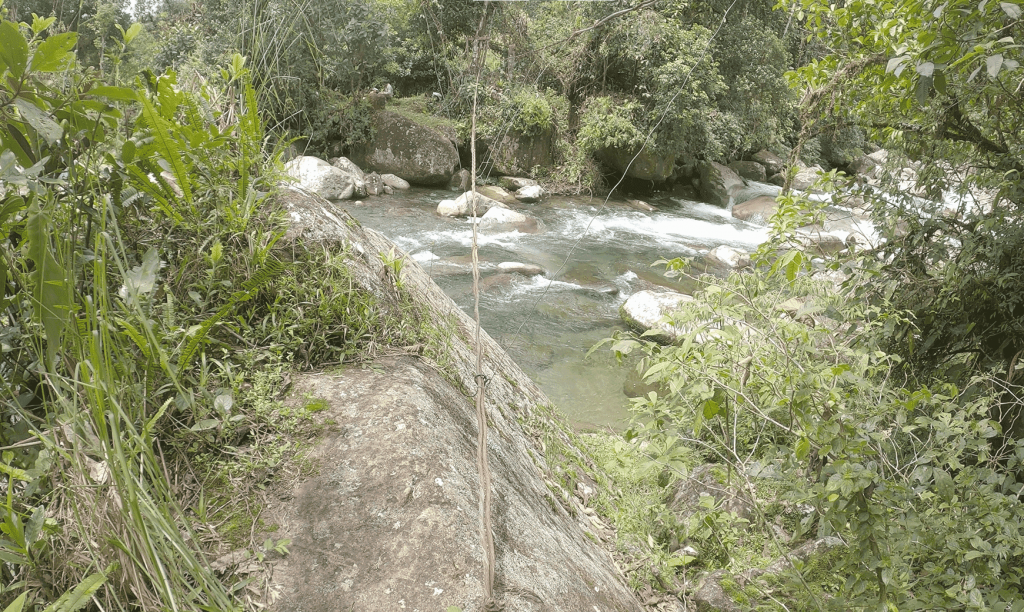 Exp #2: Going to Alto Romero
The trail continues to Alto Romero. As we approached Alto Romero, we observed a few small cabins from a distance, which suggested that there were many small trails that broke off from the main trail. Invisible to anyone unfamiliar with the area, these trails are known to locals but are otherwise difficult to spot. Romain was given a map during his stay in Panama, which was originally drawn in 2014. This map illustrated the location of these hidden trails and some cabins which are not visible from the trail or from satellite images.
It took 2 days (16 hours) for Romain to reach the Alto Romero community. However, a native to the area can do the walk in only one day and can even reach the area of Picture 508 in ~5 hours.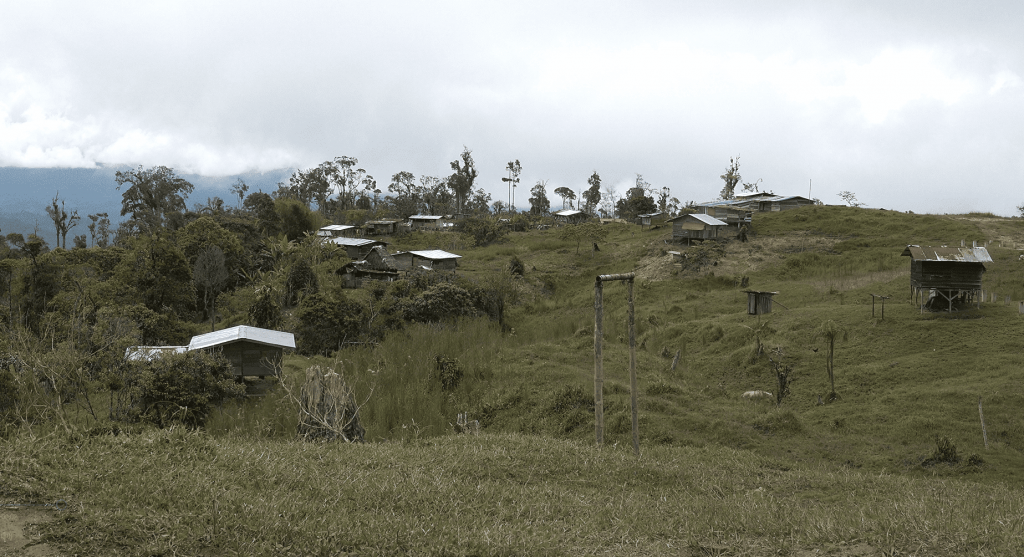 Exp #2: Phone coverage
At the Mirador, it's possible to establish a cellular connection due to the high elevation and the proximity to Boquete, which has numerous cellular towers. Phone connectivity isn't available in the area beyond the Mirador, on the northern-facing slope of the mountain, including in the area surrounding the Monkey Bridges. Therefore you won't have success connecting to any services regardless of whether or not you are in an open area. As everyone knows, being in the middle of nowhere and surrounded by hills and vegetation, it's obviously less likely to get a connection.
In Alto Romero, you can make phone calls because the connection is fairly strong. At some areas outside of Alto Romero, you can sometimes pick up a signal. For example, at Laureano's farm it's sometimes possible to send a text message if the signal strength is strong enough. Alto Romero is much closer to national roads and developed towns, which are located slightly east.
The mountainous area where Kris Kremers and Lisanne Froon disappeared is a considerable hike from Alto Romero. That mountainous area mostly goes uninhabited because the conditions are unaccommodating in multiple ways. The mountain and the trail serve locals as a path to travel to Boquete, or to their cabins, for work or trade.
Day Trip: Swimming Photo Location
Before discussing this subject, it's important to mention that there's no evidence proving that the swimming photo is related to the disappearance case of Kris Kremers and Lisanne Froon. However, enough speculation and connecting many pieces of the case together has left a lot of people wondering about the swimming photo and it's possible relation to the case. I'm not going to go much further into the subject in this article, but there's plenty of information about it on Scarlett's blog.
Our team decided to try to find the swimming photo location to learn more about the area. It took basically the entire day to find the precise location.
GPS Coordinates: 8.69150, -82.30244
We also did some metal detecting in the river at the Swimming Photo location and the surrounding area to see if any artifacts could be found. Unfortunately, the river is fairly fast moving, which would sweep anything away. On the shores, we searched and only found bottle-caps and similar objects.
Altogether, the drive to get to the swimming location was much more than we had expected. Altogether it took about 40 to 50 minutes to drive there from Boquete. This area is nowhere near Boquete and would be a big inconvenience for any travelers to visit. And it's likely that only locals would know about it. We drove down a long poorly-paved windy road to get to this place.
Upcoming Articles
As mentioned before, we have more articles coming that will discuss a lot of these findings in further detail, with more data and more analysis. We'll be discussing the location of Photo 508 in further detail in a future article as well. Romain is working with the vast amount of video footage we gathered to prepare some videos to publish. Once those videos are published, we'll provide links to the videos on ImperfectPlan.com.
We're thrilled to have had the opportunity to visit Panama and collect all of this information. Organizing all of the photos, videos and data has been an enormous project within itself and we've still got a lot of work ahead of us.
Thank You To Our Followers & Supporters!
We'd like to thank all of our readers, followers and contributors for their support and patience while we collected and organized all of this information. It's been an incredible journey and we're not finished yet.
Thank you again.