I'm really excited to say that I'm currently heading back to Mexico to continue my trip down through Central America. I'm currently on an Amtrak Train to Los Angeles. Then, from Los Angeles I will catch a flight to Cancun, Mexico.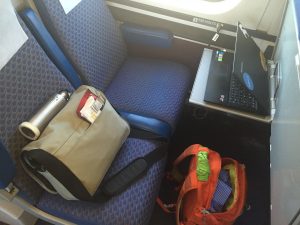 Yesterday was my last (unexpected) job interview, so I booked a next-day flight to head back to Mexico. I want to travel as much as possible before I possibly land a job. I'm flying into Cancun tonight at 11:00PM. After a night in Cancun, I'm heading to Chichen Itza and then Merida for 1-2 more nights. Then, I'll head east again and go to Tulum and Playa Del Carmen.
Like before, the goal is still to work my way from Mexico, to Guatemala, to Nicaragua and then stop in either Costa Rica or Panama. I could continue to Colombia, but that depends on a number of factors and there are too many unknown variables right now to look into that.
I'm really excited to pick up where I left off. The friends I made on my last stint in Mexico were really cool and I hope I can run into some of them again. If not, I'll still have a great time though. There are plenty of travelers to meet.
More on Boring Job Stuff
I'm somewhat dreading hearing back from the position I applied for. If I'm asked to start in under 4 weeks, I might be unhappy. Some people might think that fact is crazy, but here's what a lot of people ignore: I've always wanted to be a world traveler. I travelled very little in college because it was expensive and student loans were bogging me down. Now, I can finally travel. Now I have the mobility, money and freedom to do it…and the world is trying to pull me back. I literally didn't apply for this job and they're throwing a ton of money at me in effort to get me to take the job.
Life Throws Curve Balls
Life is certainly challenging me right now. It's either a big job or big travel experience. I'm not complaining, but I'm saying that it's not easy to decide on which one is better for me personally. My traveling friends say to travel. My parents and working friends say to take the job.
Realistically, I will probably take the job. It would be crazy for me not to since its such a good position and will set me up for life. However, I will be back to travelling in the future at some point.