I'm a minimalist backpacker. I don't need much to live. Also, my gear is high quality. Everything has a purpose and can usually serve one or more functions on the road. I stay in hostels when I travel which often cost $8-9/night, and sometimes up to $16/night depending on where the hostel is located. My gear is all I need to sustain my travels and work on the road.
My laptop is the only "cheap" item I have. It's a $250 laptop. I didn't want an expensive piece of tech because if it gets lost, stolen or damaged then I lose $1,000 instantly. So, I have a cheaper laptop for now, which does it's job perfectly.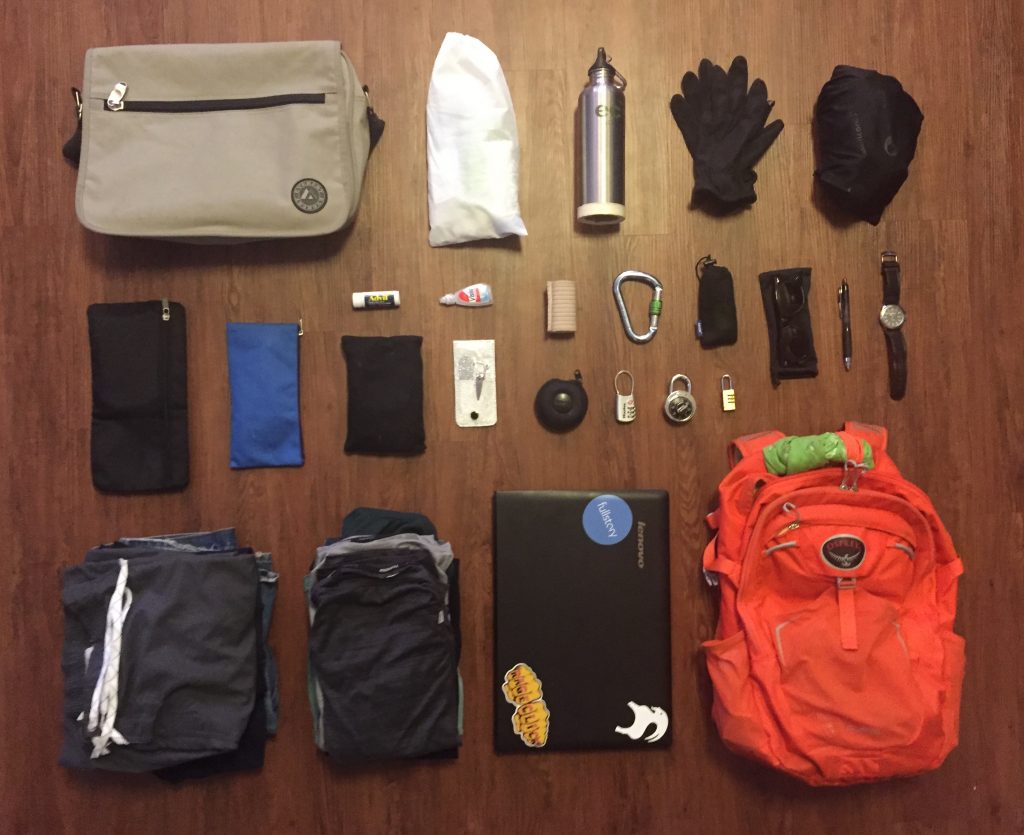 This pic shows everything. Here is the complete list of stuff I carry with me:
Backpack – Osprey Farpoint (26 L)
Shoulder Bag – Everest Messanger Bag (10 L)
Clothes List – 2 shorts, 2 jeans, 8 shirts, 8 underwear, 10 socks.
Jacket & Gloves – Packable Rain Jacket and Light Gloves.
Water Bottle – Hard Aluminum Eco Canteen.
Laptop – Lenovo 17″ basic laptop.
Tech Gear – 2x Charge Power Bank, external hard drive, flash drive, wireless mouse, cables.
Document Sleeve – The larger black case on the left is for important docs I need with to have with me, such as backups of my passport. I hate papers, but having some on me is necessary.
Carabiner & Paracord – Having straps and the ability hold your gear/bags together is very valuable in certain situations. I always keep these things on me for backup.
Locks – 3 Locks for different options to protect my gear.
Sunglasses & Watch – Timex Expedition and Basic Raybans
Bathroom Supplies – General items + eye drops, nail clippers, advil/anti-histamine, pressure bandage and needle/thread for last minute sewing repairs.
Snacks – I always keep 2-3 snacks on me. Nothing is worse than being hungry or forced to eat something you don't want just because there are limited options.
That's really it. I don't need much. All of my items fit into these two carry-ons so I never have to check a bag at the airport. It's great. Plus, this stuff really isn't that heavy. Everything is about 34 Liters total in size and it weights maybe 16-18 pounds. That's not bad for carrying your life with you.
When traveling, I often see people carrying bags with 50-70 Liters worth of stuff in it. And these people are only traveling for 1-3 weeks. I don't get it. I understand having different levels of comfort, but you can have everything you want fit into a bag under 40 Liters…if you plan and think about things carefully.
Also, I should mention, all of my clothes are specialty materials. I generally buy athletic clothing and moisture wicking, wrinkle free clothing. This clothing is lighter to cary, cooler in warmer temperatures, dries faster, holds less odor and attracts less insects (less odor). I love wearing athletic clothes when traveling.
If you need suggestions, please feel free to ask. I'll be happy to help you plan your gear and packing strategy for your future travels.