Last night was a hell of a night. After going to the Cenote Party our group finally got home around 7:00. Špela had to work at 8:00 at the hostel, so we needed to get back in time for her to open the front door and start tending to guests needs. The party was great and an unbelievable experience.
There were 19 of us that went out, including:
* Spela
* Joe from Britain
* Alejandro from El Salvador
* Carla from Mexico
* Steffan from France (with girl S…. Name)
* Misty from Canada (Vancouver)
* Lindsey from the Netherlands (bluest eyes I've ever seen!)
* 3-4 other guys from Germany that I didn't really get to know.
Today was a recovery day for all of us at the hostel. We drank, partied and danced for 6 hours starting at 1AM last night. We were all overheating from dancing even through the festival was outside so me and Lindsey bought waters. Half of mine ended up on my head to cool down. I was happy to share the water because everyone needed it.
The DJ was really cool and the electronic sounds were incredible. Apparently he was from Germany, but I can't remember his name. The Cenote wasn't actually open for swimming, probably because they didn't want a bunch of drunk sweaty people ruining the Cenote Habitat and possibly killing themselves. I heard that they planned to open the Cenote for swimming after the music stopped, but nobody from our crew was there to see if that really happened.
We were planning on leaving at 7am but ended up leaving at 6:15 because some people were tired and wanted to leave. So Spela and I decided to hop in a Taxi with S…. and Lindsey to reduce our cost per person. It was 300 pesos, or 75 pesos each to drive back in a Taxi. The drive was only about 20 minutes. We only paid 200 pesos on the way to the party, but the Taxis had a monopoly on the situation since they knew we had no other option, other than to walk. Really, it was only $3.50 each in USD….no biggie.
I had to checkout at 11:00 AM because they need to free up the bed in case another traveler needs it for the night. It was sad giving my key back to Špela and giving up my bed. I had only planned on staying for 2-3 days but ended up staying for 10. It was such a good crowd to hang out with and everyone was awesome in their own way. Carla was this sweet petite Mexican girl. Joe is a cool and smart Brit that does a lot of snorkeling in Akumel and is good with getting you anything you need. Špela was a beautiful girl and huge sweetheart from Slovenia. She was blunt, straightforward and very assertive in her opinion but also respectful to others.
Anyway, Špela, Alejandro and I decided to stay up all day and resist sleep since Alejandro and I were leaving Tulum this evening. Alejandro works in Chetumal and was just visiting for the weekend for the Cenote party. This way we had time to hang out and could just sleep on the bus later on. It wasn't hard to stay up because we had some much energy and good experiences to discuss from the night before.
Through the day we took it easy and talked about everything, including politics in the world, corruption (especially in construction since that's what Alejandro worked in), Mexican police, dangerous" areas of countries, and drugs like cocaine, MDMA, LSD, Aderal, mushrooms and Ketamine (tranquilizers). We also discussed hiawaska in Peru and Alejandro shared his experience in traveling through Patagonia. Alejandro has some serious traveling experience in Central and South America, especially considering he's only 28. He's such a cool guy. Here's a pic of us: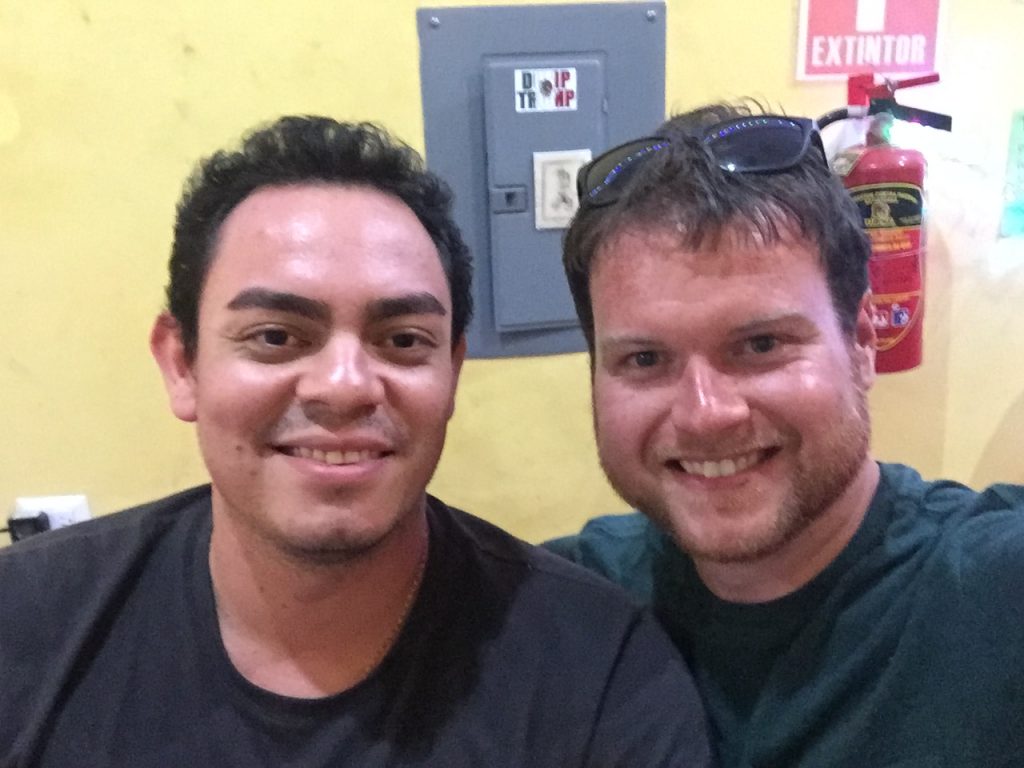 One interesting thing that happened was I was approached by a Mexican drug dealer at the Cenote Party that was offering MDMA, weed, coke and probably other thing, but I don't remember. After rejecting his offer for drugs, he was still happy to talk for a minute. He told me how he also likes to exchange drugs sometimes, such as Aderal for MDMA. We laughed a couple times and I later understood that he was probably placed inside the outdoor club by the event planners themselves so he could provide their patrons with the drugs they need. This happens at clubs and festivals, but usually there is tight control on the business done so they can maximize prices and reduce unwanted deals from competing or offering a shitty product.
I helped Špela more with her travel blog that I built for her: ablondesadventures.com. I showed her how to use WordPress and write posts, add menu items, etc. She was really in the zone and didn't want to waste any time. She picked it up really fast.
With time, we were all getting tired. Our motivation to stay awake was wearing off and we knew the final exit was coming soon. The day flew by. I wanted to stay in that seat talking to Špela and Alejandro for the rest of my life.
Before I knew it, I was down to my last hour. It sucked. I really wanted to stay longer, but fuck…if I get this job in California doing app/DB programming then my traveling time will be severely limited and I have other countries to see, particularly Guatemala and Nicaragua (which is super cheap).
Leaving Tulum and DayTrippers Hostel was much harder than expected. 10 days ago Brandon recommended I stay at DayTrippers Hostel, saying it was "solid" since he was staying there. Now it's like my new home. Yesterday I wanted to go to keep my trip moving on, but today I wanted to stay for another night. I love my new friends and felt like I fit in there. They gave me an experience that I can never forget. And it's amazing it was only 10 days because I feel like I've known all of them all my life.
The main things that come to mind, in terms of the experiences I had are:
The beach day at the lagoon that I got sunburned at.
Meeting Cass (from California), swimming with sea turtles, going to her little cool beach spot on another day and cooking an awesome salad with her which came out awesome.
Going to Coba with Špela, taking the little two seater bike seat with a Mexican peddler that hauled us around. Climbing to the top of the pyramid (Spela chose not to because she was wearing a dress) and biking for 6km to the Cenote nearby and swimming in the water. They had little showers we were required to use before getting into the Cenote so we didn't bring skin oils or chemicals into the pure Cenote water.
Part of me is scared. Like I feel like I'm good at finding good things, but instead of holding onto them I allow them to slip on through my fingers. It's a free spirit's dilemma. Love something and stay? Or appreciate it for what it was and move on to the next experience.