Woke up early took a shower. Walked into town, took some more pictures. Here I am in front of the Volcano Agua and the Santa Catalina Arch: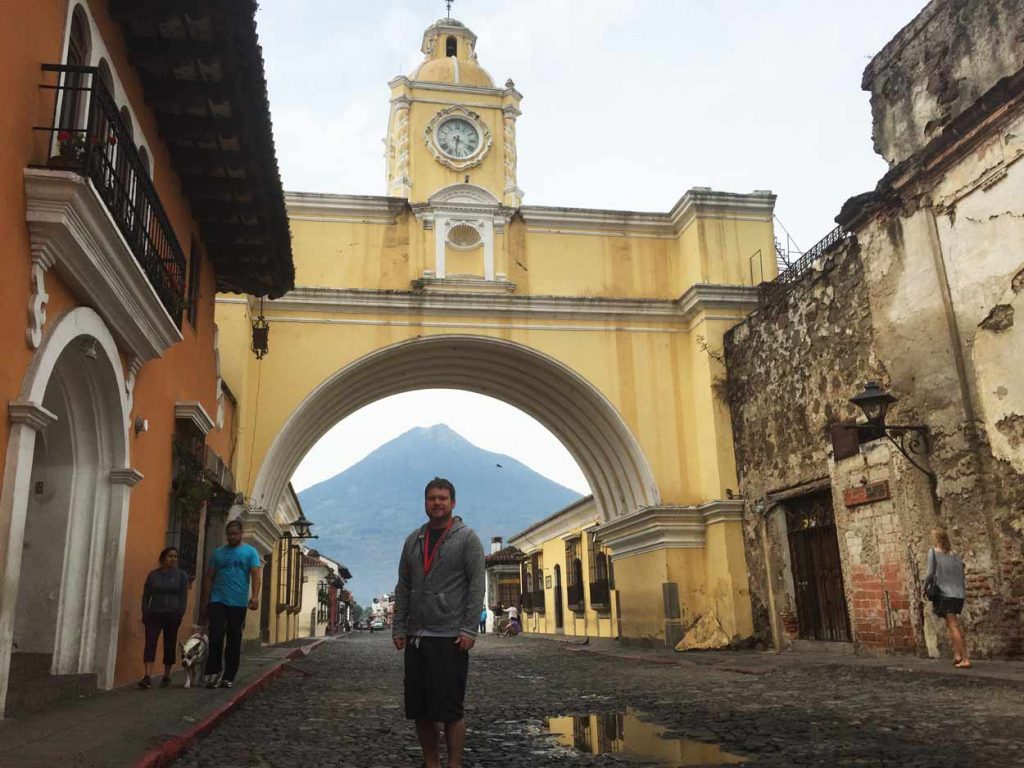 Ate breakfast. Had freshly squeezed orange juice (which is really the only way it's drank here) had a breakfast muffin (like an English muffin) with bacon, sausage, egg, cheese, black beans and gorilla chips. Chio had a burrito and breakfast tater tots.  The place was called Polla Campero. It was good, but it was very Americanized style food. Can't complain though!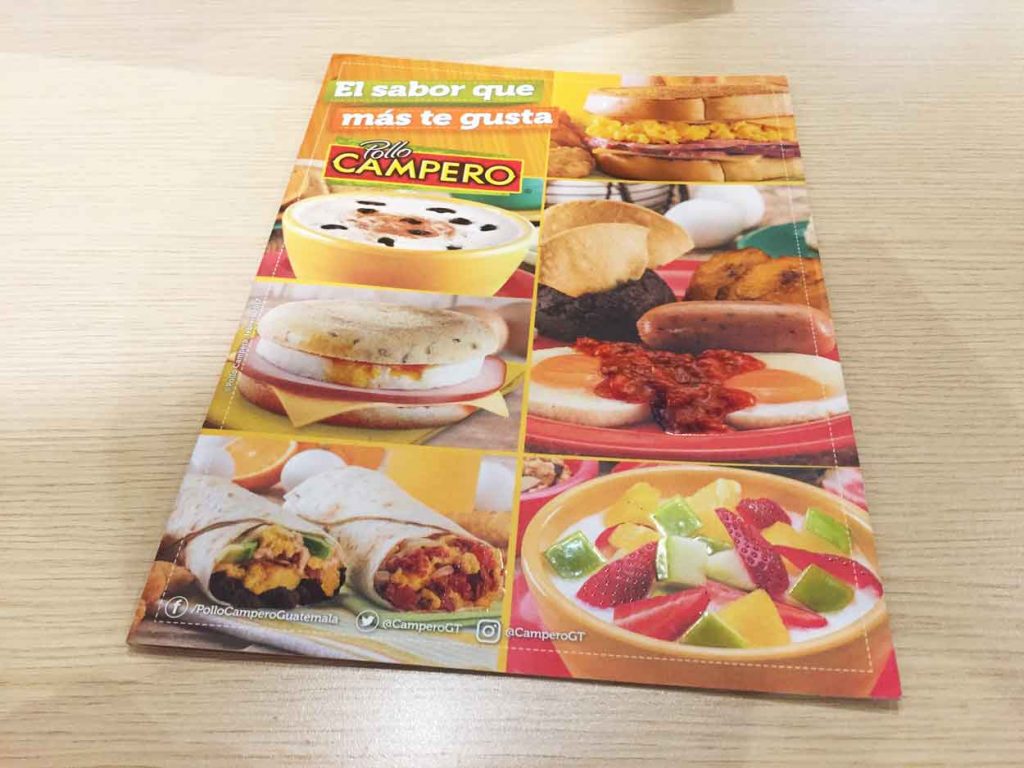 Walked around town briefly and then back to the hostel. Chio has to leave because she has work tomorrow. It's a sad day for both of us but I will see her again. I will either meet her in Cancun or Mexico City before I fly back to California, or she will come visit me in California in July when she has a break from work. Meeting Chio was an incredible experience. We've done a lot together.
Here's her before she gets on the bus. It was sad for both of us, but we'll see each other again.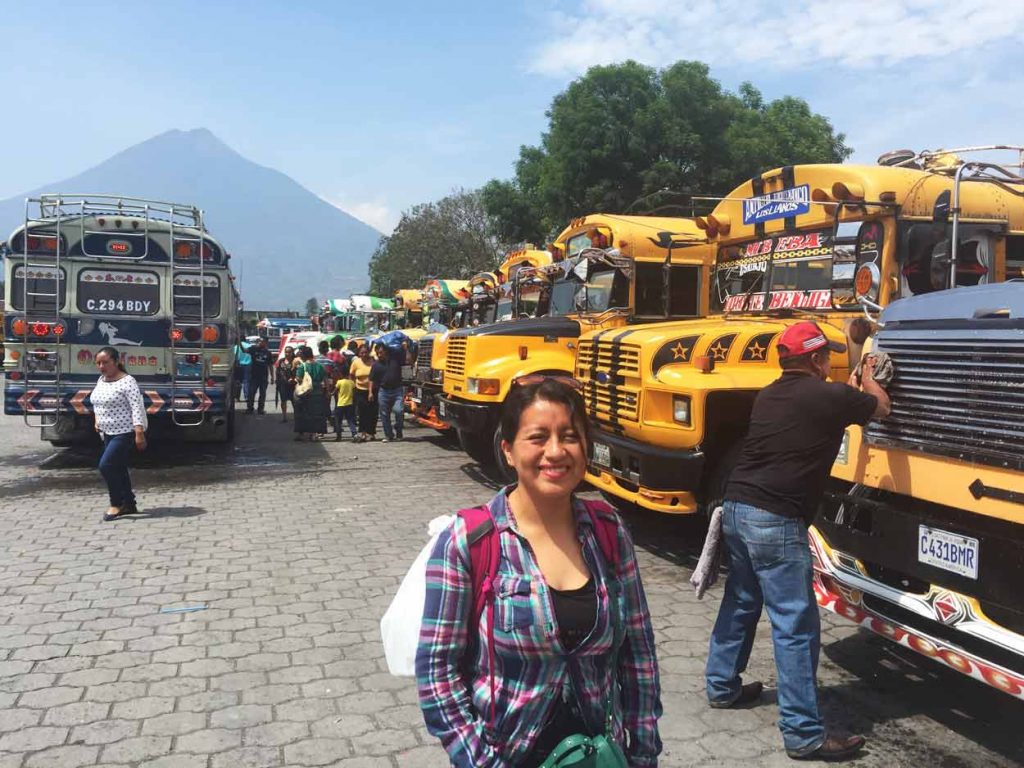 After Chio left I went back to the hotel (
Hotel Posad
a Santa Teresita), packed my bags, napped for 30 minutes and then checked out. It was relatively early, only about 11:45 when I checked out so I still had a couple hours before I could check into Three Monkeys Hostel. I walked around town, bought some small snacks and was amazed to find a Dunkin Donuts in the middle of Antigua.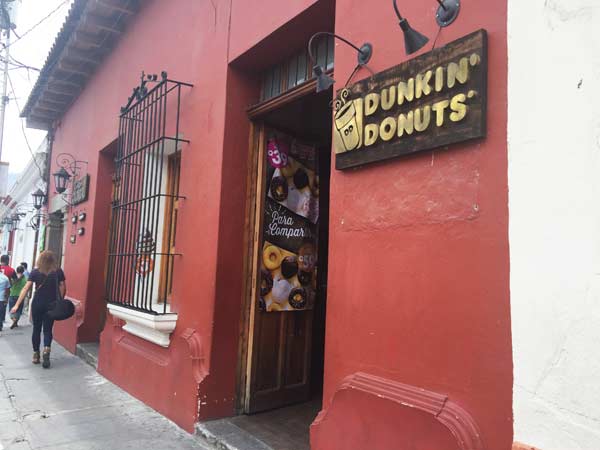 Inside: (Pretty much the same as in the US)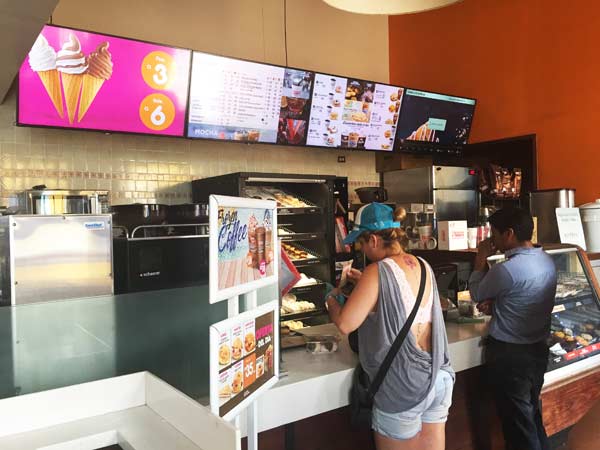 I took a couple pictures and bought an ice cream cone for 3 Quetzales, which is about $0.40 USD.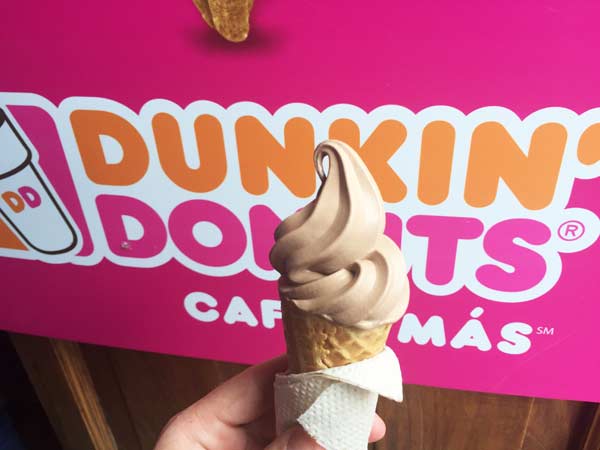 After walking around and checking out town for a couple hours, I went to the hostel and checked in. Three Monkeys Hostel is a cool place.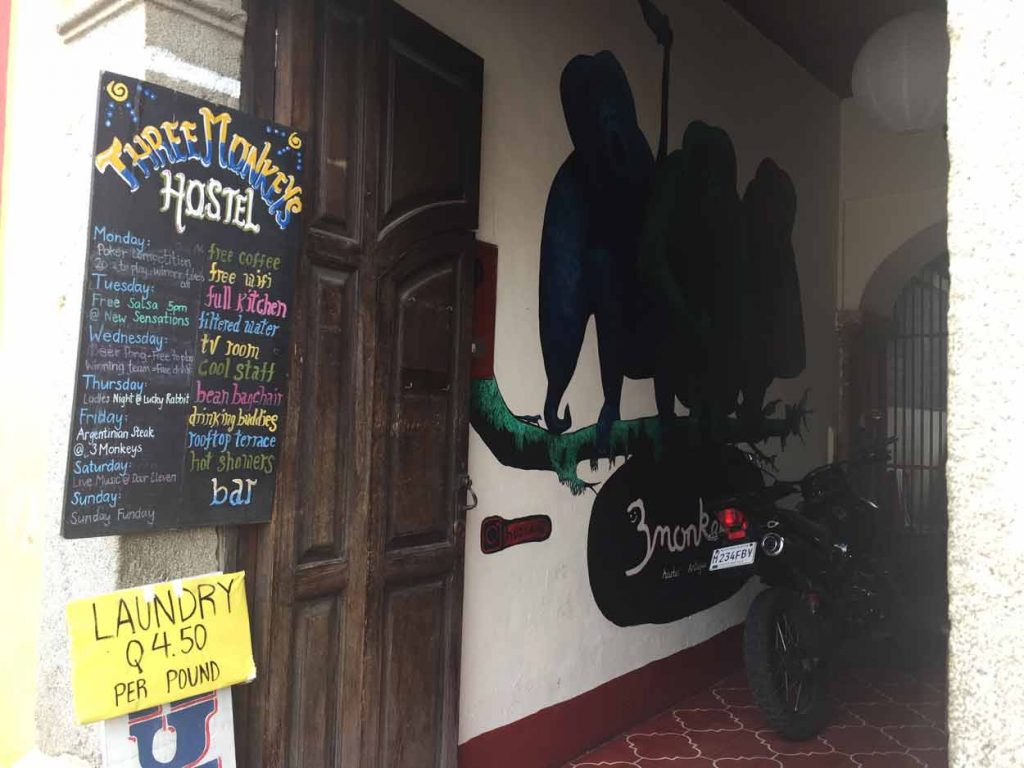 It's like many of the other hostels I've stayed at. It's best feature is it's outdoor bar, which makes for a really nice social environment.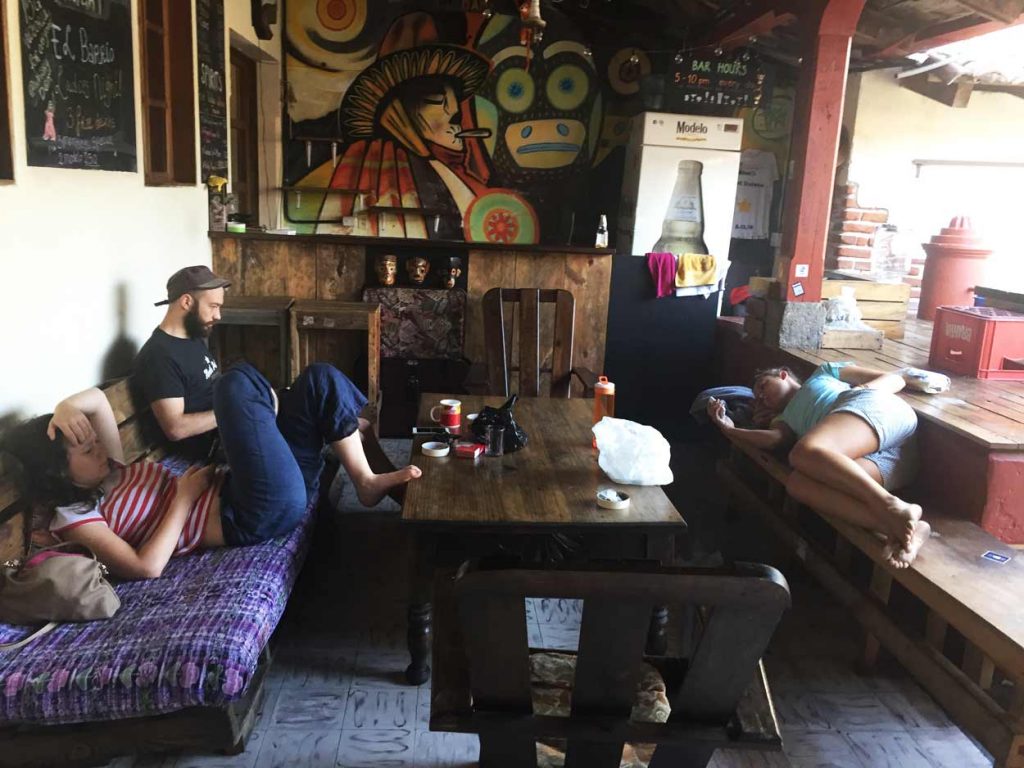 After having a couple of beers, doing some computer work and socializing for a bit, me and a few other travelers (Rachel, Kritika and a guy that works at Tesla in San Francisco) we decided to go for dinner. Here's my "life is hard" work space: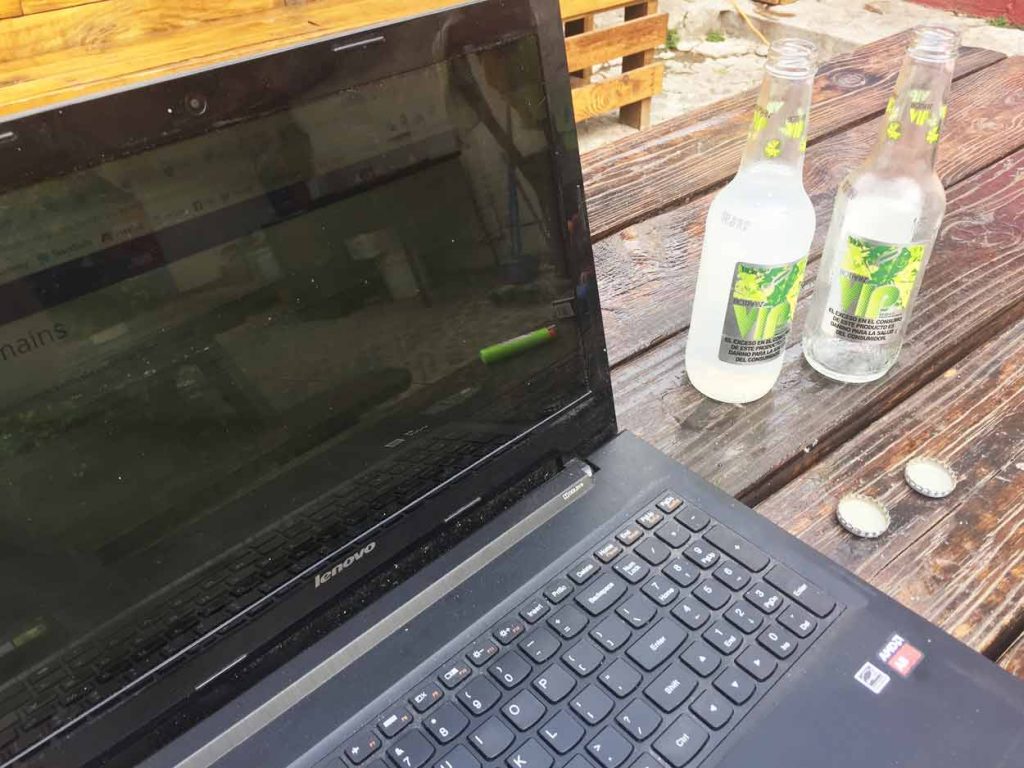 We went to an Asian place that served some really delicious soups with dumplings. We split two large soup bowls which were 55 Quetzals each and each bought our own bottle of water. Since there was 4 of us, it was fairly cheap – only 40 Quetzales each, or about $7 USD. Sort of pricey relative to Mexico prices.
After we came back to the hostel we had some more drinks. Drinks were 12 or 15 Quetzals each, depending on what you drink (beer or mixed drinks). That's not a terrible price, but compared to Mexico it's not good. That's more than double Mexico prices. I'm excited to get to Nicaragua soon because the prices there are cheap like Mexico.
After having some drinks, I met a nice couple from Australia that were heading to El Tunco, in El Salvador for the beaches and surfing. They said they were leaving on an 8:00 bus directly from the hostel and it cost 175 Quetzales ($25 USD) for the 5 hour bus ride. They said I could come along if I spoke to the front desk. After speaking to the front desk, they said I would need to speak to the morning staff at the front desk at 7:30 AM because it was too late (9:30pm now) to book my bus ride.
I had a couple more drinks, told them some stories about women in Panama and Vegas and they told me stories about their travels. They sold all of their belongings, quit their jobs and are traveling from Mexico down to Argentina. Awesome.
Since we were waking up at 7:00 we decided to crash. I setup my laptop on my bed (bottom bunk) to transfer website files overnight. I try to take advantage of sleep time to backup websites and files so I don't have to worry about it during the day.
Here is the ticket I ended up getting the next morning when I first woke up. It's good to know I can get to El Salvador no problem: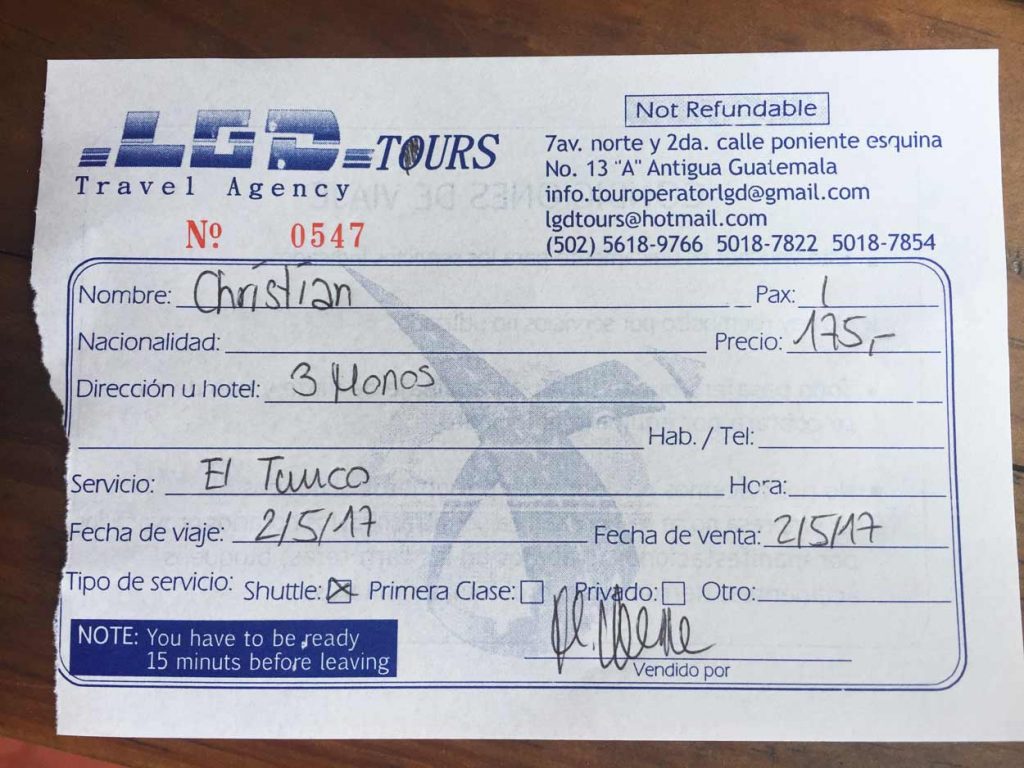 It cost 175 Quetzals, which is $25 USD. A little pricey for a 5 hour drive, but it goes direct and I just want to hit the road.