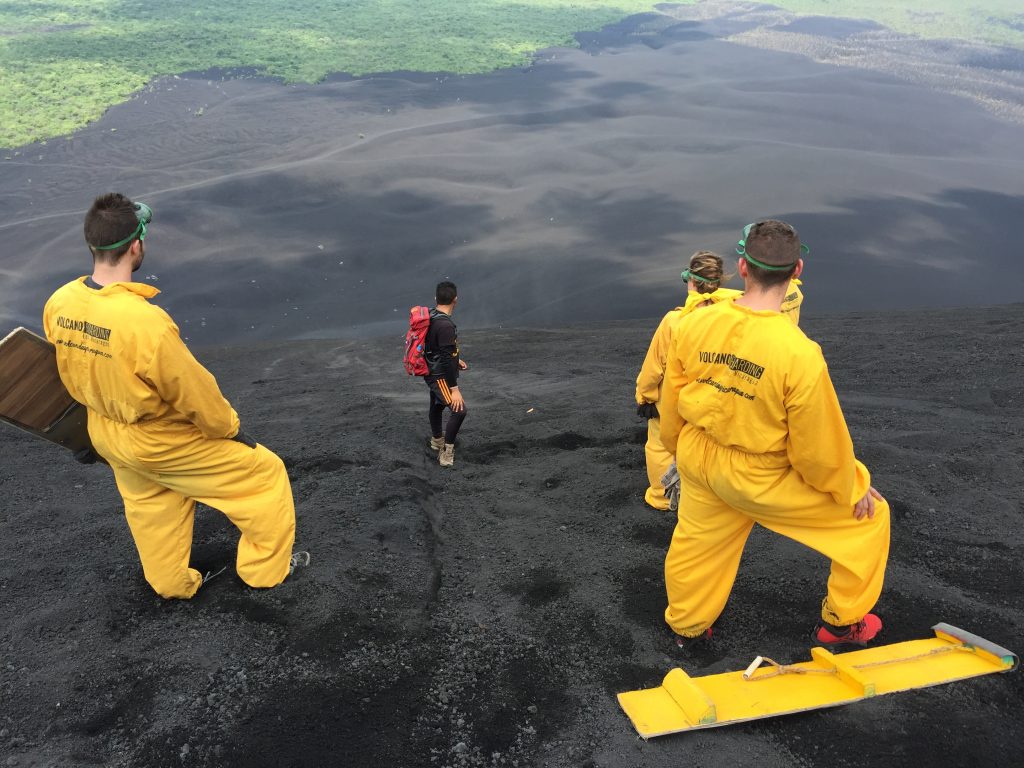 Today I went Volcano boarding in Leon, Nicaragua. It was an incredible experience. Apparently there are only two places in the world that you can go Volcano boarding. Once place is in asia and the other is obviously here in Nicaragua.
I started off the day by walking to the tour guides office with Derek (below). As I mentioned before, Derek is visiting from Canada for the exclusive purpose to go volcano boarding. I originally met him in my first hostel in Managua, so we decided to travel together to Leon. When we arrived in Leon yesterday, we found a hostel and went out on the town to find a place to have beers. You can read more about that in my previous blog post.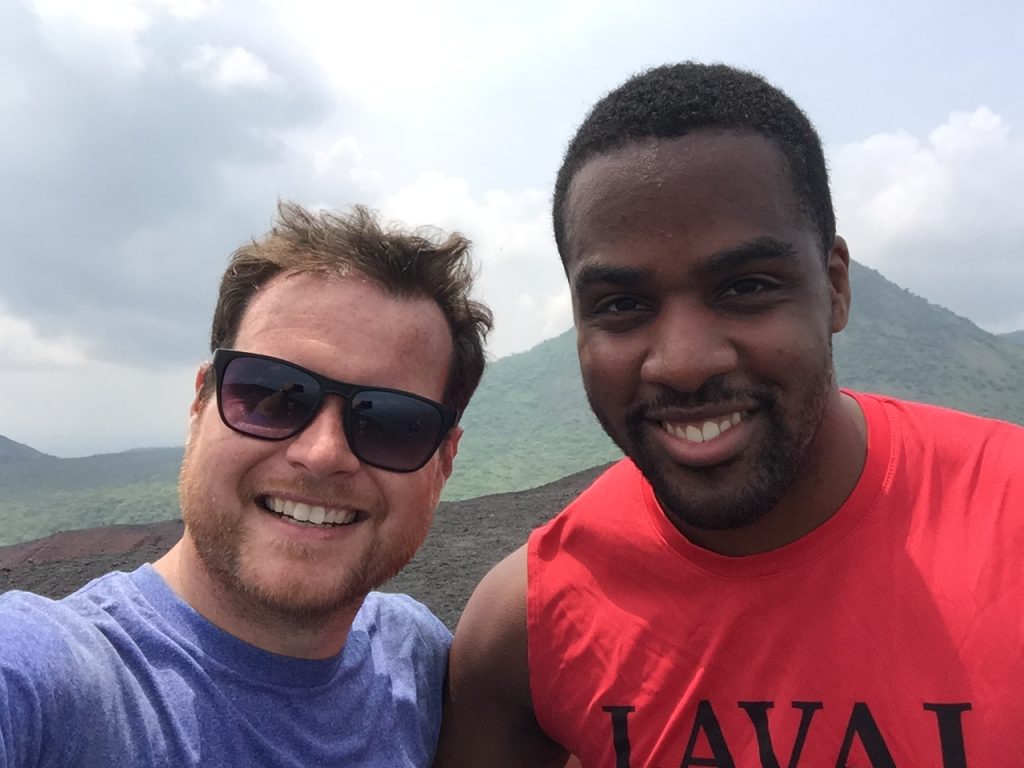 Volcano boarding is super popular in Leon, so many people are selling tickets to do it here. We didn't really know who to buy tickets from, so we found out who the best tour company was and then we shopped around on prices. A lot of people sell tickets for the same guide company, so I assume they're all getting a commission. We ended up getting tickets for about $20 (each person, $40 total) from some random business in Leon. If you're looking for tickets, it won't be hard to buy them…many local businesses advertise the "Volcano Boarding tour.
The tour guides office (below) was only a 5 minute walk from the hostel. They gave us a secure place to store our backpacks and then gave us a free tank-tip t-shirt. You can see the tank-tops in the photo below. I went with yellow – why the hell not.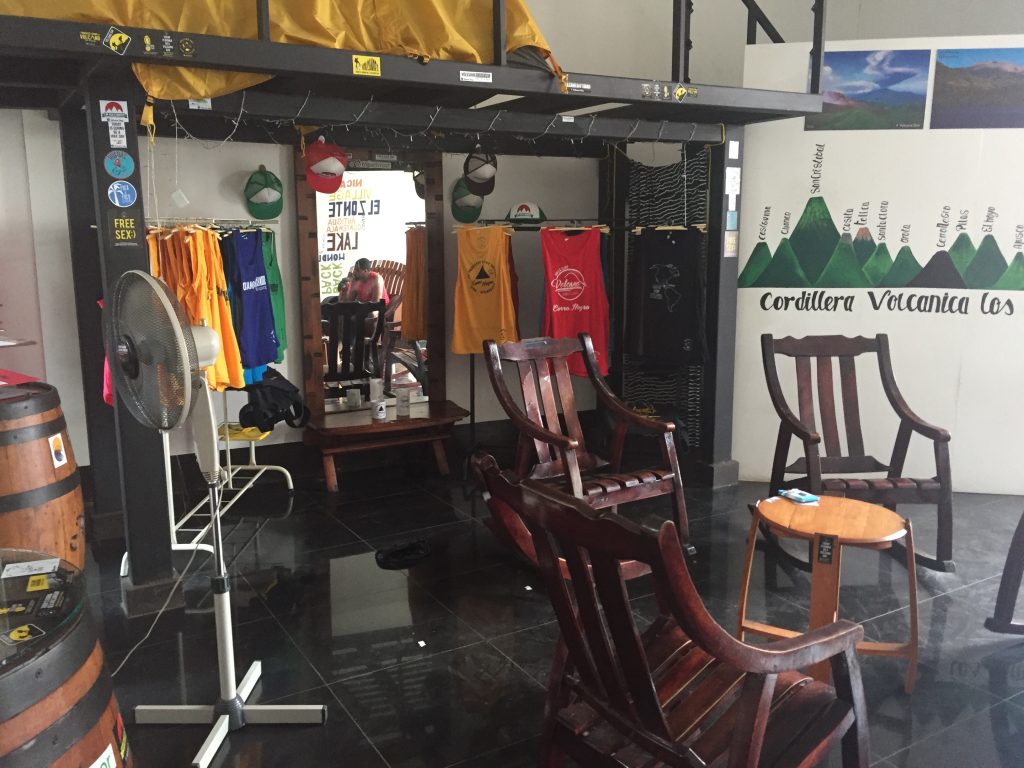 Once the 20 of us met at the guide office, we signed a safety/liability waiver, then we jumped onto a truck and headed off. There were two trucks. After about a 30 minute drive to the volcano, from downtown Leon, we arrived.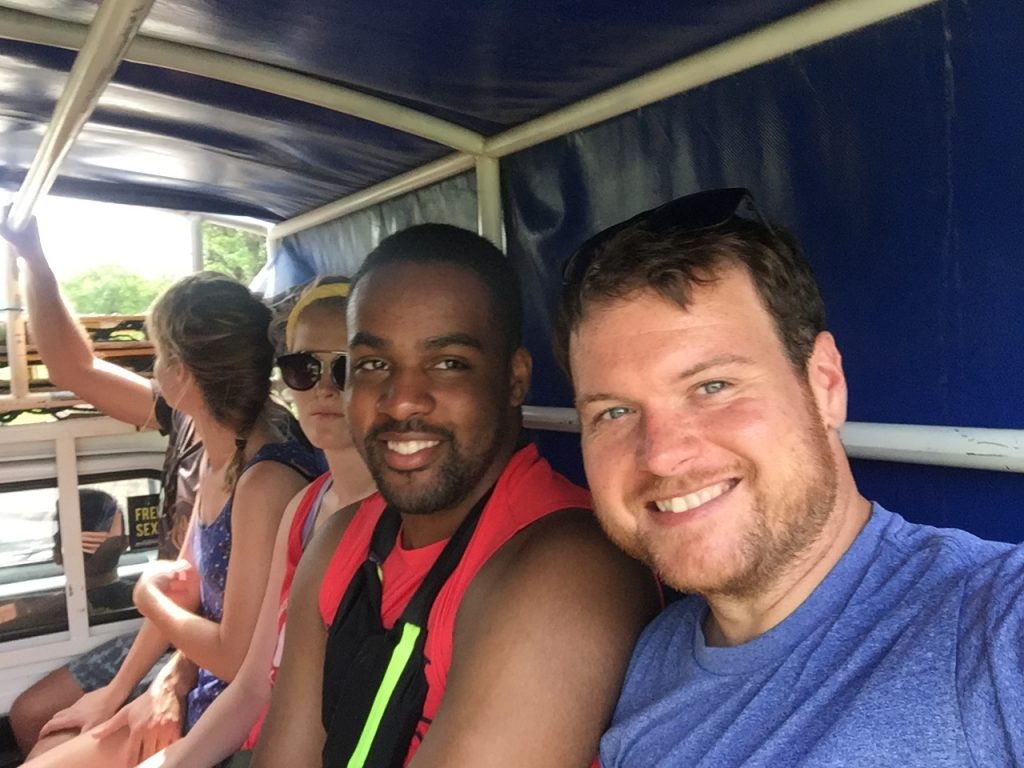 We were on our way to Cerro Negro which you can see on the map: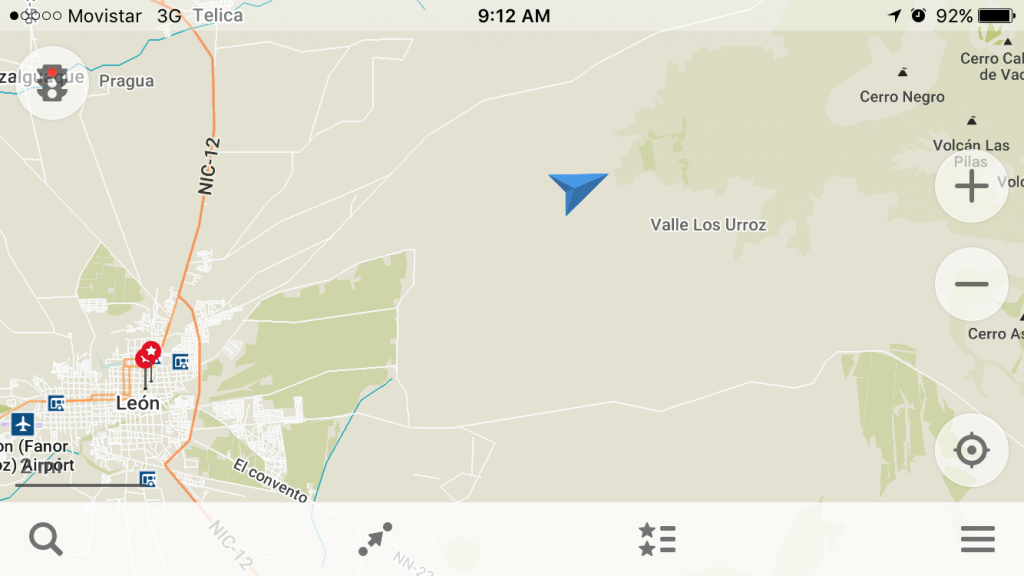 After arriving, we still had to hike to the top of the volcano. The hike to the top of the volcano wasn't bad, but it also wasn't easy. The path is covered in volcanic rocks and boulders. In the photo below, you can see some of the rocks and boulders. We had to carry our boards (shown a few photos down), which felt like it gave us our right of passage. I don't exercise often except for walking, so I needed to take a short break in the middle of the hike. In fact, most of us did. I wasn't alone which made me feel better.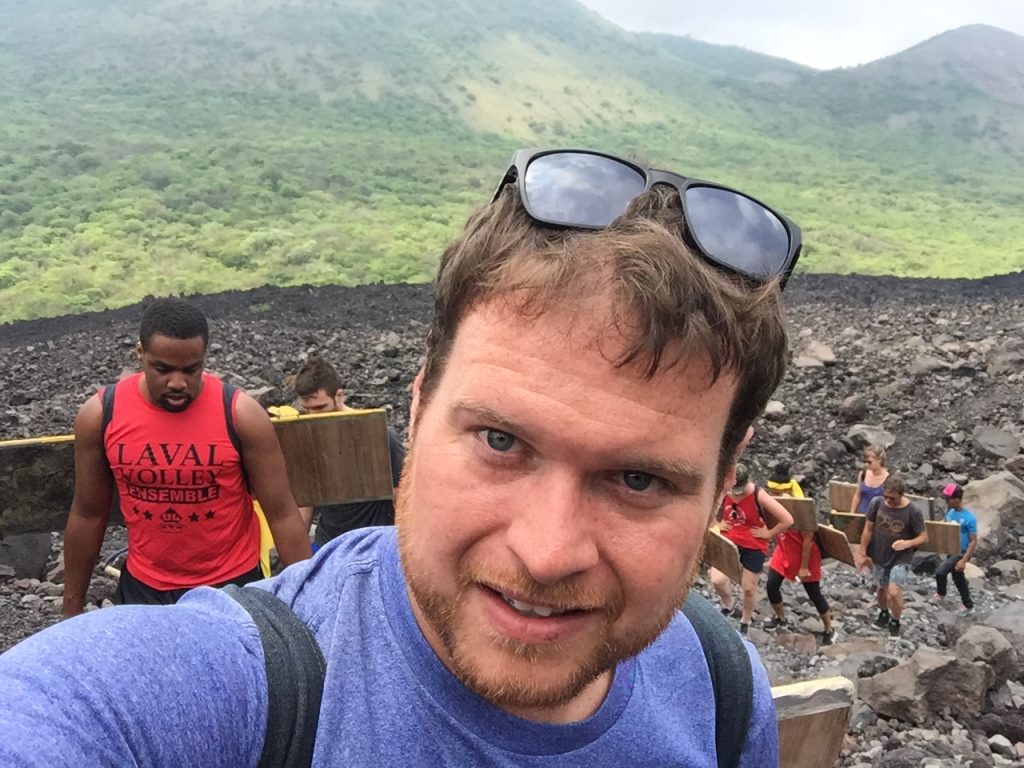 The view from the top of the volcano was stunning. Nicaragua, like many countries in Central America, are filled with lush green rainforest, mountains and volcanos. You can see how dark the volcanic sand is. The majority of volcano seemed to be made of very hard and thick sand.
Below you can see the boards we used to sit on. They were made of wood and offered minimal protection in case of wipe out. It's nearly impossible to go fast on them without wiping out, because the second you plant your feet to slow down the volcanic sand doesn't help you stabilize yourself. I came close to wiping out twice. About 5 of the other people wiped out and were covered in volcanic sand.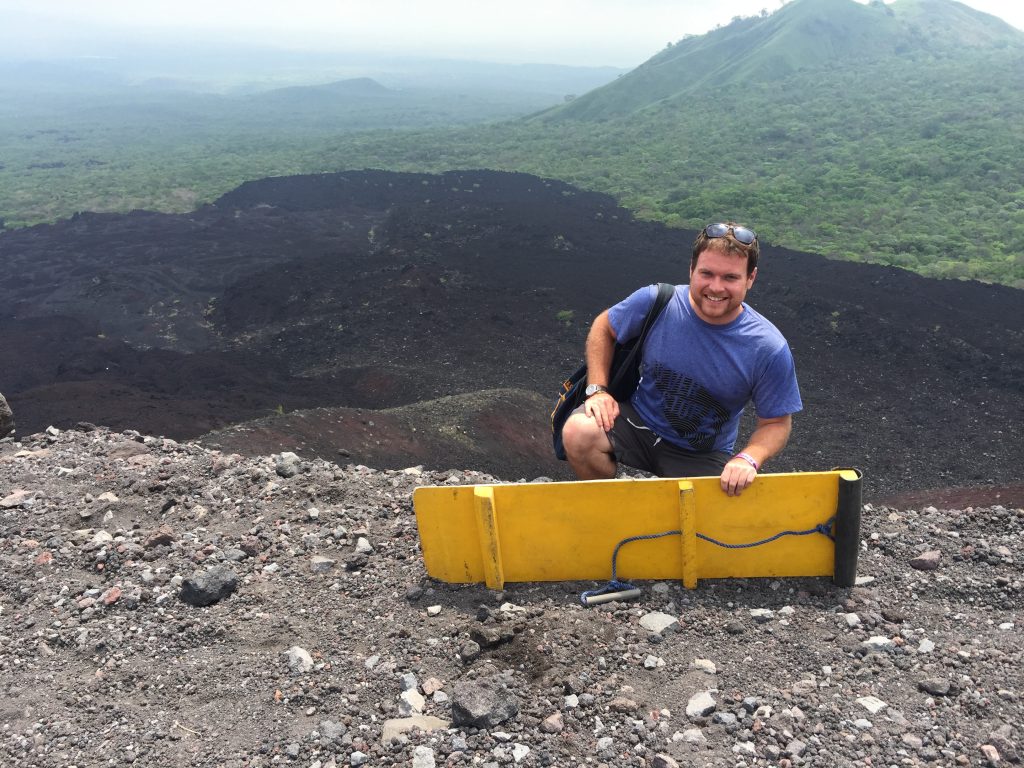 Behind me you can see the mouth of the Volcano, which is active and has steam coming from it.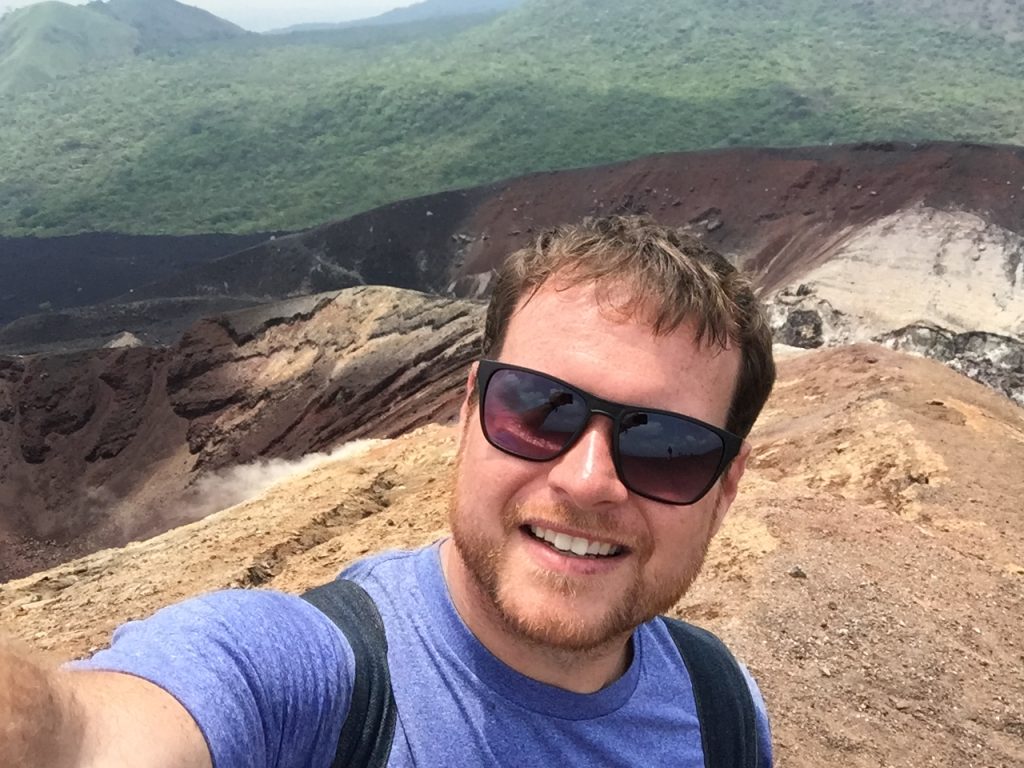 If you fall in the mouth of the volcano…you melt. Where we were standing was safe, but we could feel the temperature rising in our shoes, even at a safe distance.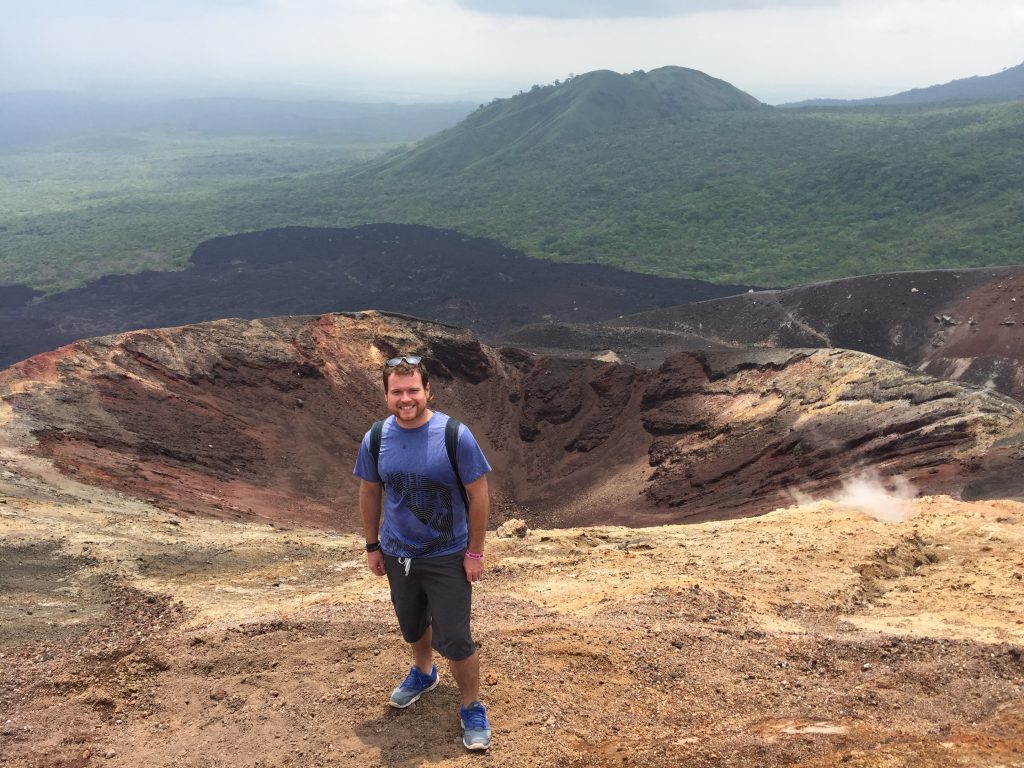 Here are the suits we wore: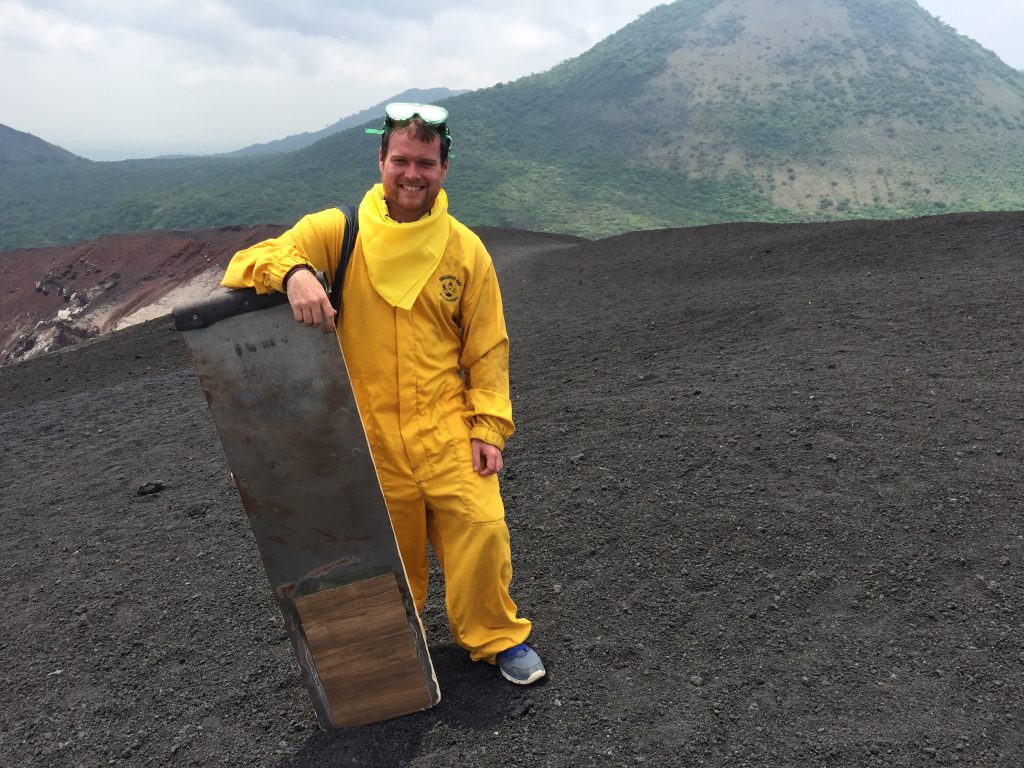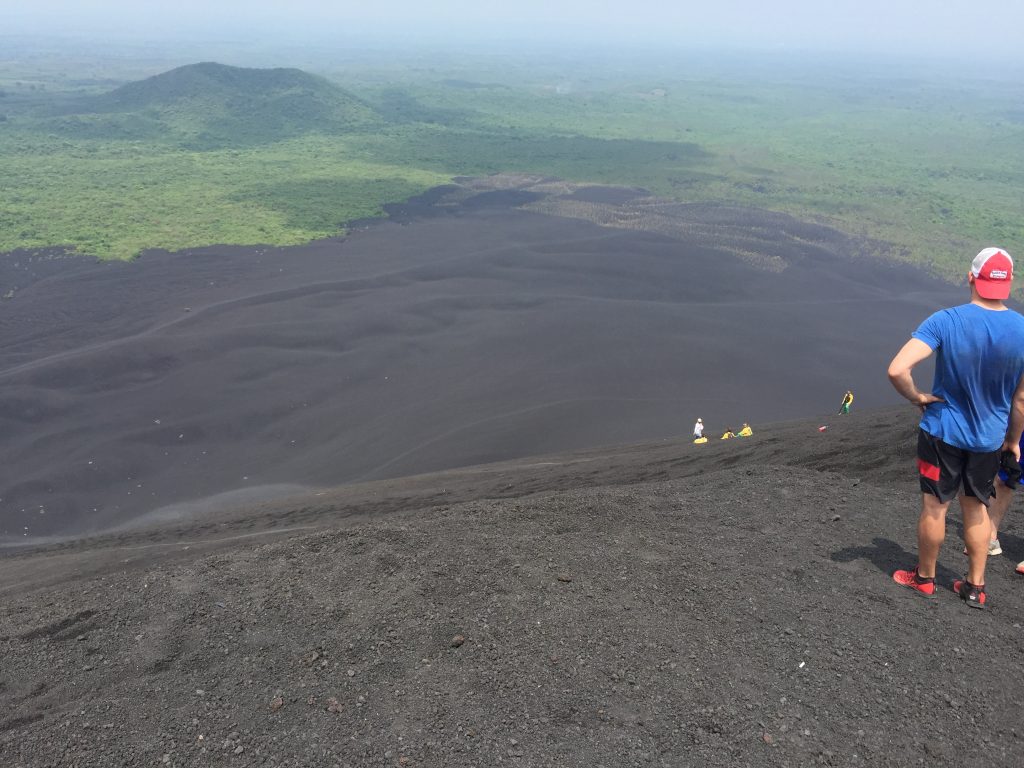 Our guide is giving us directions on how to ride the boards: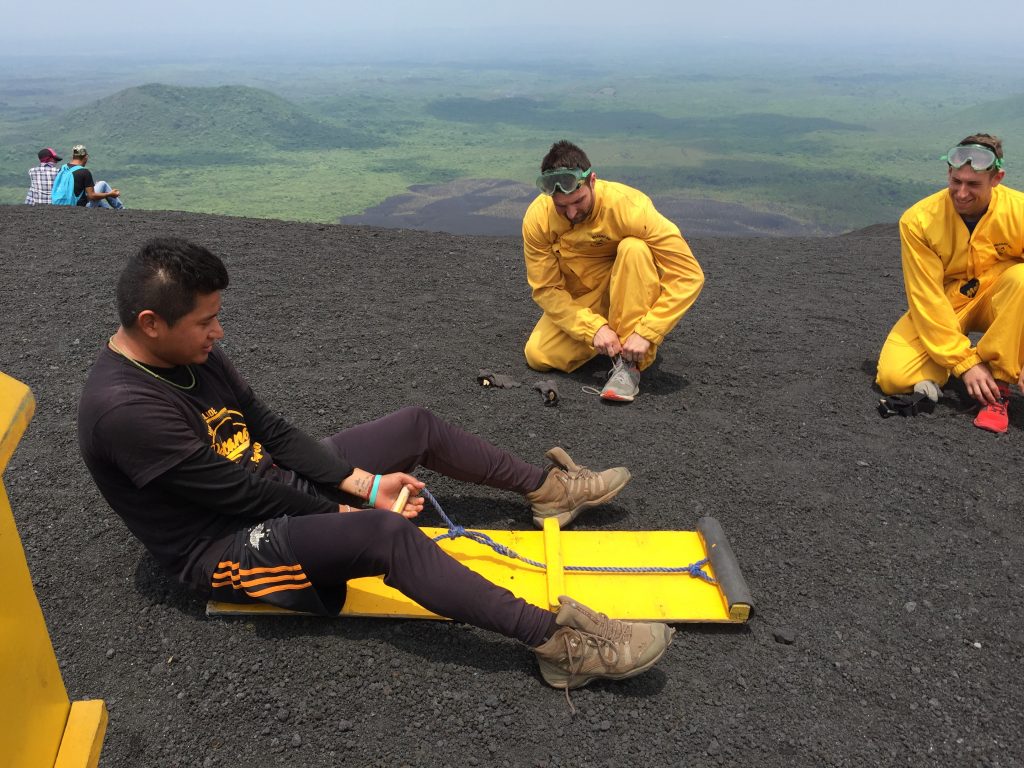 After I reached the bottom, I was covered in volcanic dust and sand. Behind me you can see someone riding down the volcano: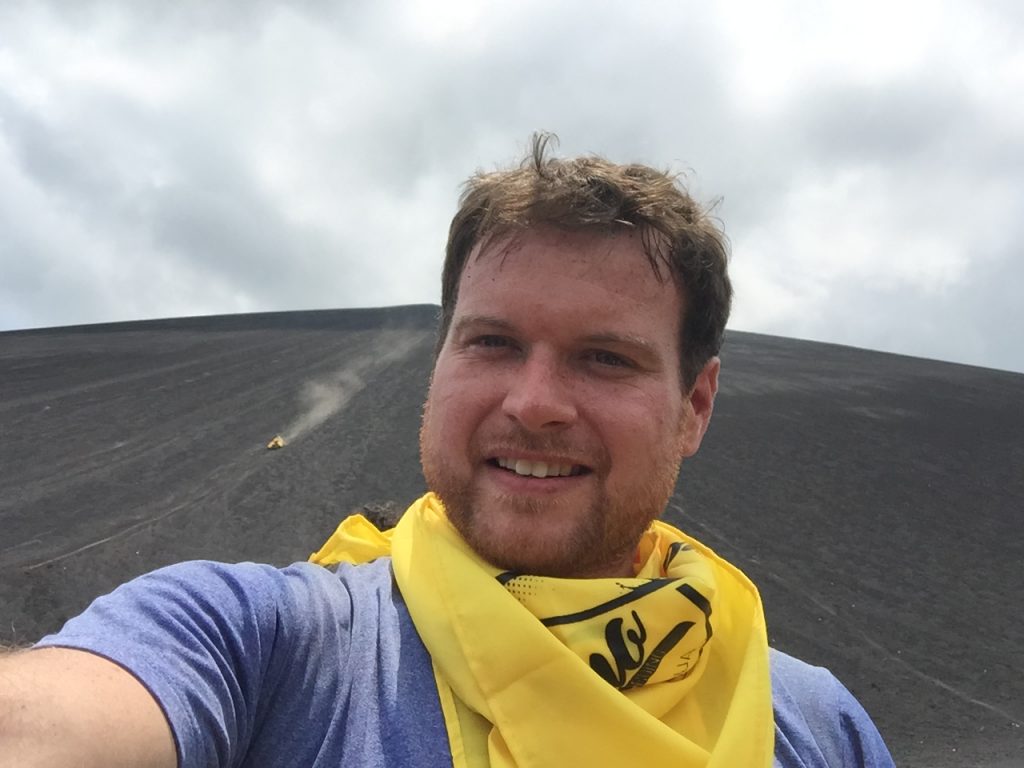 Riding down a volcano is very different from sledding in snow. Snow has "give" which means that the snow moves out of your way. Volcanic sand doesn't move very easily. It's like trying to push gravel with a shovel…it takes a lot of effort. So, volcano boarding is super fun, but it's somewhat unforgiving on your body. You can feel every little bump on the way down.
Derek cut his wrist pretty bad. Here he is putting water on it.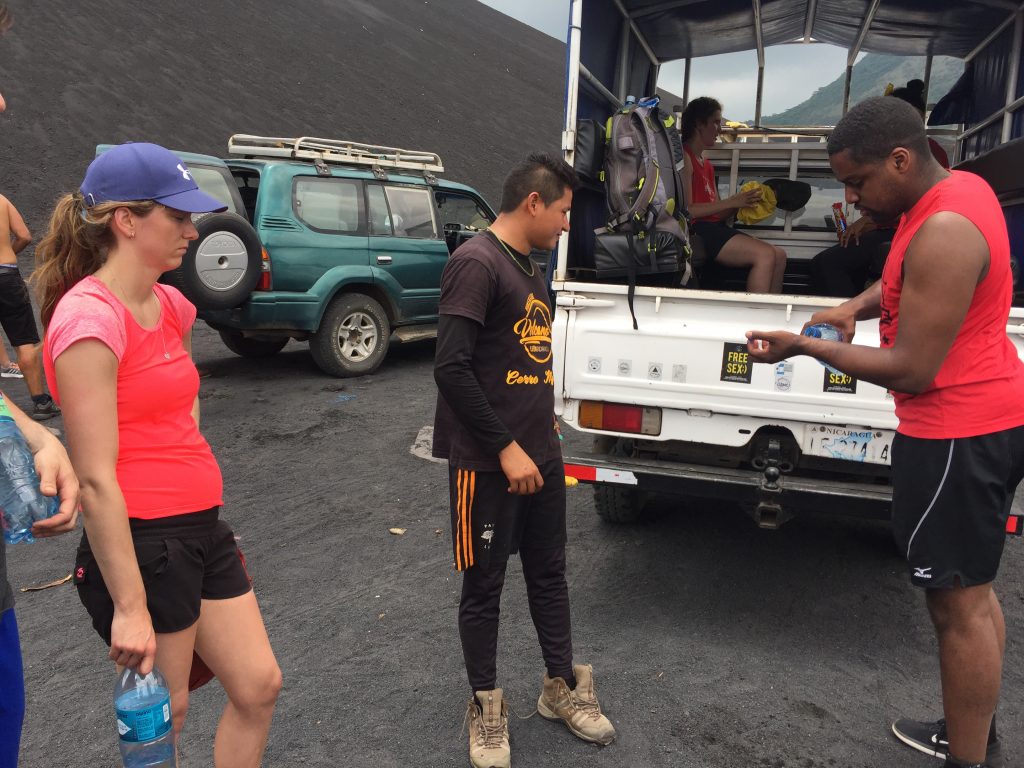 After the trip, the group headed to a restaurant. We all paid for lunch for the tour guide and gave him an extra $5 each. It was an excellent experience.