My car broke down. While returning from the beach with my girlfriend and her mother, apparently the engine coolant (antifreeze) system broke and released all of the cooling fluid onto the road. I didn't know this. Naturally, my engine overheated and this led to some serious engine problems.
Living in El Salvador has presented some challenges for my girlfriend and I, but dealing with car repairs has always given us the biggest headaches. It's always a struggle.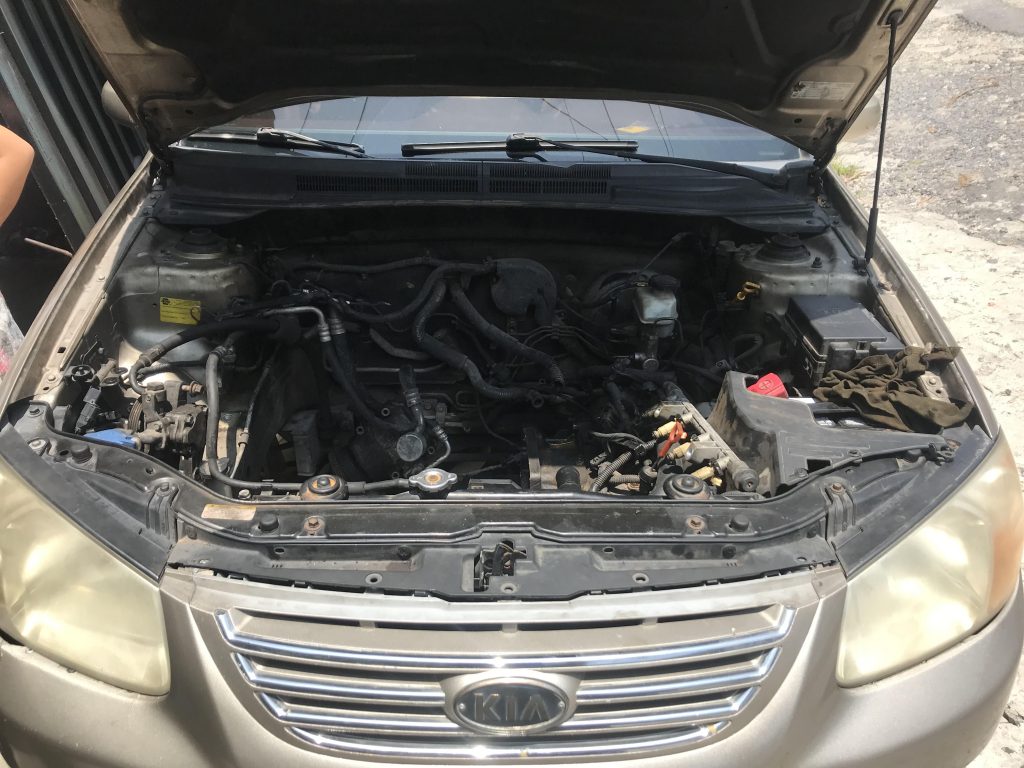 It's a problem of getting trustworthy repairs at a reasonable price.
On a community level El Salvador is strong. People are very sociable and trustworthy. Most people that you meet are kind, friendly, helpful and pleasant. However, things are different in business. Any business involving more than $100 requires a lot of careful decisions.
Trust is a big issue in El Salvador. And not just for me here, trust is an issue for most (all?) Salvadorans too. The reason being…everyone wants to get paid but nobody wants to guarantee their work at any level. The moment you drive your repaired car away from the mechanics repair shop is the same moment that the mechanic stops caring if your car continues to work. They'll smile, talk a lot, try to sell more car parts by using fear tactics, but none of these mechanics offer any form of guarantee once the repairs are completed. Many Salvadorans do their own mechanical work because they don't want to trust in another mechanic.
This "everybody do it yourself" mentality affects almost all industries here in El Salvador. People build their own houses. People do their own electrical and plumbing work. People repair their own cars. People here hate relying on other people. This is sad to me. In the USA we have a general sense of trust in the work of people that we hire. People here in El Salvador are social and community oriented, but the moment business or money becomes involved…all trust and responsibility is thrown into the garbage.
This is a BIG reason that the country struggles.
This whole mentality of "I'll do it myself" is exactly one of the reasons that El Salvador struggles. The lack of trust is at the heart of this problem. And this is common through-out El Salvador and Central America as a whole. Economic growth stagnates and people can't specialize in one professional field easily because they're too busy worrying and trying to do everything themselves. That's just how it is here.
In the past, we've had other minor car issues which weren't a big problem, costing no more than $100 each. Twice I had to pay a second time to fix the same repairs. It was annoying, but the cost of repairs were still rather small. No big deal. I've even fixed the car myself a couple of times, but that's not a viable solution in many cases. I'm a computer programmer, not an automobile mechanic.
But, this was our first big issue. Considering the high cost, we knew it needed it to be fixed the FIRST time.
Our car engine was destroyed (which we found out after finally getting different opinions from three different mechanics). I had no doubt it was destroyed: The engine smelled of "burned rubber", the oil was almost empty, the coolant was completely empty, etc. The lack of coolant fluids and our unresponsive engine temperature gauge on the dashboard had screwed us pretty badly. After having the car towed home (using our car insurance), we knew that we were in trouble. How the hell was this thing going to get fixed?
We spoke to family, friends of family, and I asked questions on social media.
My initial thought was to ask for recommendations for other local expats on social media. El Salvador has a small expat community, probably about a thousand people. On social media, a lot of people provided suggestions of seemingly reputable mechanics. But it was hard to know if they were trustworthy. The problem was…I would need to pay to have the car towed to their repair shop. Then, the repair shop would give me a price of parts/labor (probably a very high price). Then what? Am I going to keep paying for my car to be towed to different repair shops for different price estimates? No way.
My girlfriend spoke to two different mechanics. We even paid one mechanic $150 to start the work at our house. However, after 4 days of him doing nothing and breaking numerous promises, we demanded that he return our money. Two days later he returned our $150. That was a week of time wasted. At least we got our money back.
Finally, a family member of a friend agreed to do the work.
Seriously, we are blessed. The father of one my girlfriends friends is a retired mechanic. He agreed to do the work. We were so happy. We told him to take as much time as he needed and to tell us what we need to do to make the process as easy as possible for him.
He started investigating the problem. Over the course of two weeks, he took the old engine out of the car and dismantled it. He said we needed to buy a new engine and a new fuel pump. He is a champion. We were just happy to have someone that we trusted to be working on the car.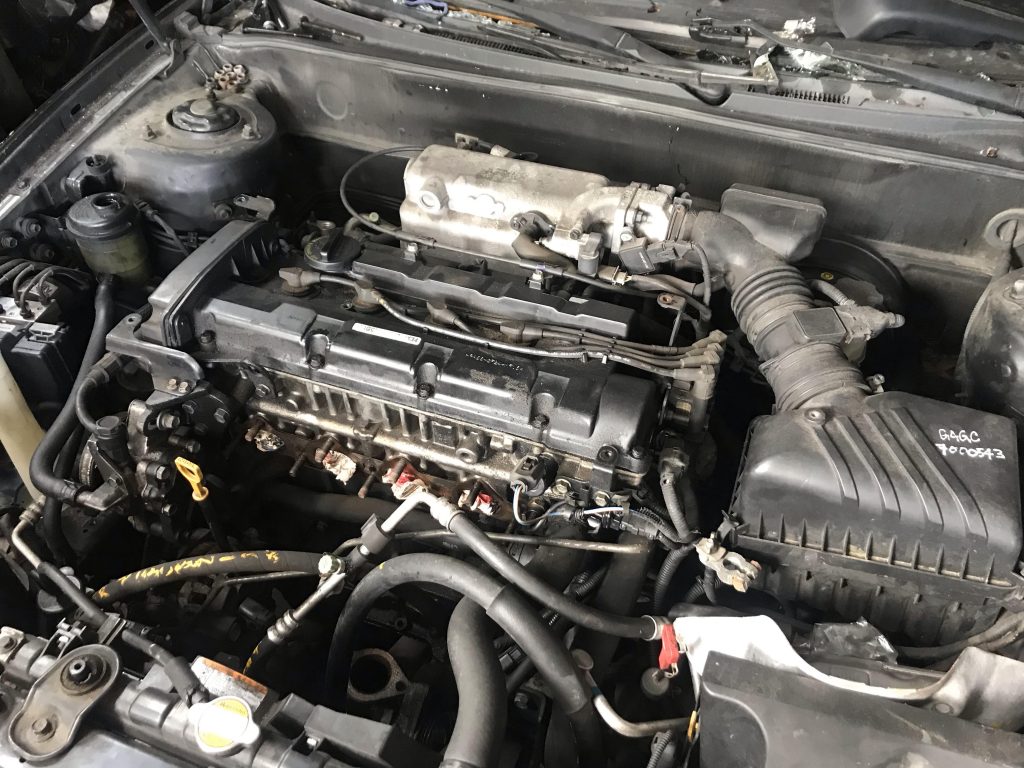 Four days later, he found a used engine for $650 with delivery included and a 2 month guarantee. This man is a professional. We bought the engine fast. It was delivered the next day.
Here is our new beautiful engine: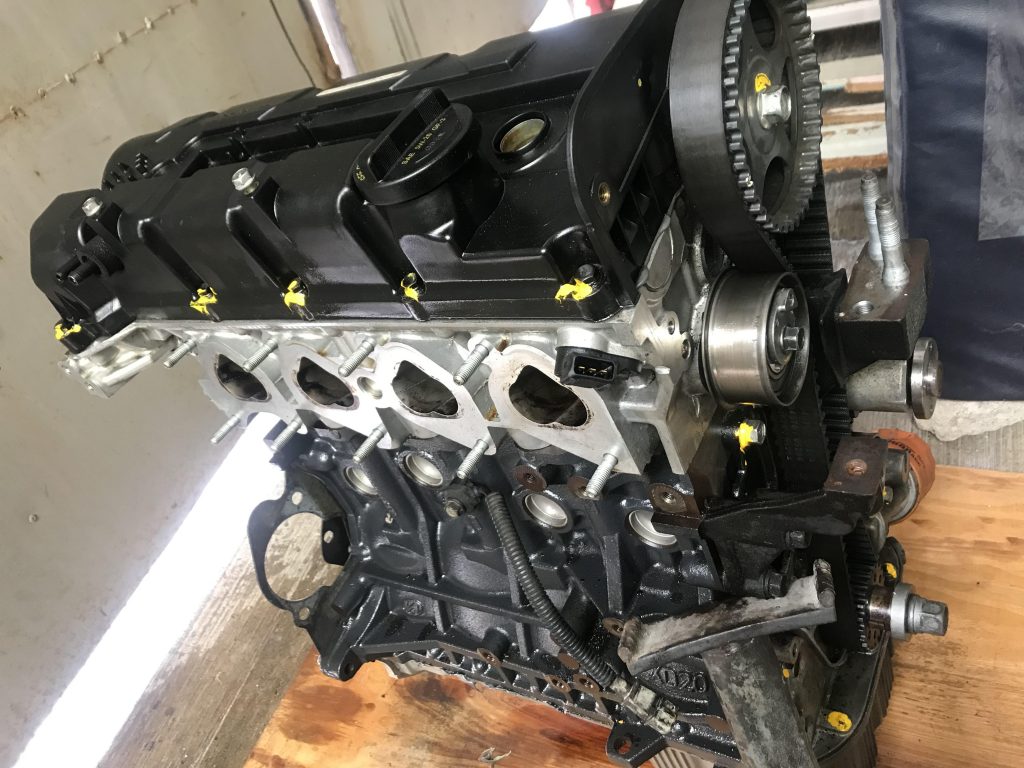 We also had to buy about $160 in other small parts. So we've spent about $800 on everything engine related so far.
It's being installed as we speak. Since our mechanic is retired, he is taking his time to do that work. And that's absolutely fine with us. We're just happy to have the work being done by someone that we trust. We give him $10 every visit (to cover gas, lunch and perhaps a beer or two). He usually comes for 3-4 hours at a time to do work.
It'll probably be a couple weeks until it's finished. I'm updating this blog article often, so I'll keep you posted.