Rocco Acocella was sailing through the Caribbean Sea during June of 2019, visiting numerous Caribbean islands with plans to sail south to Barranquilla, Colombia. While en route, his emergency signaling device (PLB1) went off 250 miles (385 km) from Barranquilla. It sent an emergency notification, along with his exact GPS coordinates, which has been used heavily in the search for the missing Italian sailor. Rocco Acocella and his boat are still missing.
He was the age of 32 years old when he officially went missing on June 17th. He was an expert sailor and navigator of the sea.
Here is a message from Rocco's mother (with details of the story)
About Rocco Acocella and His Boat
Rocco Acocella has blue eyes, dark hard and fair skin. He often has a beard and long hair, although he sometimes cuts his hair to be shorter.
Rocco's boat is an 26 foot (8 mt) Trimaran. A Trimaran is a boat with multiple hulls, similar to a Catamaran. The name of his boat is the "Trinavis". Photos of the Trinavis can be seen below:
From the moment that he went missing, the direction of the wind and ocean currents indicates that his boat could have been pushed towards the shores of Colombia, Panama, Costa Rica and Nicaragua. However, since the last emergency signal on June 23rd, the boat hasn't been found by search efforts.
Rocco Acocella was last seen on June 17th, only six days before the emergency PLB1 notified responders that his boat needed assistance. He was traveling alone on his boat.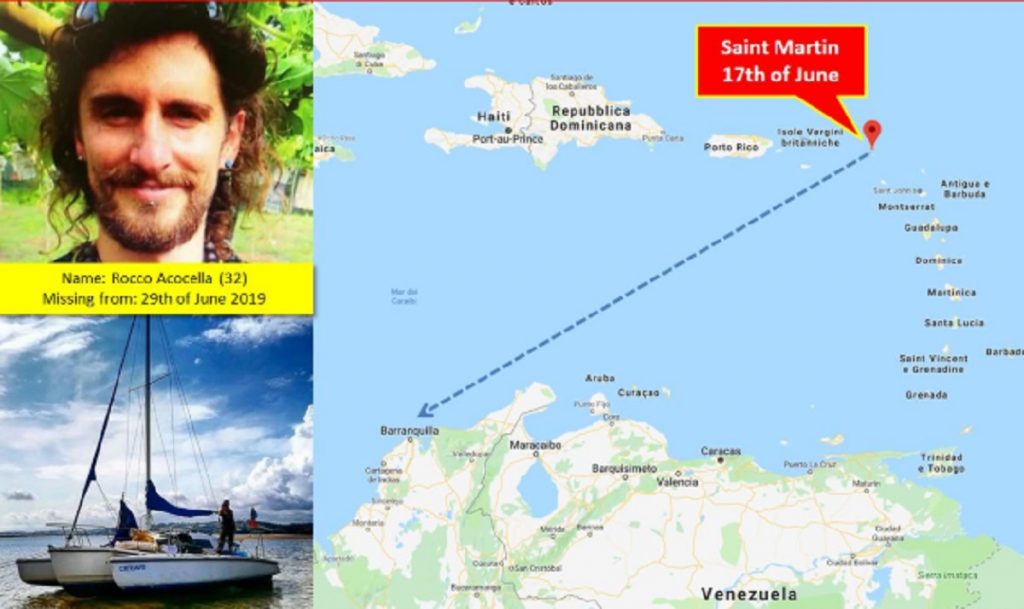 On a Facebook page that was created to locate Rocco, people advise anyone with any information to take a photo of the evidence found and send the information to the following phone numbers:
+39 349 4168047
+39 333 2510900
Rocco's goal was to eventually travel to Ecuador and become a tour guide.
Rocco Acocella's Last Known Location
The emergency device provided his last known geographic coordinates, which is pinpointed below: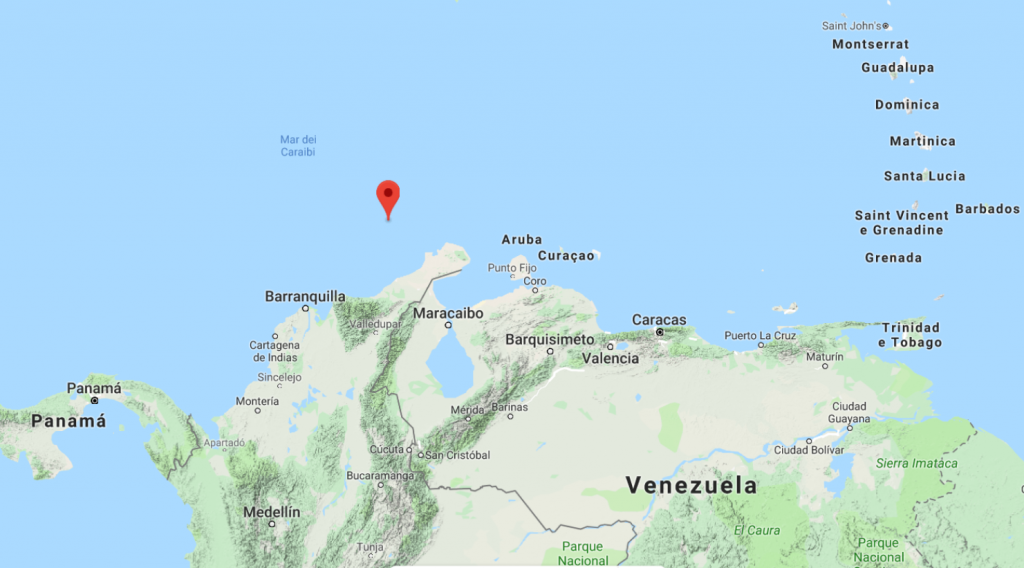 From the image above, you can see that he was nearing his destination to Colombia. The area where he was sailing is less dangerous than other areas closer to Venezuela.
Piracy and Crime Are Dangers On The Caribbean Sea
It's well known that pirates still exist in the Caribbean Sea. And more recently, since 2010, there has been a rise in criminal activity in the sea near Venezuela, mainly due to poverty and desperation. In 2019, before Rocco began his trip, the BBC published a telling article about the rise of piracy in the region. The area of Trinidad & Tobago (seen in the east in the above map) is particularly dangerous.
Central America and South America are known to have a lot of crime. Disappearances and unsolved mysteries are common. Many people consider countries in Latin America to be lawless havens where criminal activity often goes unpunished. Additionally, the sea is known to be unforgiving.
My heart goes out to the family of Rocco Acocella and I hope that he is found.