Dr. Herson Saravia was my doctor. I had visited his office only three times. I chose him as my doctor because he spoke English moderately well, which is not very common in El Salvador. So, I was shocked and upset today when I learned that he had abruptly passed away on May 12th, 2020 – only two days ago.
Immediately after he passed, we discovered that local news agencies quickly attributed his death to Covid19. Then, in a confusing blur of events, we learned that Coronavirus wasn't the cause of death.
Here's what happened.
Dr. Herson Saravia Passed Away on May 12, 2020
My girlfriend Stephanie was also a client of Dr. Herson Saravia. Today she sent a message to him on WhatsApp to schedule her next appointment with him. It's very common for people in El Salvador to communicate via WhatsApp. However, today he didn't respond to the message, which was unusual. He usually responds to messages within one or two hours.
When my girlfriend contacted his receptionist, the receptionist said that he had passed away from cardiovascular complications involving platelets. It was left unclear exactly what had happened. Once my girlfriend discovered the news, she told me immediately. We were both shocked and mourned his death.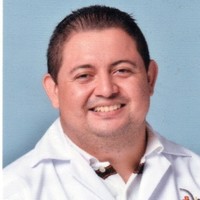 He was young, only 34 years old. His full name was Dr Herson Alberto Saravia Lobos. He was a Doctor of Psychiatry and always in positive spirits, very friendly, understanding and easy to speak with.
He passed away unexpectedly. The last time I saw the doctor was on May 6th, only six days before he died. He appeared to be in perfect health when I last saw him.
After I had learned about his death, I wanted more information. I used his full name in my online search: "Dr. Herson Alberto Saravia Lobos". There was not a lot of information about him online. However, I found this page: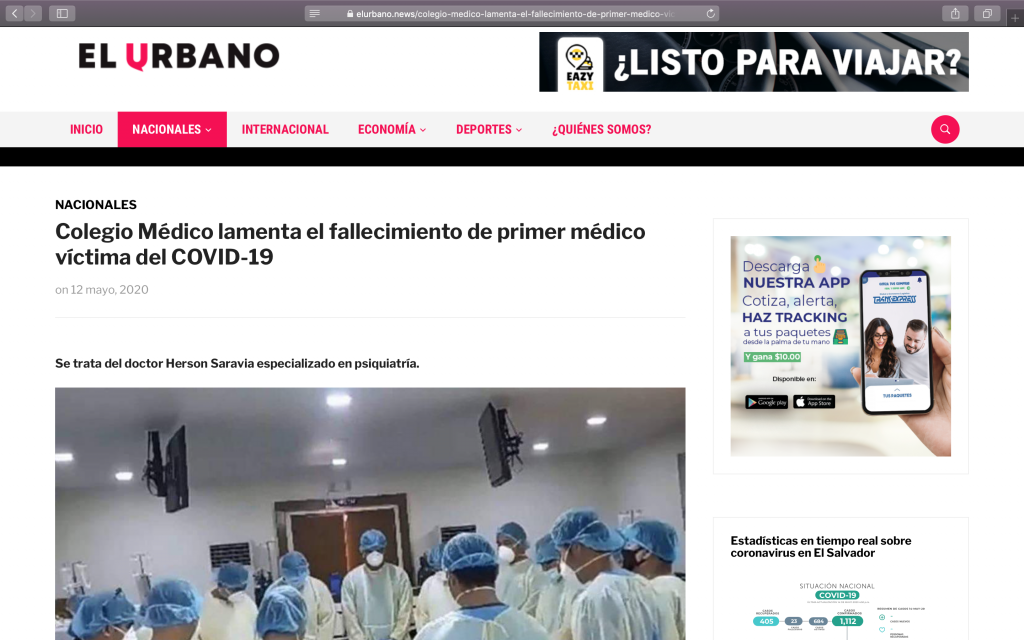 For those that don't speak Spanish, the title of the news article translates to:
"Medical College mourns the death of the first medical victim of COVID-19"
The article also linked to a Twitter post that appeared to be credible:
El Colegio Médico, lamenta el fallecimiento del Dr. HERSON SARAVIA, primer medico victima del COVID-19 en el país. Rogamos elevar una plegaria al creador por su eterno descanso ? pic.twitter.com/OIuJM8mc6r

— Colegio Médico (@colmed_es) May 13, 2020
The twitter image translates to:
"First Medical Victim of COVID-19 in the country. We beg to offer a prayer to the creator for his eternal rest and we join the pain that overwhelms his family to whom we express our sincere condolences."
After translating the title from Spanish to English, my heart jumped. I sent the article to my girlfriend immediately. In addition to mourning the passing of our beloved doctor, we now had fear of the possibility that one of us could have contracted the virus. My girlfriend and I had both met with the doctor on different occasions over the past two weeks. Fortunately, we had worn a mask and gloves and Dr Saravia had worn mask and gloves too.
President's Recent Press Conference
President Nayib Bukele of El Salvador had recently said in a press conference that any person that believes they may have contracted the virus needs to contact the Ministry of Health in order to be tested. Additionally, testing positive or negative, the person will be taken to a quarantine facility for 5 days, even if they hadn't contracted the virus. Yikes.
I called my parents in the United States and explained everything. We were worried that we may be taken to a government quarantine facility even without testing positive for the virus, and therefore be in a place where our risk of contracting the virus was higher.
But Dr. Herson Saravia Never Had The Virus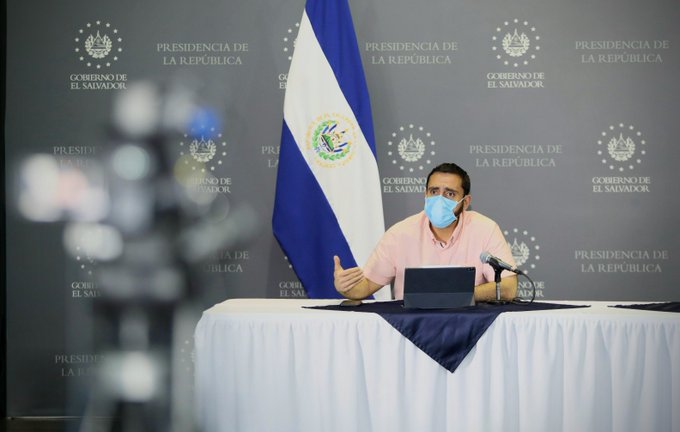 After a few hours of worrying and discussing what we should do, Stephanie called her father. They looked at the news for further information about Dr. Saravia's death.
They discovered that the doctor didn't die from Covid-19.
There were already news reports that our doctor did die of Coronavirus, so we needed more information. Other news articles said it was Covid19. Some articles said it wasn't Covid19. The Medical College that published the initial news never updated their tweet, nor posted a new tweet on the issue. This is how news sometimes goes in El Salvador. News and information is often disorganized and frustrating.
We just wanted confirmation of the truth, regardless of what happened.
Finally we discovered that the Ministry of Health had confirmed that he died from a cardiovascular problem due to arterial hypertension (high blood pressure).
After he tested negative for Coronavirus, they issued a statement:
El Ministro @FranAlabi informó que el resultado de la prueba de #COVID19 realizada al médico de 34 años fue negativo, su deceso se debe a un problema cardiovascular debido a hipertensión arterial de difícil manejo.

Reiteramos nuestras condolencias a la familia. pic.twitter.com/sMM1a482yC

— Ministerio de Salud (@SaludSV) May 13, 2020
In English, this translates to:
The Minister @FranAlabi reported that the test result of #COVID19 made to the 34-year-old doctor was negative, his death is due to a cardiovascular problem due to arterial hypertension difficult to manage.

We reiterate our condolences to the family.
This was the confirmation we needed to be certain that we weren't at risk of Covid19 exposure. This information was only available in a Twitter thread – 3 tweets down into a thread posted by the Ministry of Health. Fortunately Francisco Alabi retweeted the important tweet in order to generate more awareness.
One article provided more details (translated to English). Here's the text:
Putting this all together: Many local news organizations had already published the incorrect news about Dr. Herson Saravia's death in order to claim that the first doctor had died from Coronavirus in El Salvador. But when the news agencies discovered that their news was incorrect, they simply deleted the article from their website in order to prevent embarrassment. So, instead of doing the responsible thing and informing their readers of the error, they simply wiped the news from their websites. Ugg. That created a lot of confusion. We were certainly worried and confused.
A petition was also started on Change.org to demand that the government of El Salvador give financial assistance in the form of a pension to the son of Dr Herson Saravia. Even the petition incorrectly states that he died of Covid-19.
A Difficult Goodbye To A Good Man
Regardless of the reason for Dr Saravia's death, his death is a tragedy. He was a good man. He was a great doctor. It's heartbreaking to me that our wonderful doctor has passed so suddenly.
It's still bizarre to think about. I just saw him less than a week ago, full of life, even laughing together during our meetings. I remember our handshake as he opened the front door for me to let me return to my car. It makes me realize how short life can be. When we will leave this life is unpredictable.
We give our condolences to his family. Our hearts goes out to Dr Saravia. Rest in peace my friend.