Justin Booska, 27 years old, was a man from the United States that disappeared in Guatemala in 2018. Justin was traveling with friends in Guatemala prior to his disappearance.
Perhaps the most unsettling part of his disappearance was the way in which the locals threatened Justin's family while they were searching for his remains.
Justin Booska was visiting a once-popular crater lake called Laguna de Ayarza, Guatemala. The lake was originally formed by a volcano that blew its peak many millennia ago. Laguna de Ayarza is an excellent lake for swimmers, divers and fishermen. It has a maximum depth of 230 meters.
Justin was an athlete and a strong swimmer, with numerous years of swimming experience. Laguna de Ayarza doesn't have turbulent waters, nor currents, nor predators. So when he went missing after swimming in the lake, it raised the eyebrows of his worried family members.
Justin Booska Disappearance
On January 6th, 2018 Justin disappeared under suspicious circumstances. He was last seen swimming from one side of the lake to the other side. Friends waved at him when he was approximately at the halfway point. However, shortly after he was nowhere to be found.
Immediately after being notified about Justins disappearance, search teams organized from both the Guatemalan government and the United States embassy. Everyone was involved: police units, military teams, drones and diving specialists. Nothing was found.
Before his disappearance, Justin studied women and gender studies at Brandeis University. He was outgoing and friendly, particularly known for advocating for women who suffered from domestic abuse. Many people question if the influence from his studies was related to his disappearance. Machismo culture continues to thrive today in many regions of Latin America and foreign visitors to small communities can sometimes be seen as a threat.
Soon, the family found out just problematic machismo culture can be.
Family Search Efforts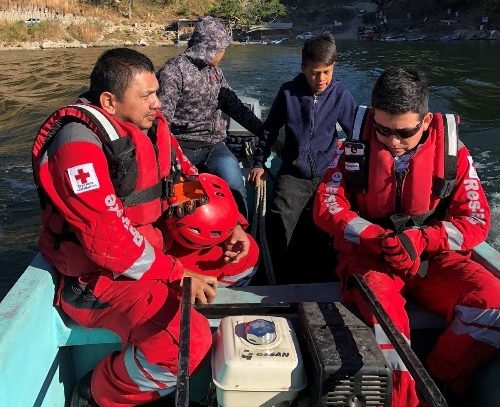 Justin's family organized a private search for Justin's remains. A week after his disappearance, his family started a GoFundMe: Help Us Find Justin Booska
With those funds, they were able to organize a well-equipped private investigation team. They hired Guatemala Tourist Assistance, which offered police escorts. They hired a specialized team called Crossman Consulting which provided underwater remotely operated vehicles (ROV's) and multi-beam sonar, both of which were critical pieces of equipment during the family's search.
Also, personnel from Guatemala Red Cross and the US Embassy assisted in the search.
Impeded Efforts From Locals
During their search, Justins brother, Benjamin Boosk, tells the chilling details of their experience:
"The first step was to re-interview locals who were at the lake the day Justin went missing. Since day one, we have had a very difficult time getting good, consistent information from these people. We also spoke at length with the Red Cross personnel who have been onsite since the early days of the search. It quickly became very obvious to everyone, that much of what was being conveyed by the locals, did not add up."
Unfortunately, the locals wouldn't comply with the family's basic requests for information about Justin Booska. Their responses were muddled and inconsistent, a common issue that investigators face when a crime is involved. Oftentimes families cannot get clear and honest answers because locals are too scared.
However, that was only the start of their problems.
On the third day of searching, the family noted that the boat owner didn't show up to permit them to use the boat they had previously rented. Instead, they were forced to utilize two smaller boats which were inadequate for the team's expensive equipment.
After searching for a while, matters took a nose dive when a search boat went to retrieve more equipment:
"When they arrived they were greeted by a group of local men armed with tire irons and machetes. A very tense encounter ensued for 40 minutes, as our police escort negotiated with them. Eventually, we were allowed to continue with our search effort, but it was becoming clear that something was amiss. After 90 minutes of searching, a different piece of equipment was needed from the boat launch area, so part of the team went back across the lake to retrieve it."
The fact that police had to "negotiate" with threatening locals tells of how dire someone wanted the searches to stop. Police being publicly threatened is a situation that rarely happens in Latin America, especially when there's cameras, government personnel and other professionals in the vicinity. Locals are normally afraid of the police.
Clearly someone behind the scenes was pressuring locals to get involved.
Then the hostility escalated:
"When they got back to the launch area, they were met by yet another group of community enforcers, who made it clear that the locals did not want us to find Justin and that it was time for us to leave. A boat was dispatched to retrieve the team members, who were still on the far side of the lake."
This behavior is rather shocking. Criminal activity in Central America usually happens in silence, mostly at night and while nobody else is watching. In this case, the community enforcers took action during the day and very publicly. This is very unusual and clearly demonstrates that an influential local was pulling strings behind the scenes.
Then More Details Were Discovered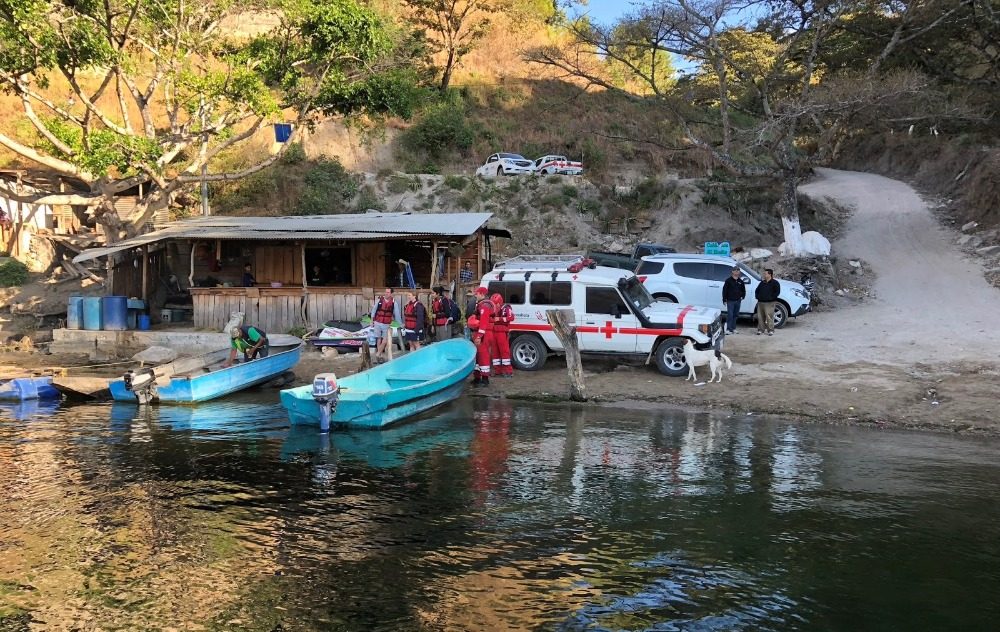 Immediately after the family received the threats from locals, the Red Cross personnel told the family that local rumors said that the boat owner himself may have been involved in the disappearance.
"It was at this point, that we were informed by the Red Cross searchers, who have been investigating since the beginning, that they had heard stories during interviews, that the boat owner may have been involved in Justin's disappearance. It seems that when Justin arrived at the lake, he was very friendly with everyone, including the boat owner's wife."
Justin being friendly with the boat owners wife could easily have presented a dangerous situation for Justin. Unaware foreigners visiting small Latin towns are often unaware of cultural differences until it's too late.
Additionally, the boat owner was the last person to speak with Justin prior to his disappearance.
"The boat owner's story about the day Justin disappeared has changed many times over the course of the search. But one truth remains: he was the last person to talk with Justin. Not one investigator, who has met this man, believes his claim that out of the "goodness of his heart," he would go out to check on Justin's welfare."
The boat owner changed his story more than once. He also claimed that he "checked on Justin's wellbeing", something that raised eyebrows because it so rarely happens. Many sub-regions in Latin America, including Guatemala, have cultures of independence in which locals focus on their own life and are too busy or otherwise not concerned about the wellbeing of tourists. It's not a bad thing, it's just the very free spirited way that people often live.
The Answers Remain With Locals
The family concluded their search after they were threatened. If they hadn't ended their search, there likely would have been more foul play. Local police will not pursue a criminal case that could result in harm to themselves or their own family.
In truth, it's difficult to know exactly what happened to Justin Booska. Was the boat owner at fault? Or was something even more sinister at play? Only the locals truly know. However, the fact that Justin's family and police were threatened by locals makes it clear that foul play was involved.
Additionally the fact that Justin Booska was an outspoken women's rights activist likely contributed to the danger that found him. Machismo culture involves using force and dominating situations. A foreigner that is perceived to be too friendly with a local married woman would surely be met hostility.
Finally, the family said their goodbyes to Justin and hurried to safety.
"The team departure from the lake was a very tense drive through many small neighborhoods, where we were warned an ambush may await us. Our police escort kept our convoy bunched very closely, reaching speeds of 145 kph (90 mph), as we made our way back to Guatemala City. Due to the incredible professionalism of our two skilled drivers and Proatur , A.Q., we arrived safely back to our hotel."
I'm glad Justin Booska's family made it home safely. Under hostile conditions like this it's extremely possible that this story could have ended differently.
A Warning To Travelers
I often write about Central America disappearance stories. The story of Justin Booska was an eye opening story that gives considerable insight into the unspoken dangers that exist in Guatemala and many other areas of Central America. Even after a disappearance, dangers still linger for the families that search for their lost loved ones.
Criminals abroad often play by different rules.
Most people think of the beautiful beaches, the free spirited lifestyle and the fun nightlife. And that undoubtedly exists – but the criminal justice system is very poor and sometimes nonexistent in many areas of Latin America. This fact is also demonstrated in the disappearance case of Kris Kremers and Lisanne Froon, two girls that disappeared in Panama in 2014.
I always suggest that travelers stay on the trail. Stay with friends and be aware of local cultural norms prior to traveling. Avoid venturing off alone, especially as night approaches. Traveling in Guatemala is mostly safe if you are mindful and use common sense.
My heart goes out to the family of Justin Booska. I'm terribly sorry for your loss.