The migrant caravans that originated in Honduras have dissolved after hitting massive resistance in Guatemala. Guatemalan authorities blockaded Honduran migrant caravans from passing through the country, by using tear gas, police walls and police batons. Now Guatemala is bussing migrants back to the Honduran border.
Guatemala's handling of the situation may have saved incoming President Joe Biden some time and negative publicity.
But pressure is mounting – President Biden received a lot of negative public reactions when he told migrants "Don't come, you won't get in immediately".
Even without the new caravan waves, there are still more than 67,000 asylum seekers stranded at the United States border in Mexico. What will happen to those asylum seekers remains unclear, although Biden is taking decisive action. Yesterday Biden suspended Trump's Migrant Protection Protocols (MPP), which once forced asylum seekers to wait in Mexico. Further, he implemented a 100-day pause on deportations for some undocumented immigrants.
Mounting Pressure Continues To Grow
You can't make everyone happy, apparently. Despite Biden's recent efforts to fulfill his promises, he remains under heavy pressure.
Now that Biden has been inaugurated as US President, Pueblo Sin Fronteras, the human rights immigration group that's heavily involved in supporting the needs of latino migrants, recently increased their demands for President Joe Biden:
In Tijuana, Mexico, migrants were "ecstatic" about the US election results, according to Erika Pinheiro, the litigation director of Al Otro Lado, which provides free legal representation to asylum-seekers in the sprawling border city. And understandably so – challenges in Central America have increased due to two massive hurricanes, the coronavirus pandemic and increasing waves of violence. The United States could be a lifeline to help these troubled migrants – if the United States can get past its own political battles.
AOC recently tweeted that the USA should "abolish ICE". It's difficult to know if that's just pandering, or attempting to incite an uprising, or if she's shortsighted as to the message she's sending to migrants. Giving migrants false hope of open borders does nothing but exacerbate the challenges of migrants.
Should we get rid of border security? Imagine trying to control Coronavirus without national sovereignty. Yikes.
Getting Rid Of The Cages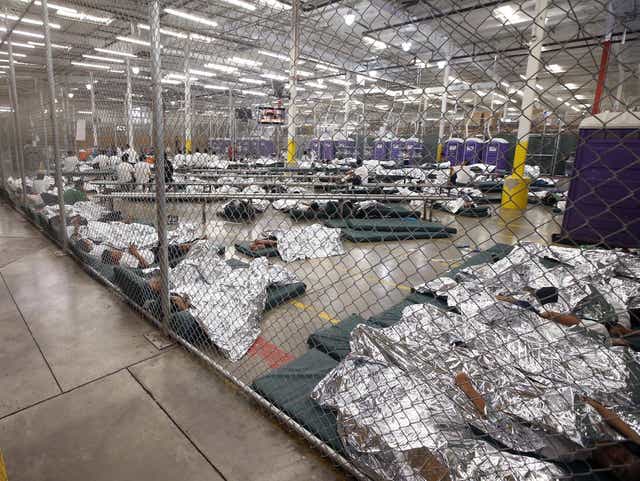 The "cages" have been a political hot topic, especially when the mainstream news claimed that Trump was putting children into cages inside of detention facilities. But it only took a quick comment from Donald Trump at the debates to sink that conversation: "Who built the cages Joe?" – President Barrack Obama and Joe Biden's administration had built the cages. Yet still, Trump continued to use them.
On all fronts, the conduct of detention facilities is a sore spot.
Undoubtedly, the "cages" need to be done with. Reasonable accommodations need to be prepared for asylum seekers, especially if President Biden is going to make promises that incentivize tens of thousands of migrants to travel to the United States border.
When you let tens of thousands of asylum seekers into the country, what do you do when tens of thousands more show up?Build more detention facilities?
That is precisely why border security and immigration can be very challenging.
Trump's Border Wall Construction Halted
As of Jan. 8, 2021, U.S. Customs and Border Protection (CBP) said the Trump administration had completed 453 miles of border wall in total. Trump fell short of completing the entire border wall, a promise he made in anticipation of achieving a second Presidential term.
Although Mexico has yet to "pay for the wall" as Trump also promised, it's obvious that it would not have been paid in a lump sum – that's not how massive development projects work. Taxing Mexico for various commercial imports would likely be the plan, if Biden plans to collect money at all. Agriculture, a staple import from Mexico, could be a target for import taxes.
Now, President Biden has opted to halt the border wall construction. Given the size of the wall, it's unlikely that migrants will travel so far into the desert in order to travel around the new border wall.
A lot is changing quickly as Biden makes his initial impressions as the new President of the United States.
Main image from El Periodico Guatemala